Around the World, June 2017
---
FRANCE
MARSEILLE —
Christians and Muslims — representing nations from across the Mediterranean rim — packed into the meeting place of the Marseille Church of Christ to witness two recent baptisms, said missionary Craig Young.
Craig YoungA young woman, Sabrina (her name changed for security concerns), made the decision to be baptized. Her mother, from Algeria, is a member of the church and her father, from Tunisia, is Muslim. Both parents come from big families and "Muslim or Christian, they came in large numbers for this event of first importance in Sabrina's life," Young said.
Stephan (name also changed), a refugee from Syria, was baptized as well. More than a dozen fellow refugees attended worship to witness Stephan's baptism. Altogether, the church had more than 50 visitors.
Church members in Marseille serve refugees from Aleppo, Syria."Sabrina and Stephan gave powerful testimonies to the work of God in their lives," Young said. "Since many of the refugees, including Stephan's parents, are still in the long process of learning French, our first reading, by Stephan's father … was in Arabic.
"French, Algerian, Tunisian, Syrian, Turkish, Kurdish and Armenian ethnic groups were all present to hear and see the Gospel here. God continues to move mightily!"
ANGOLA HUAMBO — In this southern African nation, Christians in the Renovo ministry recently invited their friends, family and neighbors to join them for a dinner celebrating marriage.
"Renovo is the name of the network of cell churches that our team launched with our friends and brothers and sisters in Christ," said Teague Meyer, a member of the Angola Mission Team.
For the dinner, "each couple had an opportunity to share a little about how God has strengthened — and is continuing to strengthen — each marriage," Meyer said. "Marriages in Angola truly need encouragement and resources in order to develop, grow and thrive. It was our hope that this dinner would be an encouragement for the couples who participated and a way to share the good news that Jesus is the foundation of a strong marriage."
KENYA NAIROBI — One day after he stumbled home drunk and threatened to beat his wife and daughter unless they gave him their savings so he could return to the bar, a Kenyan husband (head bowed, in stocking cap) is confronted by his wife's prayer group.
Sorrowful, he promises to repent and accompany her to church.
The drama was part of the annual "Jipe Moyo" (Swahili for "take heart") conference sponsored by the Eastleigh Church of Christ in Nairobi. About 250 women attended, representing 40 Churches of Christ.
Christian women in Kenya perform a skit during the annual Jipe Moyo conference. (PHOTO PROVIDED BY CHARLOTTE HACKETT)
In the drama, "the actors played their parts so well, especially the dissolute husband," said missionary Charlotte Hackett. "We all laughed, but at the same time it was sad to know that this is a scenario all too familiar to many of the women. We pray that God will turn the hearts of husbands and fathers to their wives and children."
BRAZIL SãO PAULO — "A Batalha de Todo Homem" ("The Battle of Every Man," in Portuguese) was the theme of ENOC 2017, an annual men's retreat for Brazilian Christians, hosted at a campsite outside São Paulo. About 460 Christians from across Brazil attended the two-day event of prayer, praize, preaching and fellowship, said Larry Zinck, a missionary in Rio de Janeiro.
"We were encouraged to think about our own spiritual growth as well as spreading the Good News of Jesus all over this great nation," Zinck said. "Everyone left renewed and inspired to take this message back to their home congregations."
THAILAND KHON KAEN — About 350 people, representing 40 Churches of Christ in Thailand and neighboring Laos, gathered for the Northeast Bible camp, hosted by the Kum Hai Church of Christ.
Four participants — from northeast and central Thailand — were baptized during the camp, said Kim Voraritskul, a missionary in Khon Kaen.
UNITED KINGDOM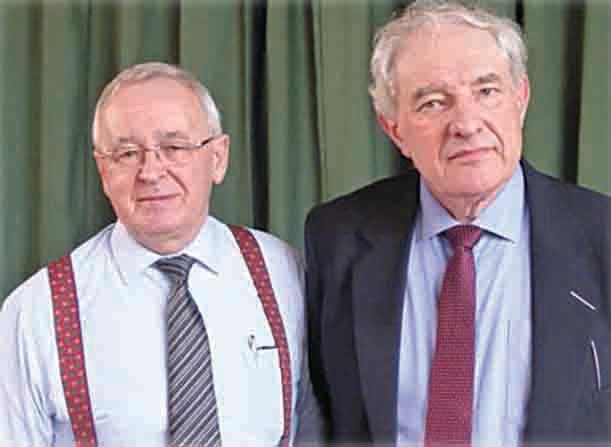 Bert Ritchie, left, and Chris Hewer COLERAINE — "The ultimate ignorance is rejecting something you know nothing about," said Bert Ritchie, minister for the Coleraine Church of Christ in Northern Ireland.
In that spirit, Ritchie helped organize a community event titled "Understanding Islam as a Christian." Chris Hewer, a scholar on Islamic and Christian studies, conducted the day long seminar.
The gathering "showed solidarity between the Islamic and Christian traditions in our town to promote understanding," Ritchie said. "While recognizing the impasse on crucial theological issues, it does not prevent each faith promoting a common core teaching of peace and love."
Got news? Send your mission newsletters, photos and videos to [email protected].