Around the World, July 2015
---
COLOMBIA
SANTA MARTA —
This city on the northern coast of South America was the first Spanish settlement in Colombia and is the oldest surviving city in that country.
It's also home to a new iglesia de Cristo (Church of Christ) planted by a mission team trained by Texas-based Great Cities Missions. The church-planting team includes the families of Carlos Escobar of Caucasia, Colombia, and Pedro Carreño of Bogotá, Colombia. Among the guests for the inaugural service were members of the Singing Oaks Church of Christ in Denton, Texas, one of the churches that supports the work.
GUATEMALA
GUATEMALA CITY — About 500 Christians representing churches in Guatemala, Honduras, Costa Rica, El Salvador and the U.S. squeezed into a rented facility for the conclusion of the Instituto Teológico Latinoamericano (Latin America Theological Institute). The ministry training school's annual graduation followed the Sunday worship, conducted by members of the Linda Vista Church of Christ.
The graduates will return to the congregations across Central America that sent them to the school to study and will help plant new churches, administrators said.
THAILAND
DOI INTHANON — Twenty-four men from three Churches of Christ gathered near Thailand's highest peak (elevation 8,415 feet) for a weekend of prayer and fellowship.
"Instead of inviting a talented guest speaker, each of the 24 men prepared a five-minute talk on a character in the Bible," said David Allan, a member of a mission team in Chiang Mai, Thailand. "We enjoyed three straight hours of Bible study with everyone digging into the Word.
"I think it was the best men's retreat I've attended in Chiang Mai."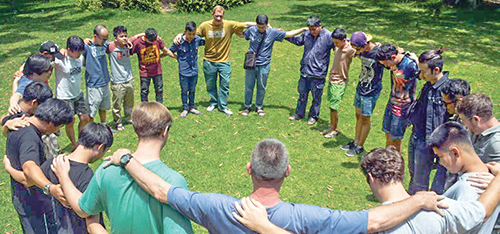 A mountaintop prayer circle in Thailand. (PHOTO VIA SITES.GOOGLE.COM/SITE/CHIANGMAITEAM/HOME) UNITED KINGDOM
STIRLING — As Scotland — and the United Kingdom — become increasingly secular, Christians are taking the Good News to coffee shops, said missionary Mitch Vick. 
In cities including Stirling and Glasgow, church members conduct Bible studies over cups of coffee. A mission team in Falkirk is doing likewise, Vick said. The church in Falkirk also works with the Pied Pipers, a drama group from Harding University in Searcy, Ark., to provide faith-based entertainment for children.
VENZUELA
LOMAS de NIRGUA — More than 400 young believers, representing 30 Churches of Christ, participated in the first National Convention for Christian youths, with the theme "Defiende tu identidad" ("Defend your identity.") 
The event was designed to promote closer ties among Churches of Christ in the South American nation, organizers said, and to encourage youths to preach the Gospel throughout Venezuela. The convention included a fútbol (soccer) tournament and talent show.