Around The World, August 2016
---
In India, believers line up to witness a baptism — one of 74 during a recent weekend, said Dr. Mani Pagidipalli, a Christian physician and evangelist in the country's Andhra Pradesh state. The baptisms, which resulted from the work of preacher-training students, also resulted in the birth of four new Churches of Christ — two in Bihar, a state in northern India. Bihar has a large Muslim population and has been the site of attacks against Christians by radical Hindus. Thirty-three of the newly baptized believers came from Muslim backgrounds, Pagidipalli said. The evangelist thanked the preaching students and praised "the open hearts and minds of these tender souls."

CHAD
BISSO — More than 130 people gathered in this Central African village for a recent gospel meeting, joined by 16 evangelists from the region.
The village lacks potable water and adequate healthcare facilities. The evangelists and some attendees traveled by bus to reach the village. Two Chadian church members paid for the transportation of about 20 participants.
"At the end, God protected all the travelers," church members wrote in a report of the meeting. "Everybody went back home safely."
In addition to strengthening the local Church of Christ in Bisso, the meeting yielded five baptisms, participants said.
MALI
BAMAKO — In this West African, predominantly Muslim nation, new souls are coming to Christ through campaigns of old-fashioned door knocking, says Peter Ofori.
Ofori, a native of Ghana, works with four other evangelists in Mali to introduce people in the nation of 15.3 million souls to Jesus.
"So far, two backsliding families have been gained back to the Lord," Ofori said of a recent door-knocking campaign. "New contacts are registered (for Bible studies), from which we are expecting good results."
PERU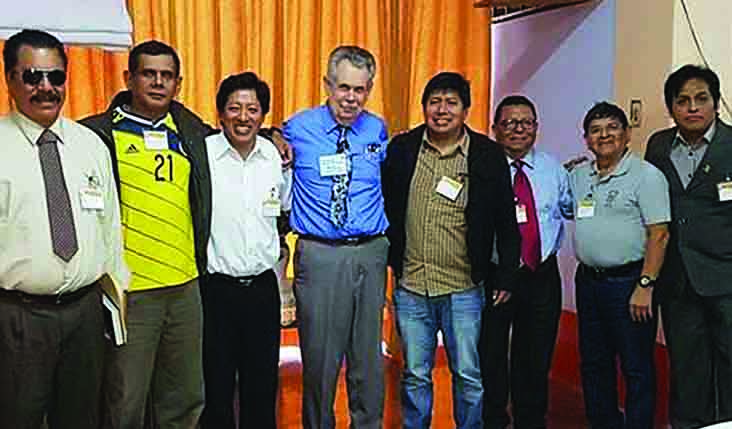 Bob Young, middle, with speakers at the national conference in Peru.LIMA — About 100 Christians gathered in this South American capital for a national conference, hosted by the Lucyana Church of Christ. The conference focused on the Pastoral Epistles, Paul's letters to Timothy and Titus. Bob Young, a longtime missionary to Latin America, taught several sessions and preached on the conference's final night.
Young visits Latin America six to 10 times each year. During his trip to Peru, he spent a day at the International Bible Institute in Lima.
"Efforts such as the Bible Institute represent the maturing of the churches," Young said, "as they accept the responsibility to evangelize in their own nation."
RWANDA
MUSANZE — Doyle Kee, a minister in Geneva, Switzerland, joined six fellow European Christians for a six-day seminar in this East African town. The evangelists ministered to leaders from a network of churches known as the Church of the Rock. The churches' leaders embraced teachings about the New Testament church, Kee said, and two attendees were baptized.