Answering the call to serve those who serve
An Air Force officer takes the reigns of a ministry he once rejected — a ministry that later connected him to Christ.
---
The first time Dennis Saucier encountered workers with the AMEN ministry, he asked them to leave his house.
Dennis Saucier, left, speaks with Air Force personnel during a barbecue at Dover Air Force Base in Delaware. (PHOTO FROM WWW.AMENMINISTRY.INFO)It was the mid 1970s and Saucier, a radio operator for the U.S. Air Force, was stationed at Karamursel Air Station in Turkey. Earl Seall and Gene Collins came to the base to study the Bible with soldiers through American Military Evangelizing Nations, a newly launched ministry supported by Churches of Christ. Saucier, who grew up a nominal Catholic, had no interest. But his wife did.
Diane Saucier studied the Bible and was baptized. Her husband noticed a change — a new peace — in her life and agreed to study as well. Soon after, while stationed in Greece, Dennis Saucier was baptized by Logan Jones, a Chief Master Sergeant, in the Aegean Sea.
Dennis Saucier later attended the White's Ferry Road School of Preaching in Louisiana and earned a Master of Divinity degree from Abilene Christian University in Texas. He served as an Air Force chaplain in Iraq, Kuwait and the Republic of Georgia.
As a lieutenant colonel, he served as senior staff chaplain of the Air Force Mortuary Affairs Operation at Dover Air Force Base in Delaware.
He retired from the Air Force in September 2014 and recently became director of AMEN — the ministry he once rejected, the ministry that helped him become a Christian.
The Sauciers' twin sons also served — Jacob for two years as a Navy rescue swimmer and John for seven years as an Abrams tank crewman in the Army. The Sauciers have four granddaughters and three grandsons.
Tell us about the unique spiritual needs of military personnel.The U.S. military is a unique sub-culture of American society. In fact, each branch — Army, Marines, Navy, Air Force and Coast Guard —has its own unique culture.
Typically all military personnel move frequently, have a stressful training and operational tempo, don't usually have the benefit of living close to extended family, can deploy within days or hours to foreign locations, endure months of isolation from loved ones and can experience the trauma of combat.
Key events like holidays, birthdays and anniversaries are celebrated long-distance through letters, email or computer chats. Loneliness, isolation and the need for emotional, relational and spiritual adjustment are some of the more prominent spiritual needs.
How can churches near military bases help meet these needs?
Churches have a great opportunity to enrich their ministry with the ethnic diversity, in-depth life experiences, leadership skills and broad world view that military families can contribute. Military training cultivates a spirit of discipline, teamwork, organizational ability and a persevering attitude willing to take on great challenges.
One opportunity — and challenge — is the high turnover rate that occurs on many bases as members receive orders to new assignments. This turnover can bring talented Bible teachers and ministry leaders to utilize church programs. Many military families are eager to worship with off-base churches that can provide for them well-established ministries and offer them a spiritual family and a home environment.
How did AMEN begin?
The ministry grew out of the experiences of Don and Harriet Yelton, who founded and directed the program for 40 years. In 1963, Don was stationed at a remote base in Greenland. After studying a Bible course he wanted to be baptized. This required arguing with the base chaplain, finding Christians he'd never met and locating a baptistery. He ended up being baptized in a bathtub on the Arctic Circle.
Later, as a student at the White's Ferry Road Bible School in Louisiana, he shared the needs of military Christians at the invitation of Hal Frasier, then director of the World Radio Gospel Broadcasts ministry. Out of their discussions came a vision to specifically address the needs of an often-spiritually isolated military community. American Military Evangelizing Nations was born out of Don's dedication and with the support of the White's Ferry Road Church of Christ in West Monroe, La.
On Nov. 1, the Manchester Church of Christ in Connecticut assumed oversight of AMEN.
What services does AMEN offer?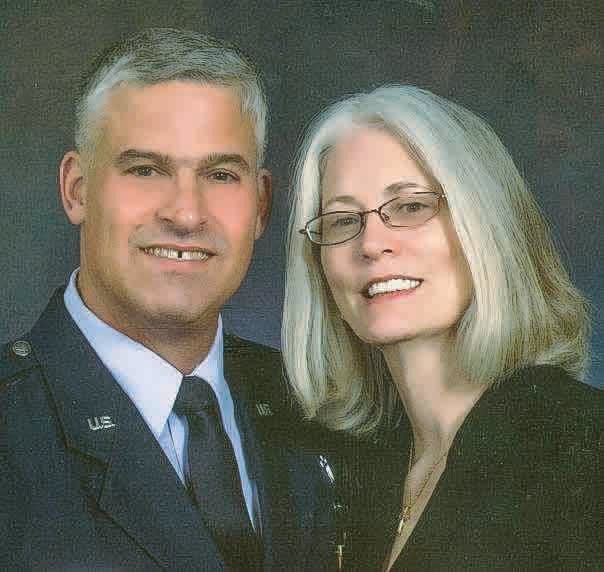 Dennis and Diane Saucier (PHOTO PROVIDED)AMEN's focus is on building spiritual resiliency for a highly mobile population. Our Locator Service is a network of Key Men at churches near bases or at deployed locations who help members connect with a local church for worship and fellowship.
There are not enough of our military chaplains to provide services at every location, and most members do not wish to worship at the base's general Protestant service. The Key Men is a sponsorship program helping military people stay spiritually connected wherever they are sent — in the world or onboard a ship.
Additionally, AMEN has been active in organizing religious retreats for military families stationed in Europe. Retreats have been conducted in England, Germany and Greece, bringing well-known brotherhood speakers to edify the overseas military community.
Do you serve personnel in war zones?
The Locator Service has been especially important to military personnel serving in combat areas and nearby bases such as in Saudi Arabia, Kosovo, Iraq and Afghanistan. As units rotated in and out of bases, the Key Men has helped maintain the continuity of worship opportunities.
In 1990, as Operation Desert Storm began, AMEN raised more than $25,000 to send care packages to deployed troops and encouraged other churches to begin their own programs. I remember the support I had when I was deployed as an active-duty chaplain to a forward base in Kuwait during Operation Iraqi Freedom. I led a Church of Christ service at the Post Chapel attended by an Oklahoma Army National Guard unit on its way into Iraq. The soldiers really appreciated that touch of home experienced in our common worship.
AMEN often sends literature, reading materials, song tapes and luxury items — such as Kool-Aid and cookies — to military personnel.
How have overseas churches benefitted from AMEN?
The Locator Service helps military Christians find and connect with worship opportunities at their new assignments, reducing the effects of culture shock. AMEN has promoted the sharing of the Gospel by sending teachers to these military congregations to educate and edify. Many baptisms have resulted from this work. For many years, AMEN retreats have been a highlight for military and missionary Christians in Europe, helping small, isolated groups of believers experience a larger view of God's kingdom.
In the early 1980s, as the communist governments in Eastern Europe began to falter, AMEN's network of Key Men and military church resources helped Bill McDonough, a missionary in Germany, bring food and supplies for distribution by Polish Christians. AMEN tapped into the enthusiasm that military Christians had for providing relief to our foreign brethren in need.
What are AMEN'S current activities?
We're working to ensure the continuity of AMEN as we go through a leadership transition. Don and Harriet Yelton retired in March after 40 years of directing the program — under the White's Ferry Road Church of Christ and later the Hendersonville Church of Christ in North Carolina. They have helped me and have encouraged me to bring a fresh vision of what AMEN can do.
The Locator Service will continue to help Christians find opportunities to connect with a spiritual family. I also want to offer programs for spiritual resiliency such as marriage and family enrichment workshops and personal spiritual growth retreats.
How can local congregations become involved?
Most importantly, pray and seek God's will for reaching the military community with the Gospel.
Plan a program for those preparing for or returning from a deployment such as a marriage or personal growth workshop.
Consider appointing a Key Man to work with AMEN to build an intentional ministry that helps military members integrate into the life of the congregation. Think about how to support the "deployment widows" and widowers" whose spouses are involved in contingency operations.
Create worship services expressing the love of God in bringing healing to military members and veterans who deal with the effects of war. Adopt a military unit by sending letters, spiritual materials and goodies from home. Consider adding AMEN to your missions budget.
WEBSITE: www.amenministry.info