Gatlinburg's Winterfest gets royal treatment
After wildfires, Christians gather for annual youth event, show love to recovering East Tennessee community.
---
GATLINBURG, Tenn. —
Teens were treated like royalty at this year's
Winterfest
. Literally.
In front of some 6,000 young Christians at the Gatlinburg Convention Center, Jeff Walling crowned two unsuspecting attendees as "King and Queen of Winterfest." He did the same during a second session, picking another pair from 6,000 more believers.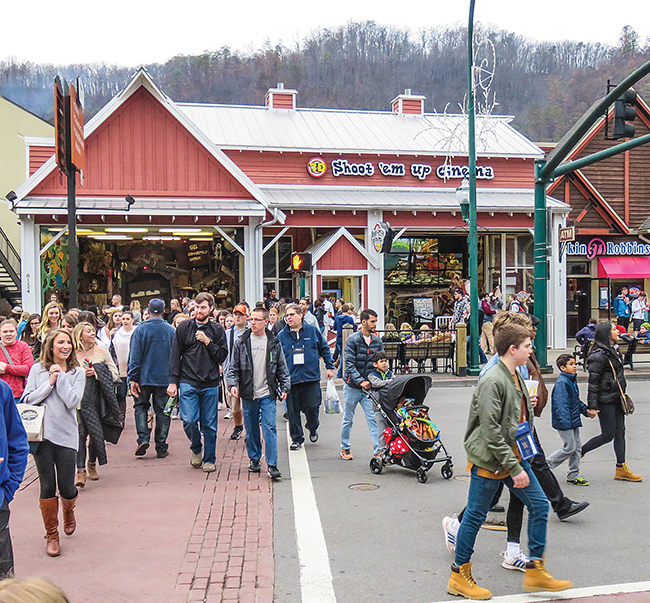 After the fires
More coverage:
• For Churches of Christ, the shows — and the ministries — go on

• At Challenge Youth Conference, light shines after fires
"Identity" was the theme of the "little youth rally" — as organizer Dudley Chancey once called it — in this East Tennessee tourist town among the Smoky Mountains. Launched 29 years ago at a state park, the annual event now is one of the largest among Churches of Christ, bringing together youth groups from across the nation and locales as far away as Massachusetts.
It looked as if this year's Winterfest might not happen after November wildfires destroyed hotels, church buildings and more than 2,500 buildings here. But the flames spared the city's historic downtown and convention center.   
After the impromptu coronations, Walling, a longtime minister and director of the Youth Leadership Initiative at Pepperdine University in Malibu, Calif., charged the newly minted royals to truly live like royalty.
"This is the truth I want you to get a hold of," he told the throngs of teenagers. "If you're a member of the body of Christ, if you're a Christian, you are a child of the King. You are a royal person."
As royalty, he added, Christians are called to a higher standard — one that isn't measured by who has the best social media posts or personal accomplishments.
During Winterfest in 2012, some participants wave "light swords" during the entertainment before praise and worship begins. (PHOTO BY ERIK TRYGGESTAD) 
Or whether you're a member of actual royalty, added Robert Deitrich, a youth minister from Arizona. Dressed in royal garb, he told the teens the bizarre story of how he became a Polish count after discovering that his wife is the descendant of a royal family in Poland. He chose to use his newfound fame to witness for Christ rather than boost his own image.
"I may have a title," Dietrich said, "but it is nothing compared to the title of being a forgiven son of Jesus Christ and living in a relationship with him."
Madeline Miller at Winterfest. (PHOTO BY NATHANIEL HOWARD)
Madeline Miller, who traveled with her youth group from Bethalto, Ill., said she was grateful for the reminder.
"I'm an athlete, so of course it's so easy to draw from being an athlete your sense of identity," she said. "Your identity is so much more than that, and this really just reminded me of that — not to put so much weight in what I do, but in who God is."
Chancey, associate professor of youth ministry at Oklahoma Christian University in Oklahoma City, and fellow organizers charged Winterfest participants with putting their royal identity into practice by going out and showing God to Gatlinburg — a community recovering from the fires, which claimed 14 lives here. 
Sadie Groen said she and her youth group were "really trying to pray for the people of Gatlinburg because we knew what they were going through."
Groen, who worships with the North Boulevard Church of Christ in Murfreesboro, Tenn., said that she and her youth group planned to treat the shop owners and restaurant workers in Gatlinburg — recovering financially after a dismal Christmas season following the fires — like royalty.
"People just need the encouragement," Groen said, adding that she hoped the 12,000 Winterfest participants would — especially this year — "open up to the people of Gatlinburg and love like Jesus."