INSIDE STORY: After the tornado, Oklahoma church sings God's praises
---
MOORE, Okla.
— Tears.
Hugs.
Emotional recountings of survival and loss.
In the wake of a disaster such as the May 20 tornado that devastated this Oklahoma City suburb, the casual hellos and handshakes of a typical Sunday give way to deeper, more intimate communication — in body language, if not words.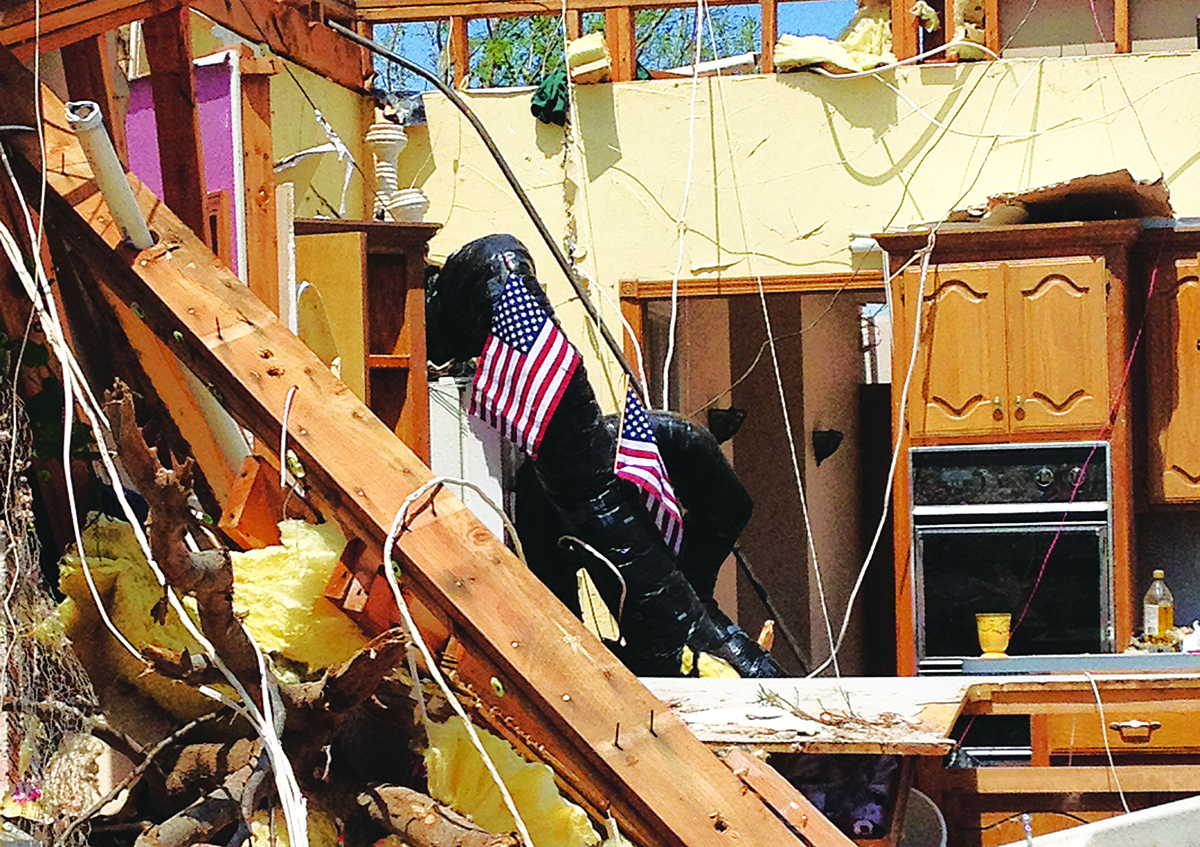 In Oklahoma and Texas, Christians share survival tales and help with relief after the killer twitters. Scroll down for links to The Christian Chronicle's expanded coverage.
"How are you?" an older woman asks a fellow member of the 
Central Church of Christ
, as the two share a tender embrace."I'm good," the sister in Christ replies and repeats, "I'm good."
"It didn't hit you?"
"I didn't have any damage."
"Oh, good."
The holy chatter of 150 similar conversations fills the church auditorium.
The Central church building sits at the edge of the disaster zone — just across the street from the decimated Moore Medical Center. The EF5 twister flattened 1,200 homes and killed 24 people.
"The tornado was taking a path straight here, and as soon as it hit the Moore Medical Center, it turned right," says Casey Haynes, youth and family minister. "It should have destroyed our building, but it didn't."
Pulpit minister Tommy Haynes, Casey's dad, sought cover in a church bathroom.
Central recently began construction of a new facility a mile east of its current location. The church eventually expects to tear down the old building, but "I didn't want to be in it" when it happened, Tommy Haynes jokes.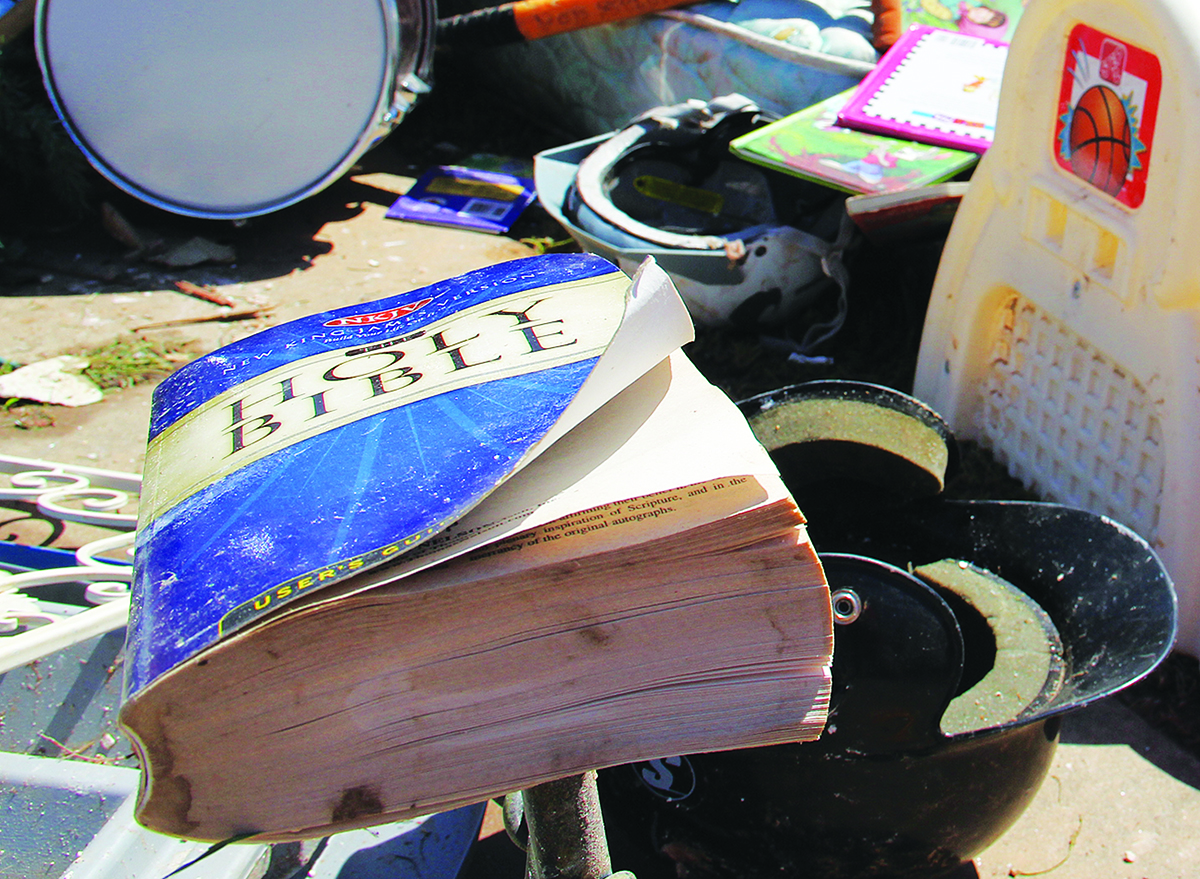 A weather-beaten Bible is among the remains at one family's house. (PHOTO BY ERIK TRYGGESTAD)
No Central members died in the storm, but 20 church families lost homes or sustained serious damages.
Before Tommy Haynes steps to the pulpit, the church sings "Our God, He Is Alive."
There is a God, he is alive. In him we live and we survive.
From dust our God created man. He is our God, the great I Am.
The minister's eyes well with tears as he reflects on the song and the people in the pews — many of them out-of-state disaster relief volunteers.
"When you've been on the verge of crying all week, it's not just the sadness," he says. "It's from the joy of seeing so much pouring out of this congregation."
Teens and adults in cowboy hats cook smoked sausages outside the church. This group drove 430 miles from the Denver City Church of Christ, southwest of Lubbock, Texas, to prepare meals.
Inside, worshipers — many wearing bright orange "Disaster Assistance" T-shirts — maneuver around ceiling-high stacks of emergency food and supply boxes delivered by Churches of Christ Disaster Relief Effort.
Volunteers prepare free meals at the Central Church of Christ in Moore, Okla. (PHOTO BY ERIK TRYGGESTAD)The church's sign along Interstate 35 normally grabs drivers' attention with catchy Bible verses and witty sayings.
But now it declares simply: "Disaster Relief Center."
Karen West was at work when the tornado destroyed her home.
"I thought when I left work," the church member says, "that I just had what I was wearing."
But later, her son recovered her wedding ring set and a few treasured paintings by her late husband, Randall.
Mostly, though, she's starting over.
"I've got my family," she says of her three children and six grandchildren.
But she's quick to stretch out her arms and point to her other family, too — her church family.
"I know God's good, and he's taking me through everything," she says. "It's just emotionally difficult."
God didn't cause the tornado, but he will use it for his glory, the preacher assures.
He turns to the Bible:
"God is our refuge and strength, a very present help in trouble." — Psalm 46:1
"And let us not be weary in well doing: for in due season we shall reap, if we faint not. As we have therefore opportunity, let us do good unto all men, especially unto them who are of the household of faith." — Galatians 6:9-10
Disaster causes some to question God. Buddies who served as first responders have come to Casey Haynes, "just wanting answers."
On the other hand, the 26-year-old Freed-Hardeman University graduate says the tragedy has boosted his faith.
"You see the way people respond," he says of the volunteers. "You see the fact that God is working with the disaster, even though he wasn't the one who caused it."
Bobby Ross Jr. is Managing Editor of The Christian Chronicle. Reach him at [email protected].

TORNADOES: EXPANDED COVERAGE
Feedback

Romans 8:18-27 reminds us of some things.
Our suffering, no matter how intense it is, cannot even compare to His glory.
The word which finishes verse 20 in my New King James Version is repeated throughout this passage.
Verse 23 says we GROAN while we wait. Verse 24 reminds us to concentrate on what we HOPE for, when what is in front of our eyes is to much–too painful–to bear. Verse 25: WAIT for it! Verse 26: We don't need to wait 'until we can find the words to go to God in prayer…because HE really CAN "listen to our hearts".

Russ Sharp

Edmond church of Christ

Edmond, Oklahoma
USA

June, 4 2013

Sometime after the passing of my mother, I heard my father(who had been an elder–for the second time–at the time we lost Mom) exclaim, "If one more person mentions Job to me, I'm going to scream!"…but we got through it, he rebuilt, and remarried(to a lady in the congregation who had become a widow during his time as an elder there).
After the events of the first eight months of 1999, I was flipping through my Bible one day and came upon a passage of scripture "hidden" right before one of the "one-liners" often quoted in sermons and Bible classes.
Romans 8:18-27 reminds us of some things.
Our suffering, no matter how intense it is, cannot even compare to His glory.

Russ Sharp

Edmond church of Christ

Edmond, Oklahoma
USA

June, 4 2013

In August of 1999, my mother didn't survive open-heart surgery.
Weeks earlier, she and my father had their car totaled when an inattentive young driver plowed into the back of their car with his pickup as they were waiting to turn into a supermarket parking lot.
These two events occurred after my parents lost their home in the May 3rd 1999 tornado outbreak here in central Oklahoma…
…but God is still alive, and we find comfort in His love.
On the sixth day following the tornado that struck their home west of Shawnee, Oklahoma, I called my mother to inform her that my wife had been "working on" her Mother's Day present since 2 or 3AM. Our first child made her appearance later that night, on Mother's Day.

Russ Sharp

Edmond church of Christ

Edmond, Oklahoma
USA

June, 4 2013