After the storm, heeding Jesus' words
'What's more biblical than feeding people?' volunteer asks.
---
GARLAND, Texas
— I've seen too much tornado damage.
Tuscaloosa, Ala. Joplin, Mo. Moore, Okla.
My journeys with The Christian Chronicle have exposed me to too many lives lost. Too many piles of rubble. Too many tears.
Road Notes | Bobby Ross Jr.Yet I never fail to be inspired by the way Christians respond to such catastrophes. When twisters strike, God's people rise to the challenge: with prayers, donations and no small amount of work and sweat.
After tornadoes hit the Dallas area Dec. 26, I found Julie Truex (pictured with me), Lisa Kelly and their daughters tending a giant pot of chili.
In a mobile kitchen set up by the Churches of Christ Disaster Response Team out of West Melbourne, Fla., the volunteers prepared hot meals for between 150 and 200 people a day.
They fed both tornado victims and disaster relief workers.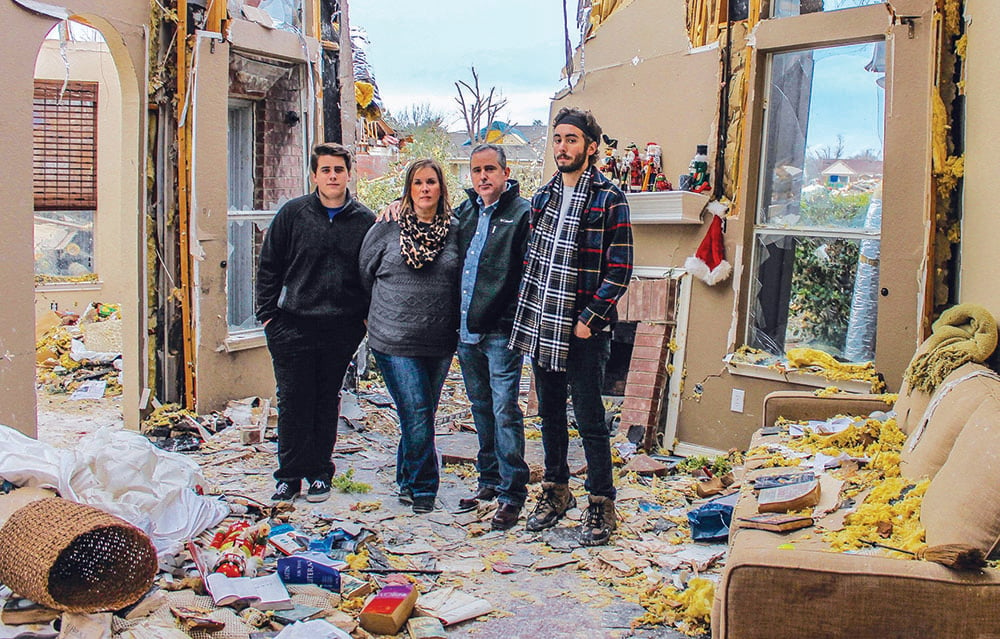 TEXAS TORNADOES
• God in the rubble: 'This world is not our home,' says family that lost house
• Texas tornado victim lived by faith: Family, minister recall Timothy Harris' quiet devotion to God "What's more biblical than feeding people?" asked Truex, working alongside daughters Cheney, 13, and Haley, 11.
"It's basic to me," the Saturn Road Church of Christ member added. "It's like instinct. When something happens to somebody, you bake something. You take it to them. You feed them."
Fellow Saturn Road member Kelly and her daughter Caroline, 18, a student at Harding University in Searcy, Ark., joined the Truexes.
When Lisa Kelly was in second grade, she lost her own home in an Arkansas tornado.
"We have good church friends who took us in," she said. "We stayed there until we could get to my grandparents' (place)."
Heaping a meal such as chicken-fried chicken, mashed potatoes and green beans on a victim's plate, she can't help but reflect on those memories.
Saturn Road Church of Christ member Lisa Kelly and daughter Caroline Kelly talk about making hot meals for victims and volunteers after the recent Dallas-area tornadoes. Video by Bobby Ross Jr.

Posted by The Christian Chronicle on Wednesday, January 6, 2016
Near the mobile kitchen, the Saturn Road church erected an open-air tent to process emergency supplies and assess needs.
"We had a family that basically just camped out in the tent," Lisa Kelly said. "They were cold and wet and hungry and just needed a place to warm up and get something to eat."
May God bless the Christians in Garland — and elsewhere — heeding the Lord's words in Matthew 25.
"Truly I tell you," Jesus said, "whatever you did for one of the least of these brothers and sisters of mine, you did for me."
Bobby Ross Jr. is Chief Correspondent for The Christian Chronicle. Reach him at [email protected].
RELATED STORIES
•  'God put his hand on us'  (Moore, Okla.)



•  After the tornado, church sings God's praises  (Moore, Okla.)



•  Big storms, bigger hearts  (Joplin, Mo.)



•  In tornado's aftermath, church mourns members  (Joplin, Mo.)



•  'Dear Lord, please help us'  (Tuscaloosa, Ala.)