After the earthquake: Relief workers share images of destruction in Nepal
---
Gajendra Deshar and Bill McDonough speak with a family in earthquake-ravaged Nepal. McDonough works with Partners in Progress, a church-supported nonprofit. He is in the midst of a survey trip to Nepal, learning how Churches of Christ can help in relief and rebuilding. Deshar is director of the Nepal Center for Biblical Studies, associated with Bear Valley Bible Institute International. (PHOTO BY DON JOHNSON)
Workers with Partners in Progress share some of their first images of the devastation in Nepal as they assess needs and begin to provide relief in the Himalayan nation. 
Meanwhile, the death toll from the April 25 quake has risen above 7,500, Voice of America reports.

• At least four members of Churches of Christ among the 4,000-plus killed in Nepal quake

• 'If you hear about an earthquake here …' a daughter's late-night message from Nepal

The Arkansas-based nonprofit is one of several ministries associated with Churches of Christ that is providing relief for Nepal. (See our earlier coverage of the quake for a list of additional ministries and churches accepting donations for quake victims.)
Many of the affected communities are remote, mountain villages, says Don Johnson, who traveled to Nepal with Bill McDonough to assess needs for Partners in Progress. 
"The plans being made by the Christians here," he says, "are to take supplies — including food, tents, meds, blankets, and water filters — to the end of the road, then meet with other Christians to haul the supplies several more hours to the communities in need."
One of the Churches of Christ working with the relief team has more than 100 members, McDonough says, and many of them "work in the tourist trade as porters for the hikers that come from around the world to see their beautiful mountains.
"They have reported that their food supplies that were stored in their homes have been destroyed and they are sleeping out in the elements. Many have been injured and one of the villages is completely destroyed.
"Please partner with us to help these desperate people."
Members of a Church of Christ in Chapagaun, south of Nepal's capital, Kathmandu, are assisting in relief efforts. (PHOTO BY DON JOHNSON)
"We circled the airport for a couple of hours before getting to land," Don Johnson says. "This is just a small part of how it looked on the tarmac — planes from all over the world with tons of supplies being brought in." (PHOTO BY DON JOHNSON)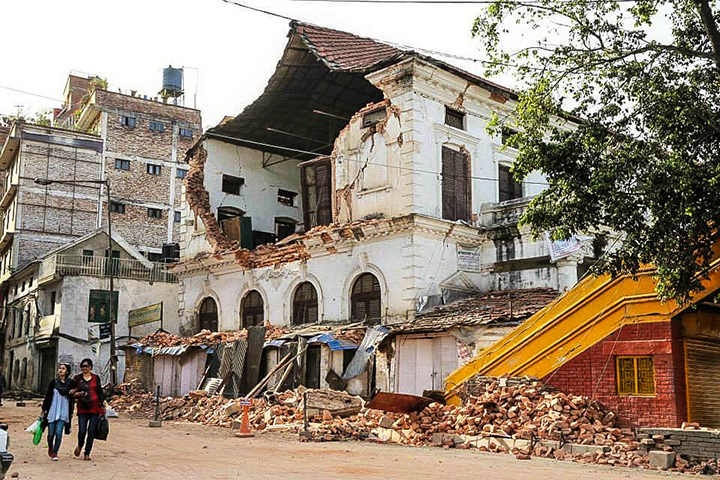 "Talking to a man on the plane coming in and a shopkeeper, they both have been impressed with the outpouring of help," Don Johnson says. "The shopkeeper said that people here are trying to leave, but the rest of the world is trying to come in to help." (PHOTO BY DON JOHNSON) 
Gajendra Deshar, left, stands next to students at the Nepal Center for Biblical Studies. The students will assist in recovery efforts. (PHOTO BY DON JOHNSON)
Bill McDonough and Gajendra Deshar stand next to what's left of a Christian family's home in a Nepali village. (PHOTO BY DON JOHNSON)
In Chapagaun, about 300 people sleep outside of their homes after the earthquake, fearing that aftershocks will cause their homes to collapse. (PHOTO BY DON JOHNSON)
In a mountain village, Nepalis begin the long process of rebuilding their homes and lives. (PHOTO BY DON JOHNSON)
"Around every corner, you find another collapsed home," Don Johnson says. (PHOTO BY DON JOHNSON)
Gajendra Deshar, Jerry Golphenee and Bill McDonnough are working with Churches of Christ in Nepal to provide relief through Partners in Progress. Deshar and Golphenee work with the Nepal Center for Biblical Studies.(PHOTO BY DON JOHNSON)
Tent communities dot Nepal's landscape after the quake. (PHOTO BY DON JOHNSON)
The earthquake damaged many of the country's historic temples and palaces. (PHOTO BY DON JOHNSON)