After the disaster: Family that survived killer tornado gives advice — and Bibles
Across the nation, relief ministry directors and responders discuss what helps — and what doesn't — as Christians respond to natural disasters.
---
After a weekly devotional, participants depart from the rebuilt home of Jason and Kala Leger and their four children. (PHOTO BY ERIK TRYGGESTAD)
NEWCASTLE, Okla. — The Bible bookshelf is back. And the pizza's here, too.
In this Oklahoma City suburb, just south of Will Rogers World Airport, about 20 teenagers are busy doing what they do on Thursday nights — making themselves at home. They drift in from playing basketball in the backyard and grab slices of pepperoni.
Along with a small group of adults, the youths search the shelf for the paperback Bibles bearing their names, scrawled in silver marker on the spine. Everyone who attends a devotional at the Legers' house gets a Bible. That's the rule.
A year ago, torn, soggy Bible pages were
strewn across a massive field of debris here
. A tornado spun up just down the street, collapsing the 2,100-square-foot home as the Legers — Jason, Kala and children McKenzie, Madison, Jett and Hutton — huddled and prayed in a tiny concrete shelter.
The May 20, 2013, storm intensified as it smashed through Moore, Okla., toppling two elementary schools and killing 24 people — 10 of them children.
Members of the Legers' congregation, the
Southwest Church of Christ
in Oklahoma City, helped the family sift through the remains. Volunteers from Oklahoma Christian University and Churches of Christ across the nation assisted in the cleanup and demolition of the house.
Jason Leger, a deacon of the Southwest church, says he's gained a lot of disaster wisdom in the past year. He shared advice on his Facebook page as the storm's anniversary approached.
• "Take photos of all your wall-hung photos," he wrote. Many don't exist digitally and can't be replaced.
• Make sure the lights in your storm shelter won't explode under pressure. Theirs did.
• Insurance doesn't cover everything, including the removal of trees if they're not on your house. "Even if there is a car in the tree, it's not covered," he wrote.
• Gift cards are "invaluable for peace of mind," he says. As families wait for insurance payments, gift cards keep them from dipping into their own cash reserves.
As they moved from a hotel to temporary housing, the Legers continued to host the weekly devotionals,
using the church building
or other members' homes. Eight months after the storm, close to Valentine's Day, they moved into their rebuilt home.
When she first visited, "I got goosebumps," says Aron Wynn, a Southwest member who has attended the devotionals for 15 years. After the storm, "it was heartbreaking to see their life strewn everywhere. But she was inspired by the family's response — the way they praised God during TV interviews.
She's equally impressed with the new house, which includes a spacious living room and open kitchen — perfect for large groups to fellowship. There's even a bathroom with exterior access for the youths who play basketball.
"You can see, everywhere, how they made this house for us," Wynn says.
Though the new locale still seems a bit unfamiliar, "the same atmosphere is present," says Steve Spor, another longtime devo devotee. "It's a totally different house, but the same God."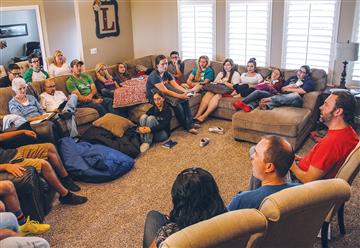 Jason Leger, far right, leads a devotional at his family's rebuilt home. Members of the Southeast Church of Christ had input in the design of the house, which includes a large, open family room and kitchen. The Legers host weekly devotionals on Thursday nights. (PHOTO BY ERIK TRYGGESTAD)

RELATED STORIES