After shooting, Tulsa prays for humility
Churches of Christ petition God on behalf of mourning family and police — and call believers to bridge their city's racial divide.
---
TULSA, Okla. —
Humility is strength born of prayer and devotion to God. That's Warren Blakney Sr.'s Sunday morning message to the
North Peoria Church of Christ
.
He proclaims it, he shouts it, during the two-hour worship service. He even sings it, bursting into John P. Kee's "Harvest" mid-sermon. The church joins in: "I read that Hebrews 11 and 1, the kind of faith to know my blessing will come."

Servers take the Lord's Supper before distributing the bread and fruit of the vine to fellow members of the North Peoria Church of Christ in Tulsa. As the congregation wait, minister Warren Blakney Sr. explains the meaning of the church's weekly communion.

"I come to tell you that humble people are strong people," Blakney preaches. "Humility means I've got the ability to do you in, but I won't do you in."
'Humility is strength born of prayer and devotion to God.'
The 480-member church prays for justice and healing after police shootings of black men sparked protests and violence in cities across the nation, most recently in Charlotte, N.C. Here in Tulsa, white police officer Betty Shelby shot and killed an unarmed black man, Terence Crutcher.
Protests followed — all peaceful. So did prayers.
Now, weeks after the Tulsa shooting, the predominantly black church also petitions God on behalf of the police. A police sergeant, several officers and retirees from the force worship here, Blakney says. The congregation mourns the recent death of Marvin Blades Sr., a former member of the Tulsa Police Department's Gang Unit and a longtime friend of the church.
Shelby, charged with first-degree manslaughter in the shooting of Crutcher, worships with the Glenpool Church of Christ, a predominantly white congregation that meets 19 miles south of the North Peoria church.
RELATED
• Tulsa officer charged in shooting still welcome at church
After the shooting, Blakney — a past president of the Tulsa chapter of the National Association for the Advancement of Colored People who, at age 9, marched with Martin Luther King Jr. in Alabama — spoke with the Glenpool congregation's minister, Benjamin Williams.
"We talked, and I prayed with him," Blakney tells The Christian Chronicle.
Blakney encouraged his fellow preacher to show love and support for their sister in Christ.
"But, on my end, I have to … say what I believe to be right," Blakney says. "There has to be some degree of justice and fairness in the law. If there isn't, it doesn't work for anybody."
BJ BullockAfter worship, as North Peoria member BJ Bullock gathers her Bible and church bulletin, she talks about the anger and disillusionment shared by blacks in north Tulsa. New construction and urban development are leaving them behind — forcing them from their old neighborhoods. She longs for a nice grocery store in her neighborhood, like the new Whole Foods and Sprouts in south Tulsa.
This shooting is only part of a long history of tension, she says, dating back to the Tulsa race riot of 1921, a brutal conflict that claimed more than 300 black lives.
"I'm a big, loud community advocate," Bullock says with a chuckle. She's also a believer that Churches of Christ here need to show unity across lines of color.
"On a lot of the issues, we are teaching the same thing," she says, "but we don't get together."

'THIS IS NOT SOME SECONDARY MATTER'
About five miles southeast of North Peoria, the Crosstown Church of Christ meets in an increasingly diverse neighborhood near the University of Tulsa.
Robert Prater, minister for the Crosstown Church of Christ.After the shooting, minister Robert Prater was tasked with delivering a message of compassion and forgiveness to the congregation — while acknowledging the community's pain and cries for justice.
"We didn't train for this in ministry school," says Prater, who is white. The church averages 225 people most Sundays, he says. About one-quarter of its members are black, and a few are Latino.
Whether it's an attack on police officers in Dallas or a police shooting in Ferguson, Mo., "we've tried not to ignore it," Prater says. "We know there are folks in our congregation who are hurting."
After the Tulsa shooting, one of the church's elders read a statement calling for unity and healing. Members white and black joined hands and prayed.
Churches cannot "pretend that there's not a racial problem" in the U.S., Prater says. "This is not some secondary matter. This is very much an affront to the Gospel that we believe."
In central Tulsa, elders of the Park Plaza Church of Christ also acknowledged the racial divide as they read a letter to their 2,000-member congregation on the Sunday after the shooting.
The church is predominantly white but has growing numbers of blacks and Latinos, its leaders say.
"We are committed to becoming a culturally integrated congregation, which is a step in understanding and solving racial tension," says administrative minister Gary Medley, one of the church's elders.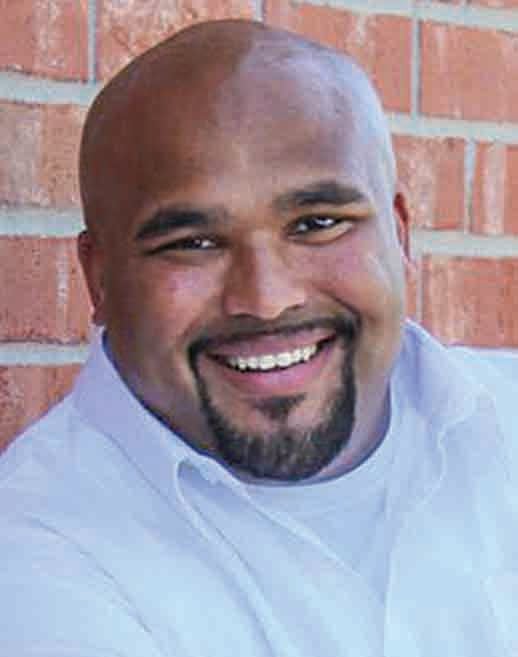 Jamie Simmons, a youth minister for the Park Plaza Church of Christ.Jamie Simmons, a youth minister for Park Plaza, says he's glad the elders made the statement, which demonstrates that "we're here to support anyone and everyone in our congregation."
Simmons grew up in Tulsa. As the son of a black father and white mother, he and his family "did experience some tension because of that" at some churches, he says.
At Park Plaza, the youths he serves — and their parents — view him first as a brother in Christ, he adds.

WONDERFULLY MADE, BLACK AND WHITE
A few hours after Blakney's sermon on humility, another group of Christians gathers at the Broken Arrow Church of Christ, a 625-member congregation in a suburb about 15 miles southeast of downtown Tulsa.
"We should do this again," says Tim Luster as he addresses a group of black and white Christians in Broken Arrow.The predominantly white church scheduled Tim Luster, minister for the North Sheridan Church of Christ in Tulsa, to speak as part of its annual focus on missions.
They also invited his congregation to attend the 5 p.m. service. Many obliged, and the Broken Arrow church's foyer is a place of handshakes, smiles and hugs shared by Christians black and white.
Luster is a graduate of the former Nashville Christian Institute in Tennessee, a school that trained hundreds of future black church leaders. He studied ministry under the institute's president, renowned evangelist Marshall Keeble.
About 15 years ago he moved from California to preach for North Sheridan. Once a predominantly white church, the congregation averages about 100 on Sundays, a near-50/50 mix of black and white, Luster says.
After the Tulsa shooting, North Sheridan members hosted a prayer vigil for their community, asking God to unite people of faith.
Now they put those prayers into practice, worshiping as Lee Turner, an elder of the Broken Arrow church, leads "I'm in the Glory Land Way." Then Mark Farris, an elder of North Sheridan, leads some of his congregation's favorites, including "Amen," "Get Right Church" and "How Beautiful."
After praying with Broken Arrow minister Tim Pyles, Luster preaches on the church's missions theme, "In His Image, Near and Far," and reads from Psalm 139. ("I praise you because I am fearfully and wonderfully made.")
Tim Pyles, minister for the Broken Arrow Church of Christ in Oklahoma, prays with Tim Luster, minister for the North Sheridan Church of Christ in Tulsa, Okla., before Luster delivers a sermon on Psalm 139 to members of both congregations."It makes no difference what the color of my skin is," Luster says. "I am made in the image of God, and when I'm seen, I need to reflect that image."
Scott Keele, the Broken Arrow church's associate minister, serves as a police chaplain. In response to his community's racial divide, "the best thing we can do is stuff like this," he says.
Listening to — and praying with — each other played a role in Tulsa's nonviolent response, Farris says.
"My heart was hurt when that happened," he says of the shooting, "but then you see what God has done through his people, and it encourages you."
Farris, who is white, has watched the demographics of his community and his church change. Luster has served as a bridge between races, he says.
When white and black believers get to know each other, "guess what, we're all people," he adds. "If we look at each other through the eyes of love, how beautiful!"