After 52 years with same congregation, Robert Oglesby to retire as pulpit minister
The Texas preacher revealed his plans Sunday to the Waterview Church of Christ in Richardson, Texas, north of Dallas.
---
On Feb. 3, 1963, Robert Oglesby preached his first sermon for the Waterview Church of Christ in Richardson, Texas.
On Feb. 1, 2015 — after 52 years as the Dallas-area church's first and only pulpit minister — Oglesby plans to preach one more time. 
Then he'll retire. 
Or at least semi-retire. 
Oglesby revealed his intentions to his longtime church family Sunday.
Minister Robert Oglesby and his wife, Willora, enjoy a 2013 assembly celebrating their 50 years with the Waterview Church of Christ in Richardson, Texas. (PHOTO BY CLINT WALKER)
"This will complete an unusual history in which a preacher starts with a new congregation on the northern edge of Dallas and stays with it through many years of growth, the planting of another congregation, six Waterview building programs, serving with 35 elders, and then gets to retire voluntarily," he told The Christian Chronicle.
But even though he'll step aside from his pulpit, the Waterview elders have asked Oglesby to remain in a flexible, part-time ministry capacity.  he said. 
"Perhaps part of our secret of staying together so long was that (my wife) Willora and I have the same desire the Waterview church does," Oglesby said. "So we began with a compatible match 52 years ago, and after more than a half a century together, we still seem to match."
In the early years, Robert Oglesby waits on the construction of the new church building. (PHOTO PROVIDED BY WATERVIEW CHURCH)
Among other duties in his new role, he'll keep working with preaching interns, training adult Bible class leaders and teaching seminars for ministry students at Christian universities.

"All of us were well aware that some things about our working relationship were different than the norm," he said of his time with Waterview. "First, most ministers don't get to stay very long at any one congregation. Second, pulpit ministers who stay a long time tend to retire around the age of 65 and not at 82. Third, after more than 50 years of working together, Waterview and the Oglesbys still want to serve God together."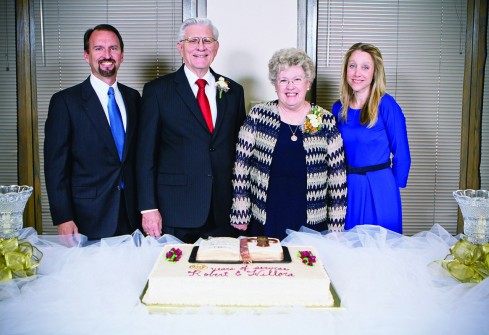 Robert and Willora Oglesby, with son Robert Jr. and daughter Cheryl Bradley, celebrate the preacher's longevity with a 50th anniversary cake in 2013. (PHOTO BY CLINT WALKER)In a Facebook post, Oglesby's daughter, Cheryl Bradley, described his impending retirement as "the moment I thought would never happen."
"He is healthy in body, and his mind is even stronger, but the time has come to reap the rewards that he and Mom have earned," Bradley wrote. "While this is the right thing, it will be another life adjustment."
Bradley said she couldn't be prouder of her parents and looks forward to "having them a little more to myself." 
Oglesby's son, Robert Oglesby Jr., serves as director of Abilene Christian University's Center for Youth and Family Ministry. Asked the secret to his father's longevity last year, Oglesby Jr. joked, "He's stubborn."

Read The Christian Chronicle's 2013 profile of Oglesby as he celebrated 50 years with the Waterview church. Also, see a 2011 report on a state-of-the-art preaching studio named after Oglesby at Harding University in Searcy, Ark.