After 25 years, Mack Lyon keeps SEARCHING for the Lord's Way
---
EDMOND, Okla. — A miracle of modern technology changed Mack Lyon's life.
At a time when not every family owned a radio, the 14-year-old's father brought one home. The young Lyon started listening every Sunday to evangelist W.L. Oliphant's program out of Dallas.
Lyon, who grew up on the banks of Muddy Boggy River in rural southern Oklahoma, had never traveled farther than the Coal County seat. He certainly had no idea how far Dallas was from his family's white, two-story farmhouse.
Mack Lyon tapes his sermons on a set at the "Search" office in Edmond, Okla., often ad-libbing from his taped script. (PHOTO BY LYNN McMILLON)"I just knew it was a long, long way by horseback," said Lyon, now 83. "And yet I can sit out here at the end of the road, and I can hear the gospel preached in a powerful way in my home. And that just overwhelmed me."
One night that summer, after Oliphant's program ended, Lyon dropped to his knees. "I just prayed to the Lord that if he would let me live to be an adult, I would give my life to preaching the gospel using radio," Lyon said.
God, of course, had bigger plans.
Nearly 70 years later, Lyon may be the most recognized face in Churches of Christ: His nationally known television ministry, "In Search of the Lord's Way," marked its 25th anniversary last month.
Anything but flashy, Lyon might be best described as "the anti-televangelist." Turned off by the likes of Jimmy Swaggart, Jim Bakker and Oral Roberts, he resolved from the start not to be a showman.
"I just wanted to present the simple gospel," said Lyon, who wears his wedding band but no other jewelry – not even his wristwatch – while taping the program. His producer, Sam Clark, laughs because Lyon refuses to use a tie tack, instead paper-clipping his tie to his shirt.
Lyon, who lives in a 2,100-square-foot house built in 1983, also refuses to ask his audience for money or sell anything on the air. Rather, the ministry relies on support from congregations across the nation, many of which pay for airtime in their areas.

"Mack is personally what you see on the air, a man of wisdom, humility and love. He has made such an impact on people because he is genuine," said Phil Sanders, a Brentwood, Tenn., minister who helped Lyon with research in the 1980s and has his own TV program,"God's Answers to Life's Questions," in the Nashville area.

In upstate New York, more than 1,400 miles from Lyon's central Oklahoma studio, the Watertown Church of Christ has sponsored Lyon's program for a year, resulting in two baptisms.

"We are enormously grateful," minister Buford Pitman said. "People who have no contact with any Churches of Christ are so impressed with brother Lyon's humble delivery, the lack of financial appeals, and the simplicity and clarity of what he preaches."
The "Search" program is produced at an office next door to the Edmond Church of Christ. (PHOTO BY LYNN McMILLON)

"In Search of the Lord's Way" started on a small NBC affiliate in Ada, Okla., in September 1980 when Lyon preached for the Wewoka Church of Christ. In 1982, Lyon moved the ministry to the Oklahoma City area and put it under the Edmond Church of Christ's oversight.

Since then, "Search" has expanded to 80 broadcast stations, 130 public and cable-access stations, 23 radio stations and two satellite networks, not to mention online streaming.

All the while, the program has stayed mostly the same, mixing Lyon's soft-spoken, Bible-based messages with a cappella singing by the Edmond congregation.
"It has just grown by the providence of God, that's all," said Lyon, whose 64 years of ministry include work with congregations in Oklahoma, Arizona, Texas and New Jersey. "Because I didn't have the wisdom to do it, and I didn't think I had the personality or the talent to do that. But I made a commitment to the Lord."

Lyon's father, Earl, farmed cotton and raised corn and grain to feed his animals. A World War I veteran, he embraced the Methodist roots of his ancestors. Lyon's mother, Inez, was a Southern Baptist who wanted her children brought up with the teachings of Christ.

"Even though we lived way out in the country, she started a Sunday school in the schoolhouse," Lyon said. "And I think the first Sunday, we had about eight people there. Five of us were my mother and her four children."


Mack Lyon's son, Chris, right, is director of business operations for "Search." (PHOTO BY LYNN McMILLON)
Within a year, the service drew 125 people a week from denominational backgrounds. Lyon's mom decided it was time for a gospel meeting. But who would preach it?

His mother pointed out that the fellowship needed a nondenominational minister because "we're all mixed up here."

That's when a stranger spoke up. The long-armed, Abraham Lincoln-looking fellow with a protruding nose, as Lyon remembers him, said he knew a preacher who could do it.

The next Sunday, the man returned and said C.A. Magness, the minister at the nearby Coalgate Church of Christ, had agreed to preach the meeting.

Magness later told Lyon he didn't know the man who asked him to speak. The man never returned to the schoolhouse, and Lyon never saw him again.

But Lyon believes he knows who sent him: "I call him the angel that God sent to perform a mission."
Kerry Campbell works in the control room at "Search." (PHOTO BY LYNN McMILLON)

During the meeting that Magness preached, 31 people were baptized in a pond for the forgiveness of sins. Lyon, then 12 years old, was No. 31.

Lyon's commitment to the Church of Christ and its teachings on baptism and salvation caused friction in his family. At age 19, two years after preaching his first sermon while still in high school, Lyon was confronted by his Methodist father.

Lyon's dad asked if he intended to keep preaching Church of Christ doctrine, and Lyon said he did. "Well, you know now where that leaves your mother and me," his dad said.

"I said, 'Yes, sir, I've been very concerned about that,'" Lyon said. "What he didn't know was how many prayers I had prayed on their behalf."

When Lyon refused to compromise, his father told him to pack his suitcase and move out.

Relations were further strained the next month, December 1941, when the Japanese bombed Pearl Harbor. Earl Lyon, who had suffered permanent lung and stomach damage from poison gas in World War I, could not believe his son would rather preach than defend his country.

"He thought if there was one ounce of good American blood in my veins that I would join the Army," said Lyon, whose draft board urged him to keep preaching "to keep the morale up."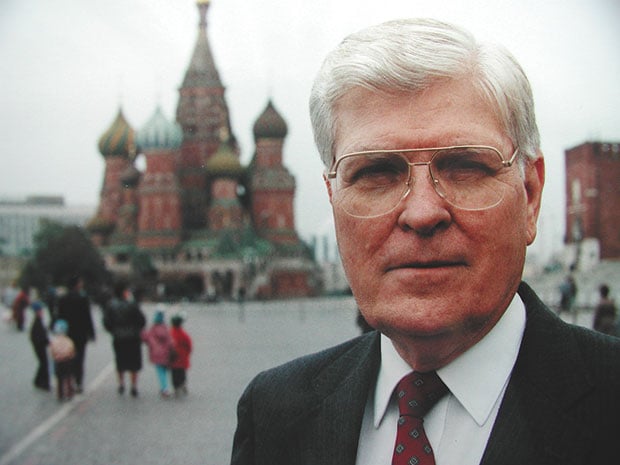 Mack Lyon is shown at Red Square in Moscow in 1990. Lyon has traveled and preached extensively in the Far East, Middle East, Russia and Eastern Europe. (PHOTO PROVIDED BY MACK LYON)

By March 1942, Lyon started looking for a place to preach every Sunday. But two ministers he respected urged him to pursue a different career, he said, telling him he "didn't have the makings of a preacher." Finally, the Wynnewood Church of Christ in Oklahoma offered him a job.

Lyon recalls that the elder who introduced him to the congregation said: "We've asked brother Mack to come and be our preacher, not because he can preach but because he wants to so bad."

At his 21st birthday party, Lyon met an 18-year-old woman named Golda. He baptized and later married her. Their marriage lasted 53 years, until her death in 1996.

After leaving Wynnewood in his early 20s, Lyon worked with a mission church in Arizona. While there, he bought time for a weekly radio program, paying for it out of his own pocket.

"Then along came television, of course," Lyon said. "And I knew immediately that … God had provided another means for communications."

In 1953, back in Oklahoma, the 32-year-old Lyon began a progam on KTEN-TV in Ada called "The Gospel of Christ." That same station would later be the first to carry " Search."
Seldom seen without a suit and tie — even then — Mack Lyon rides his bicycle to a ministry appointment in the early 1940s. (PHOTO PROVIDED BY MACK LYON)
In the 1960s, Lyon moved to Australia as a missionary. 
Flying into Perth, a western Australian city of roughly 1 million people, Lyon said he thought, "There is no way we can evangelize this many people without using the mass media." "A Walk With The Master" debuted on a Perth station in 1967.

Lyon's mom was baptized at a Church of Christ after he moved to Australia.

His dad never converted, but he and Lyon reconciled. Lyon, in fact, kept a vigil by his dad's hospital bedside as his ailments finally killed him in his 50s.

Lyon said he knew his dad cared for him, even if he never hugged him or told him he loved him. But his father influenced how Lyon interacted with his own wife and children, Chris and Jo Ann.
"I have not been much of a hugger in the church, and I never did tell my children enough that I loved them. I never told my first wife that I loved her enough," said Lyon, who married his second wife, Lois, in 2001. "I've tried to change that."

"Search" was launched after Lyon stayed home ill with the flu one Sunday and found the airwaves dominated by televangelists begging for money. Twenty-five years later, Lyon still arrives at his office about 8 a.m. each day for a devotional with his staff. Then he answers e-mails and letters and returns telephone calls before preparing that week's lesson.


For many years, he handled the ministry's finances as well as making 52 new programs a year. Now, son Chris has taken over the business side, and Lyon has cut back to about 40 programs a year.
While he types out each sermon, Lyon often ad-libs during the tapings.

"He's just got a unique ability to talk to people from the heart that translates into broadcast television," said Clark, his producer. "More people can do it from the pulpit than can do it on the air. We get a huge response from the archived programs as well as the new ones."

Lyon declines to discuss what might happen when he dies, but his associates insist that the program will go on, either with repeat episodes or a new speaker.

A few well-meaning church leaders have broached the subject of retirement with Lyon. He resists that idea.

"How do you retire from a commitment?" he asked. "I'm in good health and I can still go out and produce more programs. And we have the largest audiences we've ever had. We're on more stations than we've ever been. And you tell me I need to retire. Why?"
The white-haired grandfather of four and great-grandfather of one reflected on the commitment he made long ago.
"I gave up an awful lot in those early days, and the only way I could do that would be for the help of the Lord. I think when temptations to quit have come, I think back and say, 'No, you can't do that. You made a commitment, you stayed by it in those very difficult hours and you just can't afford to quit. You've got to go on to the end.'"
RELATED STORY• Mack Lyon, longtime speaker for 'Search' TV ministry, dies at age 93
Feedback

Love to listen to Mack Lyon. But must admit I don't listen as often as I would like to do. He is well informed and very articulate in his delivery of the Word. It's a shame we don't have more like him with the ability and availability to deliver the Lord's Word.

Rhodney Freeman

North Jefferson church of Christ

Mount Pleasant, Texas
USA

August, 30 2009