Affirming the Faith
Annual conference inspires and challenges Christians of all ages.
---
OKLAHOMA CITY —
 My family and I attended
Affirming the Faith
, a seminar for Churches of Christ that provides teaching on matters important to Christianity. The
North MacArthur Church of Christ
in Oklahoma City hosted again this year.
We dispersed to various classes based on our interests. I attended a class led by Mike Mazzalongo, a minister for the Choctaw Church of Christ in Oklahoma. I've recently become acquainted with him through the BibleTalk.tv ministry.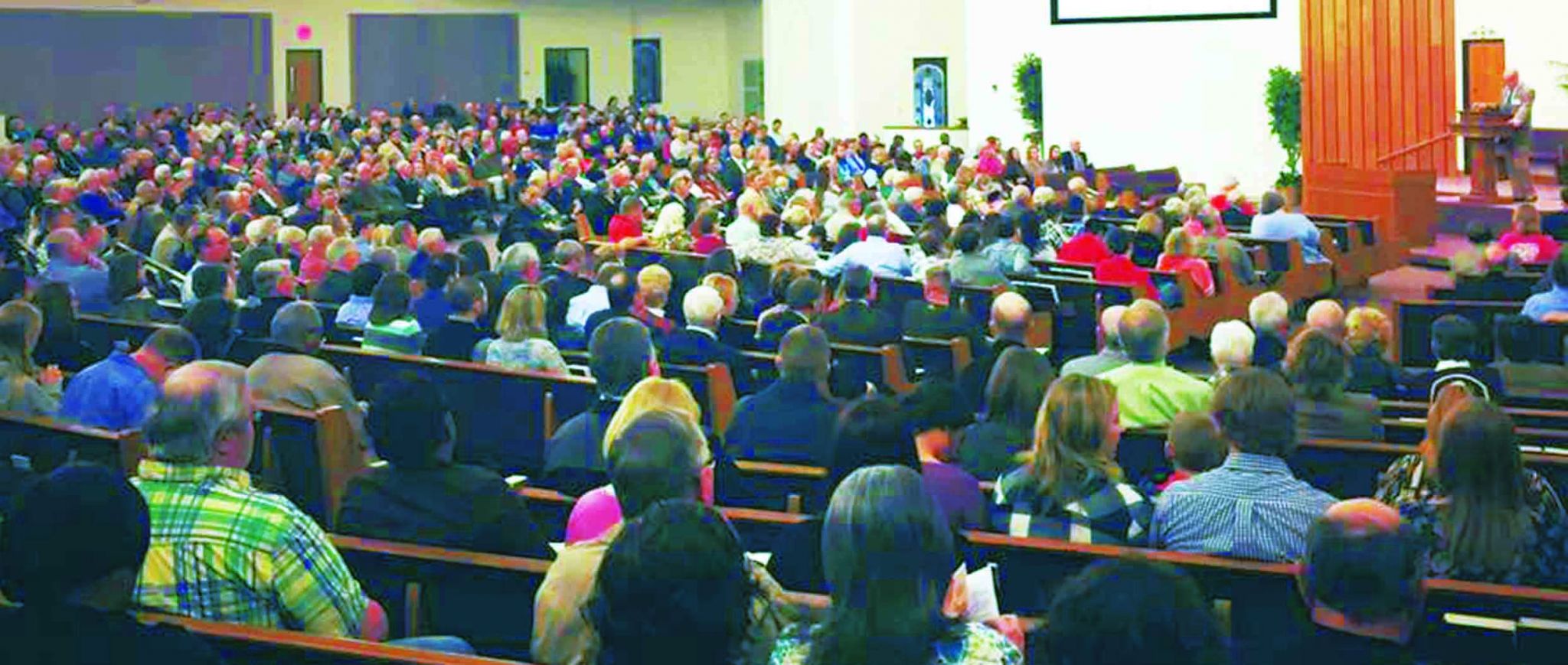 Christian pack the pews for the 2017 Affirming the Faith seminar in Oklahoma City. (PHOTO FROM MEL LATTORE JR.)
For me, the takeaway was simple but impactful: satisfaction and peace of mind are different. Satisfaction comes from accomplishing tasks, so when the tasks run out or the task changes, then our satisfaction may go up or down. This gets confused with peace of mind — something that can exist outside of the day to day hunt for satisfaction and can only be found in Christ. I've used this teaching to better identify my own emotions, faith standing and drive.
For me, the takeaway was simple but impactful: satisfaction and peace of mind are different.
These types of insights are what I look for in events such as Affirming the Faith. It's fantastic to see brothers and sisters from various congregations excited and motivated to be together, but also there is a hunger for something new to be brought to the table — something that will help sustain us or fill in the gaps in our ministry.
Jason LegerI appreciated the seminar's focus on church elders. In one class I attended, one of the first points brought up was that elders learn to be elders on the job. There's no ramp-up or training, even though the job is such a critical role in the Kingdom — yet another gap that needs to be filled. I appreciated the messages to the elders and future elders that were present.
Another extremely relevant topic — that I repeatedly see need for — is the generational gap and sometimes generational conflict that exists in our congregations. This topic is at the core of some of the heartburn or murmuring that the church experiences today.
A serious look at this topic, combined with an honest look at ourselves, shows that we have to overcome our preferences, our biased ownership of worship service traditions, and instead embrace that we are multigenerational. This is possible within the bounds of Scripture and appropriate worship activity.
Over the years Affirming the Faith has produced some of the most impactful lessons and discussions I've experienced. At other times the seminar simply has refreshed or affirmed a stance I have already taken. Either way, it continues to be a great event for my family. I appreciate all those who help make it happen.
JASON LEGER is a deacon of the Southwest Church of Christ in Oklahoma City. Learn more about Affirming the Faith at www.affirmingthefaithok.com.
• 'God put his hand on us'