ACU technology team is Tweeting the Bible
---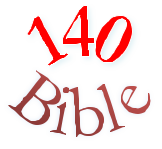 Abilene Christian University in Texas reports:
It's not every day that social networking and Christianity come together meaningfully — or is it?
Every day since April 14, three members of the ACU Technology support team have been Tweeting the Bible, one chapter per day, using the popular social network site Twitter. Nathaniel Jones, Chris Rhodes and Kent West will be spreading the Word, bits at a time, for a total of 1,189 days.
"We found one other time where someone had started a similar project but had only made it a couple of months," says Jones. "We looked up the number of chapters in the Bible and realized it would take us more than 3 years to complete the project. Chris and I decided we had better get help and so invited Kent to join us."
With their 140-character limit and tech-savvy medium, Jones, Rhodes and West hope to spark a renewed interest in the text of the Bible.
Read the full story.
Feedback

This is a creative way to get the Word out to others. This team is to be congratulated for coming up with this great idea.More of us need to be following their example of finding ways to acquaint people with the Bible.

James Haney

November, 8 2010

I find Wikipedia, Youtube and Google Books have tremendous resources available. One problem is the information overload we all suffer. I find delicious and especially diigo excellent tools for bookmarking resources which I discover which I would like to make available to others. Just search by keyword. For example, <a href="http://www.diigo.com/user/ed_dodds" title="dodds diigo links" rel="nofollow">My Diigo Library</a>. One can create groups as well. I think these are excellent to share with book clubs, scripture study groups, etc.

Ed Dodds

November, 10 2010