Across the Nation, March 2014
---
ARIZONA
TUCSON —
The Southside Church of Christ set a goal of reaching an attendance of 300 — and did so three times in the last year.
Moreover, the congregation set a goal of 50 baptisms — and welcomed 54 souls into Christ.
"Please rejoice with us as we continue to bring the lost to Christ and strengthen those already in the body," minister Donald G. Priddy Sr. said. "Pray for the work here at Southside and let us know of your work that we likewise might rejoice and continue with you in prayer."
CALIFORNIA
SAN DIEGO — Snow in Southern California?
It's possible — with a little help.
The Canyon View Church of Christ provided 10 tons of machine-made wintry mix for playing, sledding on saucers and making snow angels as part of a recent Winter Wonderland event.
"This was the church's … gift to the community," said Jim Hinton, spiritual formation minister.

SAN FRANCISCO — Richard Blythe, longtime minister for the Lake Merced Church of Christ, lost his battle with cancer Jan. 19. He was 68.

Blythe. PHOTO PROVIDED"Richard Blythe lived a life of service and faith," said organizers of a memorial fund to help his family with final expenses, since he did not have life insurance. "His work as a minister, a director of children's homes and a CEO of foster care agencies touched many lives."
Survivors include his wife, Rhonda, and 12 children.
For more information, click here.
COLORADO
BRUSH — The Northeastern Colorado Bible Bowl was hosted recently by the Brush Church of Christ, Rocky Mountain Christian reported.
Five Churches of Christ participated, including the Golden, Miller Street, East, Keenesburg and Brush congregations.
About 50 people, from toddlers to adults, attended.
Betina Asele, 14, and Ginny Page, 15, members of the Greenwood Park Church, sing with residents of Chandler Park Assisted Living. PHOTO BY JOSHUA LINDSEY, BOWLING GREEN (KY.) DAILY NEWS KENTUCKY
BOWLING GREEN — Greenwood Park Church of Christ members conduct a service at the Chandler Park Assisted Living center once a month. Songleader Howard Frazier told the Bowling Green Daily News he tries to pick songs the seniors will recognize, such as "How Great Thou Art" and "Amazing Grace." "It really brings a lot of good cheer and fellowship," he said.
MARYLAND
BALTIMORE — A new church plant — the Inner City Church of Christ — is focusing evangelistic efforts near a local recreation center.
"We have to come back to the neighborhoods," senior minister Eric A. Lorick said. "Driving in and driving out does not build relationships."
Lorick and education minister Rodney Dashiell planted the new congregation — which started with less than 50 members — with support from the East Baltimore Church of Christ. For more information, see cocinnercity.org.
NEW MEXICO
ALAMOGORDO — Al Maxey, minister for the Cuba Avenue Church of Christ, served as the main speaker for a recent legislative prayer breakfast.
More than 200 people, including lawmakers, judges, commissioners and other local officials, attended.
Maxey told the gathering he was pleased to be in a place where everyone could come together and pray, The Daily News reported.
"We have a wonderful freedom in this country," he said. "I hope we never abuse it and never lose it."
TEXAS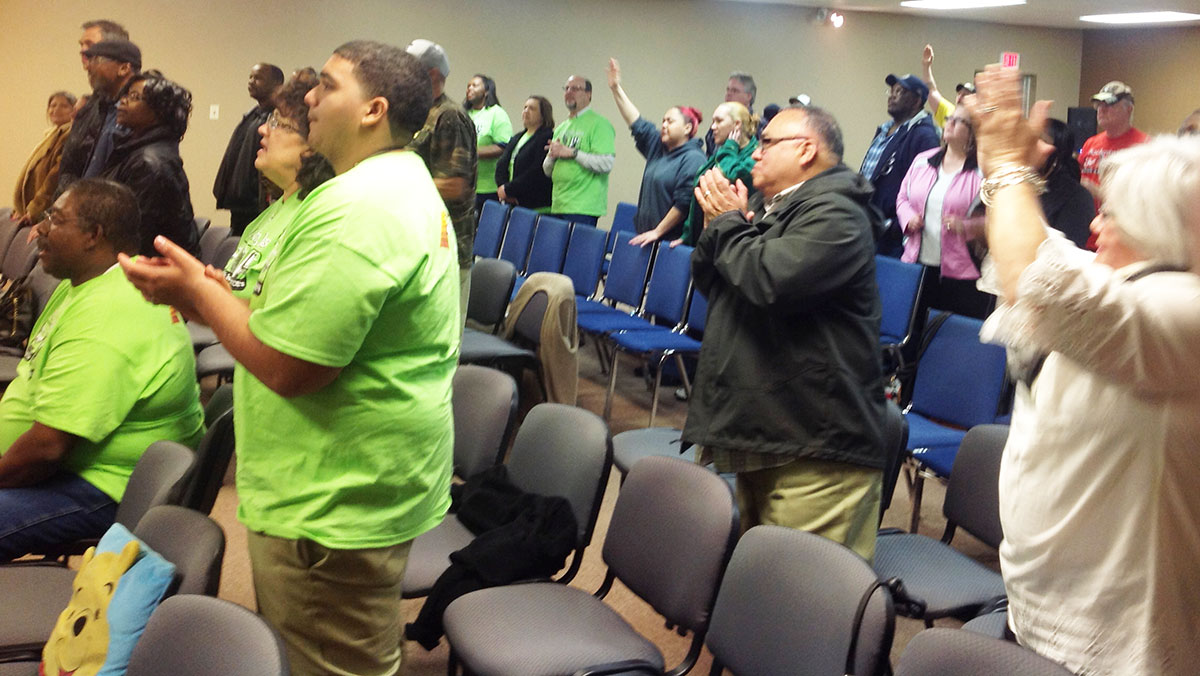 Participants sing during the convention. PHOTO BY KARL BERRY CEDAR HILL — The Cedar Hill Church of Christ hosted the recent World Convention of Overcomers Outreach.
Church member Karl Berry said the convention drew nearly 400 participants.
The event was open to anyone who wanted to know how to use faith to battle addictions and habits such as alcoholism, drug abuse, pornography, gambling, overeating and codependency.
"The church has looked away from such problems in the past. Therefore, we think it is noteworthy," said Berry, who overcame a 28-year drug addiction and has been sober for 19 years.
KELLER — For 34 years, Jim Hackney served as preacher for the Heritage Church of Christ — formerly the Midtown Church of Christ in Fort Worth.

Jim Hackney passes the baton to Brock Paulk. PHOTO PROVIDED BY HERITAGE CHURCH
Now Hackney has passed the ceremonial baton of senior minister to Brock Paulk, who spent seven-and-a-half years as youth minister and spent the past year in a mentoring role sharing the pulpit.
"The shepherds led the church in a reaffirmation to the mission of reaching the lost and in affirming Paulk as the lead minister at Heritage," said Hackney, who will remain in a full-time role as executive minister.