Across the Nation, February 2014
$100,000 WINNER
---
ALABAMA
AUBURN —
A recent
Auburn Church of Christ
sermon topic caught the attention of
Yahoo! Sports.
This was the sign outside the church before the Iron Bowl football game between then-No. 1 Alabama and No. 4 Auburn: "Sunday's Sermon: Humility, We'll Either Have It Or Need It."
As it turned out, Auburn fans needed a big dose of humility after one of the most dramatic, last-second wins in college football history.
HARTSELLE — The Westview Church of Christ, a 5-year-old church plant with about 50 members, emphasizes community outreach.
"Building Faith, Building Family and Building Community" is the motto of the congregation, which hosts events such as a back-to-school supplies store, a community cookout, a fall festival, a community Christmas party and community gospel concerts.
The Huntsville-area congregation "was started as an urban church plant focused on providing a holistic ministry to a lower-income community," said Michael Brown, one of the church planters. "We are Kingdom-oriented — looking to meet the spiritual, material and social needs of our community."
CALIFORNIA
LOS ANGELES — Elder Forest Whitaker led a Figueroa Church of Christ team that recently roasted 59 turkeys, baked 16 hams and prepared dressing, gravy, cranberry sauce, yams, macaroni and cheese, salad, green beans, rolls, beverages and an assortment of desserts for 700 people.
For 16 years, the congregation has organized a community feast that benefits the homeless and area residents.
GEORGIA
AUGUSTA — Six Churches of Christ came together to feed almost 3,000 people in an event dubbed "Feed the Hungry."
The congregations worked in harmony to provide hot meals, said Tina McCormick, secretary for the South Augusta Church of Christ.
"It was one of the more beautiful examples of cooperation I think we have ever been a part of," McCormick said, noting that organizers intend to repeat the undertaking. "The goal is for God to be glorified, people to be blessed and souls to be saved."
NORTH CAROLINA
RALEIGH — Thirteen couples attended the Brooks Avenue Church of Christ's first-ever weekend retreat for parents of children with special needs.
Brad Thompson, a minister and counselor for the Southwest Church of Christ in Amarillo, Texas, and his wife, Karen, spoke. The Thompsons also run The Hali Project, a nonprofit that helps families with special needs.
"The couples' children were watched while the parents attended," said Barry Woodhouse, deacon for the Brooks Avenue special-needs ministry. "It was a tremendous success and something the Thompsons want to do again in this format."
OHIO
CINCINNATI —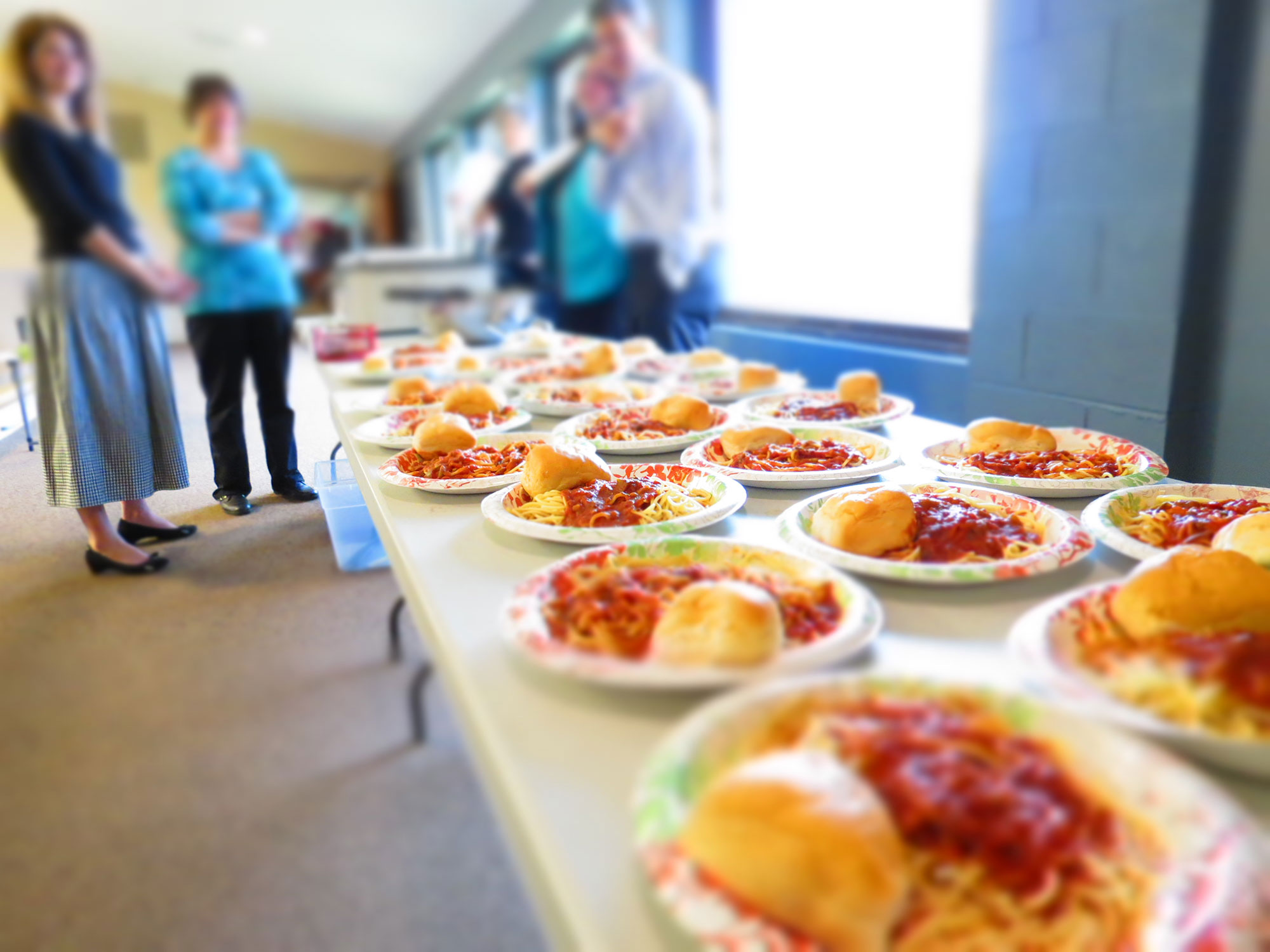 At Northeast Church of Christ in Cincinnati Ohio, an 'orphan's feast' benefits children. PHOTO BY DINA CLYDEAt its "Jesus Loves the Little Children" Friends Day, the Northeast Church of Christ in Cincinnati showcased three organizations that work for children's welfare: Hope for Haiti's Children, Mid-Western Children's Home and Focus on Youth. After the presentations, everyone was invited to stay for an "orphan's feast" — a simple spaghetti plate — in lieu of eating out. Members were invited to donate any money they might have spent on a restaurant meal to the organizations.
OKLAHOMA
MUSKOGEE — Fluffy piles of teddy bear stuffing and material patterns cover a table in a bright room at the Chandler Road Church of Christ.
Inside, you'll find four women laughing warmly and stuffing teddy bears that will be given to children to hold onto when they feel scared in the hospital, the Muskogee Phoenix reported.
"It's a ministry we do for children when they are at their lowest," Rhonda Frasier told the newspaper. Each bear given out to local hospitals by the "Bear Ministry" has been sewn, painted, stuffed and labeled "Made With Love."
TEXAS
GRANBURY — 2013 was a difficult year for this North Texas community.
In May, a tornado killed six people and destroyed more than 100 homes. The next month, a sheriff's deputy died and a police officer was injured in a shooting.
To support and encourage those who serve on the front lines during such times of tragedy, the Granbury Church of Christ's Wednesday morning ladies' Bible class hosted a special luncheon honoring the community's first responders.
About 60 personnel from seven emergency agencies attended.
PALESTINE — The Crockett Road Church of Christ made the holiday season a little brighter for a platoon stationed in Afghanistan.
The congregation helped members John and Ann Mottern provide care packages for their son, Jason Mottern, and his fellow soldiers.
"We felt it was in some small way an opportunity to show our appreciation for those men and women serving on foreign fields," minister Dan Manuel told the Palestine Herald-Press.