Across the Nation, August 2014
---
ARKANSAS
JONESBORO — A recent 10th anniversary service at the Valley View Church of Christ drew 831 worshipers.
The Valley View church was planted in June 2004 in a former Knights of Columbus building. The church grew so rapidly that it built a multimillion-dollar facility after just two years, pulpit minister Kerry Williams said. Attendance now averages between 550 and 600.
Present and former ministers, elders and deacons and those who have died were honored at the anniversary event.
Valley View Church of Christ members worship God at the 10th anniversary service. (PHOTO PROVIDED BY KERRY WILLIAMS
ILLINOIS
BELVIDERE
— Twelve of the 19 people present at the first assembly of the
Belvidere Church of Chris
t in June 1964 returned to celebrate the church's 50th anniversary.
Betty (King) Potter is the only original member who has been at Belvidere all 50 years.
"Friends Are Blessings from God" served as the theme for the recent anniversary celebration.
KANSAS
WICHITA — More than 200 teens and adult sponsors from Churches of Christ served — and sweated — during the recent Wichita Workcamp.
Students from Kansas, Nebraska and Oklahoma power-washed, scraped and painted 16 Wichita homes, painted over bridge graffiti and sealed and painted a soup kitchen's floor, the Wichita Eagle reported.
"We serve God by serving people," said Toby Levering, youth minister for the Northside Church of Christ in Wichita. For more information, see wichitaworkcamp.org.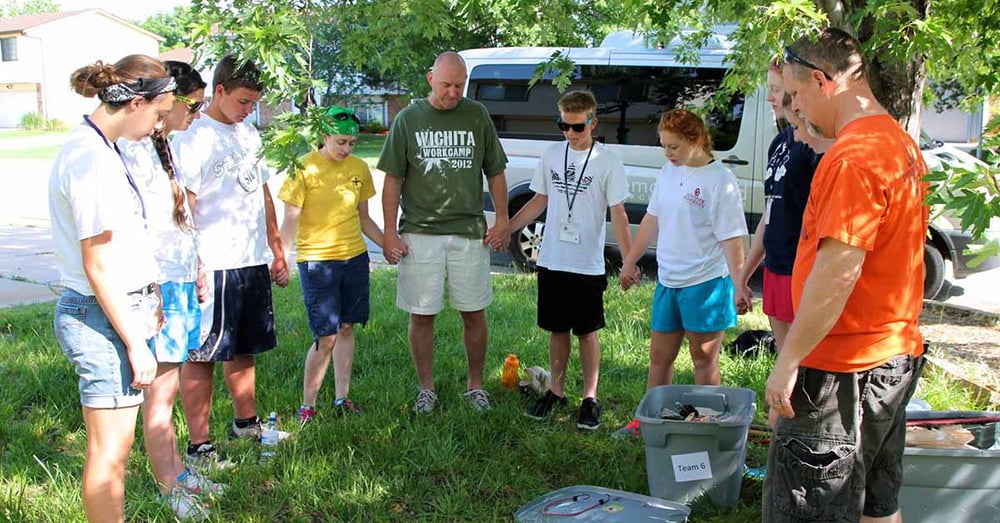 Christians pray before a day of labor during the Wichita Workcamp (PHOTO PROVIDED BY MARK YEAKLEY)
OHIO
BELLVILLE
— The Perry Church of Christ, which formed in 1844, recently celebrated its 170th anniversary.
Perry preacher and elder Vinton Morgan wrote a history of the 60-member church for the occasion, the Mansfield News Journal reported.
"We have about 30 family members who can trace their families to the original founders," Morgan said.
OKLAHOMA

TULSA — The Crosstown Church of Christ hosted a recent "Marriage Roadshow" featuring Richard and JeannaLynn May.
Nearly 60 people attended the Friday and Saturday night sessions. Richard May also preached Sunday.
"The Mays really bring personal warmth as well as life-changing content in their presentations," Crosstown minister Robert Prater said of the Oklahoma City couple. "They draw from their own personal experiences in their marriage and the experiences of the hundreds of couples they have counseled."
TENNESSEE
MILAN — When the Dream Center, which houses abused women and children, revealed plans to put a shelter in this West Tennessee community, the Main Street Church of Christ decided to help.
Leaders thought a special Sunday contribution might generate $5,000 or so, minister Chad Ezelle said.
"But we collected $20,000 for them that day," Ezelle said. "It's a pretty cool story of a church reaching out to their community."
TEXAS
ABILENE — Twenty-one inmates were baptized on a recent Wednesday night at the John Middleton Prison Unit.
The baptisms occurred during a midweek service at the prison, said volunteer Lou Seckler, a member of the University Church of Christ.
"It was a joyful occasion when the rest of the inmates present stood up (and) walked to the front where the new converts were to welcome them to the fold," Seckler said. "There were laughter and tears."
In the past 10 years, close to 9,000 inmates have been baptized at the Middleton unit, Seckler said.
The Reese family reacts to the surprise welcome. (PHOTO PROVIDED)
AUSTIN — After 13 years of service in Alotau, Papua New Guinea, the Reese family recently returned from the mission field.
Former missionary teammates surprised the Reeses by joining a "welcome home" celebration at the Westover Hills Church of Christ.
Marcus and Diane Reese have four children: Hannah, Hadassah, Rochelle and Faith.
WASHINGTON
CLE ELUM — "Leading In An Age of Compromise" served as the theme for a recent men's retreat at Camp Koinonia.
The retreat, featuring Old Testament scholar Daniel Oden of Harding University in Searcy, Ark., drew more than 40 preachers, elders and other leaders.
"There were at least 19 congregations represented from Washington and Oregon," said Micah Powless, minister for the Moses Lake Church of Christ in Washington.