Abilene Christian University remembers Neil Lightfoot, New Testament professor
---
Abilene Christian University's ACU Today reports: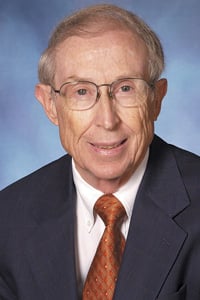 Dr. Neil R. Lightfoot, Abilene Christian University's Frank and Della Pack Distinguished Professor Emeritus of New Testament, died Monday in Abilene, two days short of his 83rd birthday.
Born Dec. 22, 1929, in Waco, Texas, he earned a B.A. in philosophy (1952) and a M.A. in philosophy (1955) from Baylor University, and a Ph.D. in religion (1958) from Duke University. He joined the ACU Bible faculty in 1958 and retired in 2004.
He married Ollie Robinson April 7, 1951, and she died in 2003. Lightfoot married Marjorie Floyd ('65) in May 21, 2005.
Lightfoot was ACU's Teacher of the Year in 1978, a Piper Professor nominee for 1979-80, and a senior associate in Cambridge University's Westminster College in 1986. He preached in gospel meetings around the world, and was minister of churches in Waco (Lakeview Church of Christ); Winston-Salem, N.C. (Central Church of Christ); Burlington, N.C. (Vaughn Road Church of Christ) and Abilene (11th and Willis Church of Christ).
Read the full story.
Feedback

He was one of the most outstanding Christian professors. His scholarship and kind spirit will be never forgotten.

Rafael Serrano

September, 20 2012

Dr. Lightfoot was a scholar and a gentleman. I greatly benefitted from hiw teaching.

James Hawk

September, 26 2012

Dr. Lightfoot was my major professor while I was doing my Master's work at ACU (ACC when I was there!). He was, and is, an inspiration to me. I will never forget his kind words of encouragement to a young Bible Major. He inspired me to study Textual criticism, which I still study today. We were blessed to have him with us!

Dee Carter

September, 26 2012

Neil furthered a love for the word that still remains , 40+ years later.

John Fewkes

September, 26 2012

He was truly one of a kind and will be missed.

David Moore

September, 26 2012

My condolences to his family. Dr. Lightfoot has been a consistent and powerful influence for good for many years. His genteel spirit and rigorous scholarship have won for him many, many friends and admirers. We will reference his works on the Bible and the book of Hebrews for a long time to come.

Chris Stinnett

September, 26 2012

I was/am blessed to be his student, honored to have become his friend and continue to be positively influenced by his teaching and writings. I remember with particular vividness (and some levity) his intensified expression as he said (more than once) "I hate superficiality." Indeed, his scholarship was thorough. I am comfortable saying that all of us who have been his students have been blessed by that thoroughness. Thanks, Neil.

Tom Torpy

September, 26 2012

Neil Lightfoot was a fine teacher and his attention to the details of the Greek text of Hebrews remains with me.

Claude Cox

September, 26 2012

I'm reading How we Got the Bible for the second time. I have some questions. I Googled Dr. Lightfoot's name and was very surprised to find out that he died. I am trying to find out if the Bible is truly the word of God. Would someone who worked closely on this subject with Dr. Lightfoot please e-mail me so that I can ask a few important questions that I need answered? I wish I could have known and been able to at least talk to Mr. Lightfoot. His book is very informative and I have learned a lot. Please accept my deepest condolences.

Brandon Bourque

September, 27 2012

I had Dr. Lightfoot for two classes at ACU in 1983 & 1984. He was one of the most gentle and humble men I have ever met. He made his students work hard but you always learned something new from him. My most cherished Bible is the one I have outlines and notes marked in from his classes. Countless students at ACU were blessed to learn from him and he will be missed.

Terry Black

October, 31 2012