A toymaker's tale
Preacher's hobby of making toys was born from devotion.
---
ROSHARON, Texas—
 At 85, Ernest Raines is not slowing down.
"If you sit around, you're going to mope and groan and not want to get up," the longtime preacher and carpenter told The Christian Chronicle.
His home, about 30 miles south of Houston, is full of wooden toys — cars, trucks, planes — each handmade by Raines himself.
"I love making the toys because it makes so many people happy," said Raines, who worships with the First Colony Church of Christ in Sugar Land, Texas.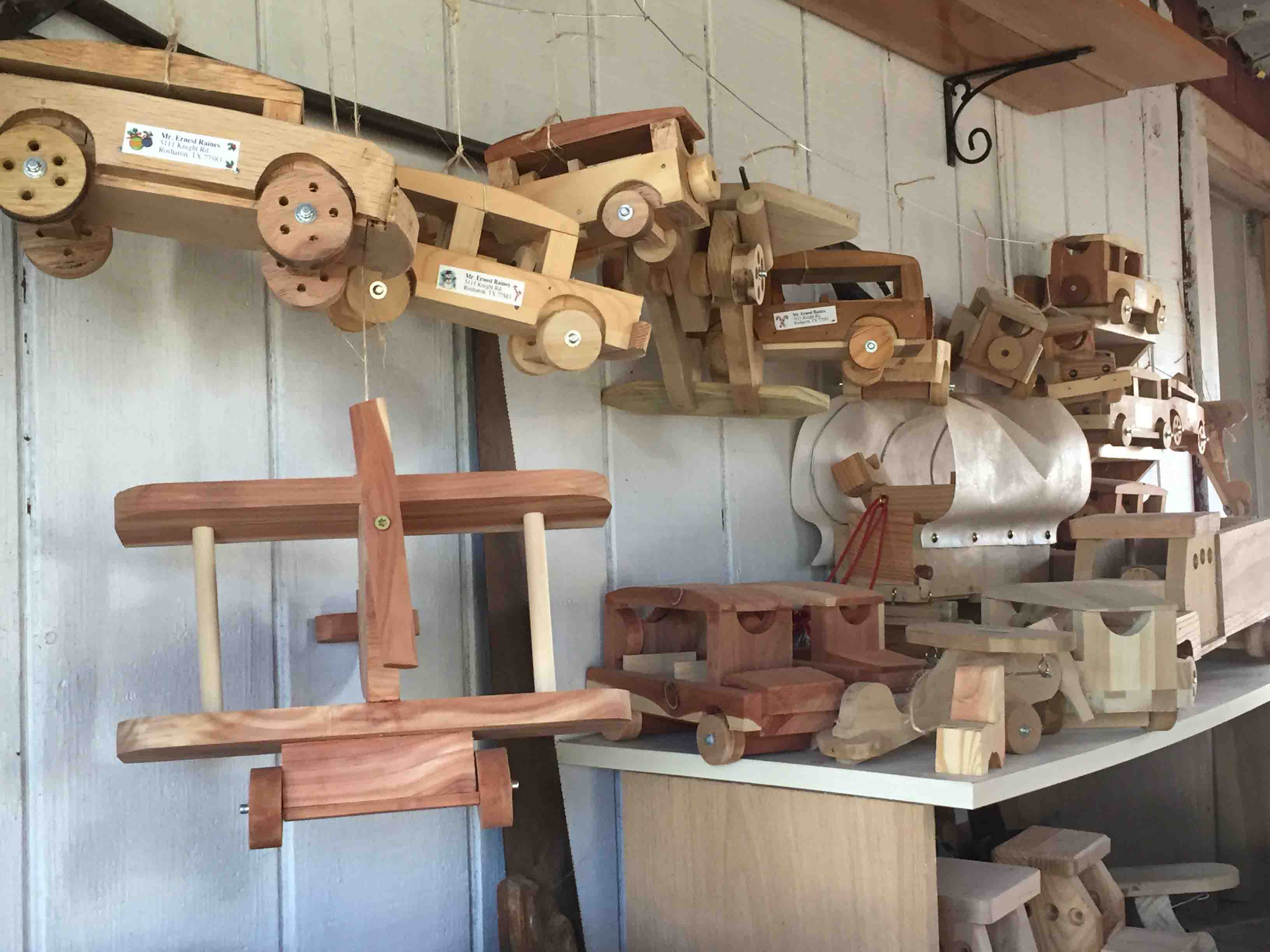 Handmade cars, trucks, planes and other toys fill an outside patio room at Ernest Raines' home.
It's a hobby he's had for decades. It started out of necessity, building Christmas presents for his nine children when money was tight. Click here to see our recent video feature on Ernest Raines But his hobby really took off when he was in his 70s. His wife, Margaret, had a massive stroke. Raines started working on the toys while he cared for her.
"I could make the toys and care for my wife at the same time," he said.
He makes it sound simple. According to his children, it was not.
The stroke left Margaret unable to talk, chew or swallow. She was paralyzed, left with only the ability to swing her right arm as a signal that she needed something.
Married in July 1953, Ernest and Margaret Raines had 57 years together.Raines couldn't stand the thought of putting his beloved wife in a nursing home, his children said.
"Dad had to find ways to care for mom that were a result of his varied life experiences as not just a preacher, but also a farmer, mechanic and carpenter," said Tim Raines, one of Ernest's sons.
With his son's help, Ernest Raines built tracks on the ceiling around his home, enabling him to move Margaret from one room to another. He could get her out of bed, bathe her and even put her on an exercise bike to help keep her circulation going.
"Dad had to use a seat belt and various straps to place her on the exercise bike, which he had to 'pedal' with his hands," Tim Raines said.
He also felt that the expensive, liquid diet doctors had her on wasn't helping her get well, so he developed a special meal he would feed her three times a day via a feeding tube. He called it "Ernie's Nourishment Drink," a mixture of sweet potatoes, oatmeal, peanut butter, yogurt and a small amount of chocolate "for flavor," he said.
Doctors, his children added, were always amazed how well Margaret was doing.
Click here to see more stories in this series. Then, in April 2011 — almost four years after the devastating stroke — another stroke took Margaret's life. They were married for 57 years, during which Ernest Raines kept his vow to love and care for his wife.
"Mom was dad's best friend," Tim Raines said, "and her care and happiness were his No. 1 priority in life."
Along the way they raised four biological and five adopted children as Ernest Raines preached for Churches of Christ across the U.S. He also helped construct church buildings.
After Margaret's death, Earnest Raines found himself spending more time in his workshop, more time building the toys he loves.

This jeep is one of the many toys Ernest Raines has made. He said the firetrucks and helicopters are his favorite toys to build. 
"After my wife died, it was my life," he said. And it keeps him young.
"I can put a car together in three or four hours," he said. "Sometimes I can make three cars in a day."
Despite his own health issues — multiple surgeries, skin cancer, a broken hip and femur — he keeps going. Another son, Paul Raines, said of his father, "I don't think there's too many people his age doing this type of stuff, and I think it's good for him."
Toys fill the shelves at Ernest Raines' home.These days, Ernest Raines sells many of the toys he makes at a Houston-area farmer's market. His children, all grown with families of their own, help him. They said that their dad's story is an incredible example of love and devotion — not just to their mom, but to God.
"His ability to lay down his entire life and learn how to be a country boy nurse was the result of daily prayer and submission," Tim Raines said. "Dad is faithful — to God, to his wife, his family, his friends."
Ernest Raines, however, doesn't believe he's done anything special.
"My opinion's still the same," Raines said. "That's to be a Christian, walk like a Christian, act like a Christian."