A tale of Ruth and Boaz
In Taiwan, a Christian couple — with familiar names — grants the simple wishes of elderly souls.
---
HUALIEN CITY, Taiwan —
Silver-haired saints — some with broad smiles, some with tears in their eyes, a few asleep — sit in rows of wheelchairs as a man named Boaz talks to them about Jesus.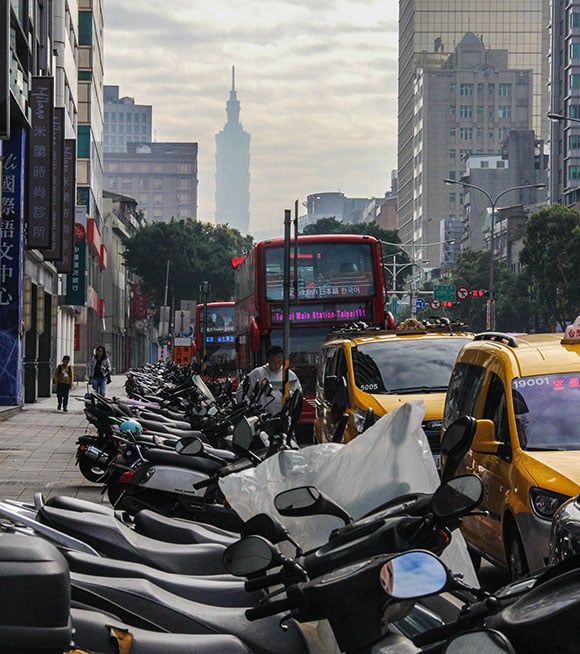 RELATED STORY: Faith can take years — even a decade — to grow in Taiwan. But it grows.
That's Boaz Wang, a 64-year-old Taiwan native who preaches for the Hualien Church of Christ.
Three decades ago, when he became a Christian, he gave himself the name of the noble kinsman-redeemer from the Old Testament book of Ruth."Boaz," he explains, sounds like a Taiwanese phrase that means "you belong to your wife."
His wife, Ruth Lu, had no objections to this and chose for her name that of the loyal Moabite woman who married Boaz. It just seemed appropriate, she says.
Weekly Bible studies — augmented by flip charts bearing Bible verses in Wang's practiced Chinese calligraphy, plus a giant cardboard Bible he made himself — are a small part of the couple's 30-year ministry at this government-run nursing home in Hualien, a small tourist town on Taiwan's eastern coast. They're here nearly every day, helping the residents eat their meals, drying their hair after they take showers.
Some are from mainland China and rarely see relatives. A few are disabled and have lived here since they were children. One is 103.
And about 20 of them have been baptized.

"It's not easy for the elderly to accept a new thought like Christianity," says Liu Yu Xia, a member of the Hualien church who assists in the nursing home ministry. "It takes a lot of continuous effort to get them to accept Jesus Christ and the Gospel."
Few know this better than Wang, who describes his life before Christ as that of a brash hooligan. He cared little for religion — though he and his friends once participated in a fire-walking ceremony.
The hot coals seared his feet, but he kept quiet about it. Burns meant you were "unclean," he recalls.
COUNTLESS SINS — AND SALVATION
A sign maker by trade, Wang got a job — and a Bible study invitation — from Tommy Alford, a missionary from the U.S. who needed a sign for the Hualien Church of Christ. Wang accepted the invitation out of kindness. They studied Scripture in the back of the salon where Lu worked as a hairdresser.
'My second-favorite place in the world' — Erik Tryggestad shares stories of faith from his journey through Taiwan and the Philippines.
Soon, Wang found himself arguing vigorously with the missionary. Alford was kind and patient — and always ready to debate, Wang says.
Relentless in his work, Wang took little time to think about Jesus. Then, five years after his first Bible study, the stress caught up with him and he became seriously ill. Fearing death, he started thinking about "the burden of sin in my heart," he remembers. "What can I do to remove all these sins? They are countless."
He was baptized in 1985 and began training with Alford for ministry. But Lu, who had overheard their years of Bible studies, was skeptical of her husband's conversion.
"I wanted to see if he would truly change," says Lu, who had once overturned their kitchen table when she caught Wang and his friends gambling on it.
Two more years passed, and she saw "a genuine, positive change in Boaz," she says. So she joined him. The new Christians became active in evangelism and youth camps hosted by the church.
THREE DECADES OF SERVICE TO SENIORS
Soon after his wife's baptism, Wang saw a newspaper ad asking for volunteers at the nursing home. He began making regular visits to serve. One man, Hui Zhi Liang, was excited to learn that Wang was a minister. Long ago, Hui once was a believer — and even led a Bible study, he said. Hui studied with Wang and was baptized. The new Christian, in his 90s, spent the rest of his days carrying a small bag of gospel tracts on his shoulder, giving them to anyone who would take them.
More baptisms followed, so Wang began conducting Bible classes and worship at the nursing home. Now he and Lu arrive there at 6 a.m. on Sundays. They help the elderly eat breakfast and move them in wheelchairs — one by one — to a meeting room for worship.
Boaz Wang teaches seniors in Taiwanese, more common among the elderly than Taiwan's official language, Mandarin. (PHOTO BY ERIK TRYGGESTAD)
As worship ends, they return the elderly believers to their rooms and rush to the Hualien church's meeting place for Bible study at 9.
After 10 a.m. worship with the 20-member church, the couple drives to a second nursing home for another round of Bible study and worship from 2 to 4 p.m. Hualien church members help out.
A MINISTRY OF URGENCY
Due to their busy ministry schedule, they make about a tenth of the money they made before their baptisms, Wang estimates, but they are far more responsible — and content, he says. When he's not at the nursing home or offering Bible studies in the community, Wang writes detailed notes of encouragement to his fellow believers and their families in artful Chinese characters.
In a scrapbook, Boaz Wang and Ruth Lu keep memories of the senior souls they've served. (PHOTO PROVIDED)
A few years ago, the couple launched a program called Make a Wish. They ask the elderly what they desire most — and often are humbled by the requests.
One man, confined to a bed, wanted the simple gift of a hot shower. Volunteers took him to a hospital across town that had special equipment to help fulfill his request.
Ruth Lu, a hairdresser, regularly donates her talents to the elderly. (PHOTO PROVIDED)
Another man wanted to visit a brother he hadn't seen in 50 years. Make a Wish volunteers found the brother in another town and drove the man there. The brother, also handicapped, was unable to leave his fifth-story apartment. So Wang carried the man on his back, up the stairs, for the reunion.
Serving the elderly has taught Wang "to cherish right now and today," he says. "The evil days will come to us when we are old enough."
One of his favorite memories is of a highly intelligent woman who studied the Scriptures with Wang for two years and was baptized at age 92 — just months before she died, unexpectedly, from colon cancer.
"Preaching the Gospel of Jesus Christ is urgent," Wang says. "We can't afford to wait until later."
Interviews translated by Yolanda Wu.
Yolanda Wu, a preacher's wife from Taipei, walks by a Chinese New Year display in Hualien City while visiting fellow Christians Boaz Wang and Ruth Lu. While Wu's father lived in a home for veterans, Wang taught him the Gospel and wrote him notes of encouragement in beautifully detailed Chinese characters, she says. (PHOTO BY ERIK TRYGGESTAD) Related story: Prayer and patience in Taiwan