A Spirit-led stop at my father's grave
'So I say, let the Holy Spirit guide your lives. Then you won't be doing what your sinful nature craves.' — Galatians 5:16, New Living Translation
---
DALLAS
— I debated whether or not to stop. We had so much highway ahead of us.
Driving from Abilene, Texas, to Birmingham, Ala., proved to be as daunting as it looks on a map. I know Texas is big. I'm from Texas, born and raised. But when you actually have to drive through it, the sheer enormity of it makes you feel so small.
But still I wrestled with stopping by Dallas-Fort Worth National Cemetery just off Interstate 20. My father is there. And I hadn't visited his grave in years.
I felt obligated. Perhaps it was the Holy Spirit telling me I'm too close not to stop. Living outside Texas, I wasn't sure when I'd get another chance.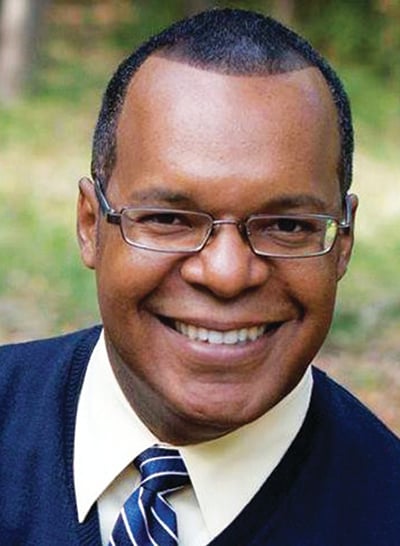 Wendell Edwards | In The WordWe pulled up to his tombstone. I talked to it like it was my dad — a real person, alive and kicking. I know he's not really there, but it felt comfortable and intimate.
Kennedy got out with me and talked to the marker, acknowledging the grandfather she never got to meet. He would have loved his granddaughters, deeply and proudly.
Then I noticed it — two streaks across the bottom of stone, rust color, like they'd been there for a long time.
My heart raced. Anger began to seep into my subconscious. I squashed it. No need to get mad. That won't help. I needed to take action.
What is it? How did it get there? How do I get it fixed?
I tried a baby wipe from the minivan, some bottled water and muscle. Nothing. I took a picture with my phone and drove to the front office. They couldn't help. They gave me a lovely brochure with a 1-800 number to call.
I wanted to scream. I could picture myself diving into the bureaucracy of the Department of Veteran Affairs. I just needed someone to fix my father's gravestone.
Then the woman behind the desk said, "You know, you're in luck." She pointed to the window. There was a man walking toward the building. "He's the man in charge here."
I met him on the walkway, told him my problem, showed him the picture.
"That's a rust mark from a lawnmower, Mr. … uhh?" He was reaching for my name. I hadn't even told him. I did, and I learned his name was Mr. Melvin.
Those marks don't happen often, Mr. Melvin said. The grounds crew mows close to the markers, keeping the grass short and pristine. Sometimes they get a little too close.
"Can you fix it?" I asked. He could — and he would, soon. He'd send me a picture and, if I wasn't satisfied, he would order a new headstone. I smiled and briefly teared up. I wanted to embrace him, pull him into a deep, long, tight bear hug. But I didn't. "Thank you," I said and shook his hand.
A week later, I got a text with a picture of the fix. The line is faintly there, but I'm OK. It certainly looks much better. I sent Mr. Melvin a thank-you card.
More so, I'm glad we stopped in the middle of our 14-hour drive home. I'm glad I was there. It was a debate within myself, and I'm glad the Holy Spirit won.

WENDELL EDWARDS co-anchors the morning news for WBMA, ABC 33/40 in Birmingham, Ala. He and his family attend the Riverchase Church of Christ in Birmingham.