A small group with a big impact
Using conference calls, members of an Atlanta-area church help women in 17 states and Canada experience spiritual community.
---
MARIETTA, Ga.
— All around her, Hasandra Heyward saw women with struggles — in their marriages, their jobs, the lives of their children. 
Heyward, a member of the
Burnt Hickory Church of Christ
, wanted to help. Her congregation sponsors "growth groups" — a small-group ministry designed to give Christians a sense of connection outside the church building. 
But adding one more commitment to the schedule of already stressed-out women — many of them working moms who spend hours wrangling Atlanta's notorious traffic — would prove difficult.
The answer, Heyward discovered, was a phone call away.
With the help of fellow church member Waleska White, Heyward launched the
Online Women's Growth Group
in early 2014. They set up a website as a meeting place for busy women. 
To add a personal touch, the church members began teaching live "tele-classes" through a weekly, Tuesday night conference call.
Using a set of basic rules for "tele-class etiquette," the coordinators "have worked out a system so that dozens of women can be on the conference call and have a chance to say something while still maintaining a coherent conversation," said Scott Franks, preaching minister for the Burnt Hickory church.
At first, Burnt Hickory members comprised the bulk of the group. Now the conference calls include more than 50 women from 17 states and the Canadian province of Nova Scotia.
"The goal now is to encourage and edify the women who are not Christians," Heyward said, "and to teach the love of Christ."
"I want women to be revived in such a powerful way that our homes, jobs and communities begin to thirst for the things of God."
Participant Julie Suederick joked that the class is "high-tech enough that a gal living in Nova Scotia could participate and low-tech enough that I could participate."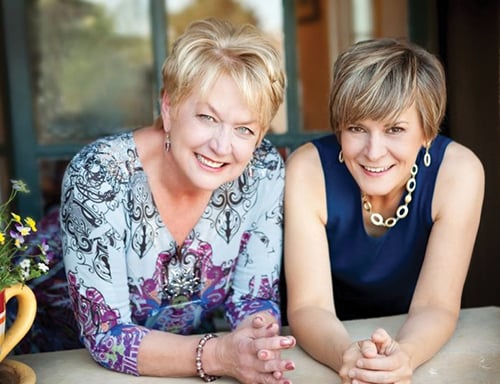 Linda Dillow and Juli Slattery, co-founders of multimedia teaching ministry Authentic Intimacy, have taken part in the tele-classes of the Online Women's Growth Group. (PHOTO VIA WWW.AUTHENTICINTIMACY.COM)
"Joining an accountability group was important as I read this book, journaled and listened to peers," Suederick said. "Being on the telephone made this experience so personal. What a thrill to hear Linda Dillow on the line, beginning me on this journey."
Dillow said she was "privileged to see firsthand the amazing life changes through Hasandra's growth group. The women are seeking God and growing deeper in trusting him. God is ministering in a special way to each woman in the growth group."
Other class topics have included "Praying for Our Children: A 21-day Challenge," "Intimacy with God: Courage to Commune with God About Every Area of Your Life" and "Body Stewardship."
In January, the class began a study titled "
Reclaiming God's Design for Sexual Intimacy in Marriage
" featuring Juli Slattery, who co-authored "
Passion Pursuit: What Kind of Love Are You Making?
" with Dillow.
A key focus of the group is embracing truth and "walking out daily who we are in Christ," Heyward said. "One word of truth has the power to destroy a lifetime of lies, and Jesus brought that truth to us. 
"The group has been tearing down walls and building up hearts since day one, teaching truth and challenging lies, excuses and apathy."
In addition to the individual participants, six other Atlanta-area churches and three out-of-state congregations join the live tele-classes.
"It's certainly refreshing that technology can be used for the benefit of women, to glorify God and build the church," Franks said. "It's reproduceable because almost anybody can do it. I'm hoping other women will be inspired by what Hasandra's doing."
Donna Weir of California said the class "helped to kick start me back on the road to sharing God's Word with our younger sisters in Christ."
Heyward added that some of the most positive feedback she's received has come from men.
"I have had brothers come up to me and say, 'My wife loves your class' or 'I see such a change in my wife. Is there a group like this for men?' 
"Well, for me, that says it all."