A 'selfie' from Down Under
A mission to Australia to encourage Christians and make connections instills a desire 'to respond to God's calling.'
---
Roberto Quintanilla, a missionary in Australia, hugs Nathan Leatigaga, an Australian college student and rugby player, after Leatigaga's baptism. (PHOTO BY KELCY NASH)
CAMPBELLTOWN, Australia —  Mission work here can be a slow process. It starts with connection — simply talking to people and beginning a friendship.
I was one of six students from
Oklahoma Christian University
in Oklahoma City to spend a month in this Sydney suburb, working to make those connections with as many people — Christian and non-Christian — as we could. Kent and Nancy Hartman, former missionaries to Australia, led our group.
Natalie Yeats takes notes during a daily reading of the Gospel of Luke. (PHOTO BY KELCY NASH)
I was amazed at how easy it was to become close with someone quickly. The friendships we made grew fast and strong. 
We visited several Churches of Christ in the Sydney area, sharing in food, fellowship and worship.
I began to realize that my family doesn't exist just in Oklahoma or my home state, Kansas, but all over the world. 
While we were from opposite sides of the planet, lived in a different culture — and at times it  seemed as if we spoke different languages — we had one common thread tying us all together: Christ. 
While I set out with the goal of encouraging them, they greatly encouraged me. The people of Australia are my family. 
The experience instilled a desire in me to respond to God's calling for my life — whether it be in Australia, America or anywhere else in the world — and share our greatest connection of all, Christ's love.
KELCY NASH is advertising assistant for The Christian Chronicle and a senior at Oklahoma Christian University.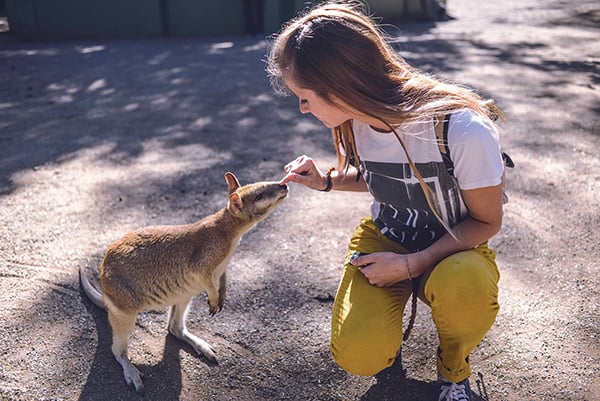 Kelcy Nash feeds a young kangaroo at Featherdale Wildlife Park. (PHOTO PROVIDED)