A 'muy buena' church plant
In the Dallas area, a Spanish-speaking congregation experiences growth and offers potential lessons for reaching the burgeoning Hispanic population.
---
ARLINGTON, Texas — In the heart of Dallas-Fort Worth, a growing Hispanic congregation celebrated two more baptisms on a recent Sunday.
Members sang the Spanish version of "This is the Day" as the Arlington Iglesia de Cristo (Church of Christ) welcomed a newly converted couple.
"Definitely, God is working," said Jesús Rodriguez, a native Puerto Rican who moved from Arizona to Texas with his wife, Carmen, to help plant the church. "This is a great opportunity to explain the Gospel to many, many people."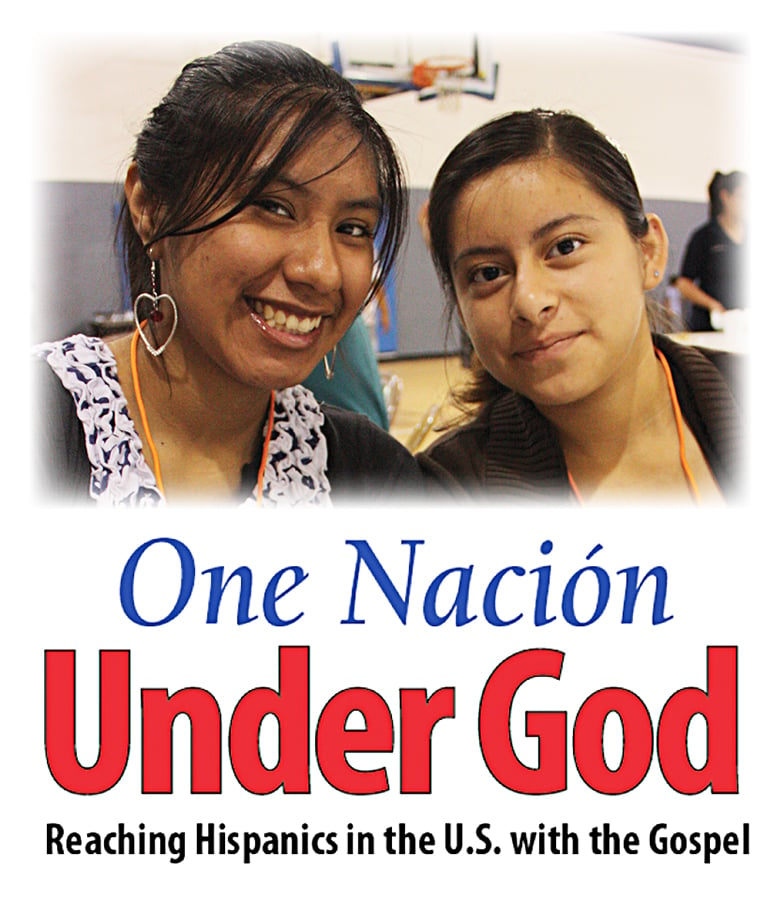 Read all the stories in The Christian Chronicle's ongoing series.Two-and-a-half years after the congregation's launch, weekly attendance tops 100.
Leaders of Texas-based Great Cities Missions — best known for recruiting and training missionaries for Latin America — see the Arlington church plant as a model for reaching Spanish speakers in the U.S.
"We want to see more churches planted by Hispanic teams in predominantly Hispanic communities in major U.S. urban centers," said Scott Emery, a former missionary to Chile who is Great Cities Missions' director of U.S. teams. "We are in need of good candidates for such teams and in need of partnering churches willing to support them."
Nationwide, the fast-growing Latino population has hit 54 million, up from 22 million a quarter-century ago, according to the U.S. Census Bureau.
In Arlington, the number of Hispanic residents exceeds 100,000 — over a quarter of the city's total population of 380,000, census data shows.
Doug PetersFor years, the North Davis Church of Christ — a 600-member congregation in the shadow of the home stadiums for the Dallas Cowboys and Texas Rangers — felt a need to connect with Arlington's burgeoning Latino population, former minister Doug Peters said.
"We lovingly supported a small group of Spanish-speaking members to 'do their own thing' off to the side, sharing small parts of our facility as an appendage to the body," Peters, now a Bible professor teaching preaching and ministry at Oklahoma Christian University, wrote in a report.
"Predictably, these efforts stagnated and never gained traction," he added. "We needed an effective strategy."
That strategy came in 2011 as Great Cities Missions and three Arlington Churches of Christ — Hillcrest, Woodland West and North Davis — partnered to develop the Hispanic church plant.
Great Cities Missions trained a missionary team that included Jesús and Carmen Rodriguez, supported by North Davis, and Omar and Cesia Corpus, supported by Woodland West.
Jesús and Carmen Rodriguez
Hillcrest offered the use of its facilities, seeing the new flock as an answer to prayers.
"When I moved into this neighborhood, it was 98 percent Anglo," said Vicky Pierce, a member since 1969. Now, most residents in the east Arlington neighborhood are Hispanic.
Sunday attendance at the Hillcrest church — which formed in 1957 and reached 400 members — has fallen below 100.
Many longtime members who once lived in the neighborhood now commute.
"The congregation here has put this building up for sale prayerfully multiple times and never gotten what they felt like was an answer from the Lord," Pierce said. "So we just kept saying, 'God's got a plan.'"
Singing at the Iglesia de Cristo (Church of Christ) in east Arlington, Texas.

Posted by The Christian Chronicle on Sunday, April 12, 2015
'THERE IS A SPIRITUAL BATTLE'
The Arlington Iglesia de Cristo has enjoyed growth despite challenges.
This past summer, The Christian Chronicle interviewed Omar Corpus at the 12th annual Reunión Nacional de Predicadores — which means National Meeting of Preachers — hosted by the Northside Church of Christ in Benton, Ark.
At the meeting, Corpus talked excitedly about the church plant. He stressed the need to practice friendship evangelism instead of relying on door-knocking, which he said is more effective in his native Mexico than in the U.S.
Preachers, leaders and spouses pray during a 2014 national meeting of Spanish-speaking church leaders hosted by the Northside Church of Christ in Benton, Ark. (PHOTO BY BOBBY ROSS JR.)
In the months following, however, Corpus and his family ran into visa problems, forcing their return to Mexico and leaving the Rodriguezes to handle the Arlington ministry.
In another case, team members trained by Great Cities Missions enjoyed success growing a Spanish-speaking congregation at the old Rosemont Church of Christ building in Fort Worth but later faced internal strife that damaged their efforts.
Scott Emery"We can't forget that there is a spiritual battle going on," Emery said. "Satan doesn't want us partnering with Hispanic teams to plant effective churches here in North America."
Gabriel Rodriguez, son of Jesús and Carmen, and his wife, Jonelle, hope to join the Arlington team. They are undergoing assessment by Great Cities Missions and, if all goes satisfactorily, will be supported by the Woodland West church.
"Jesús and Carmen were a little overwhelmed when they lost their only teammates," Emery said, "so the churches acted quickly to bring in reinforcements in order to keep things going well."
If he joins the team, Gabriel Rodriguez will lead the Spanish-speaking worship and work with the teens, who — unlike their parents — prefer Bible class in English.
"Culturally, we still try and preserve some of the Hispanic-ness of it even if we conduct everything in English," he said. "We sing songs in Spanish."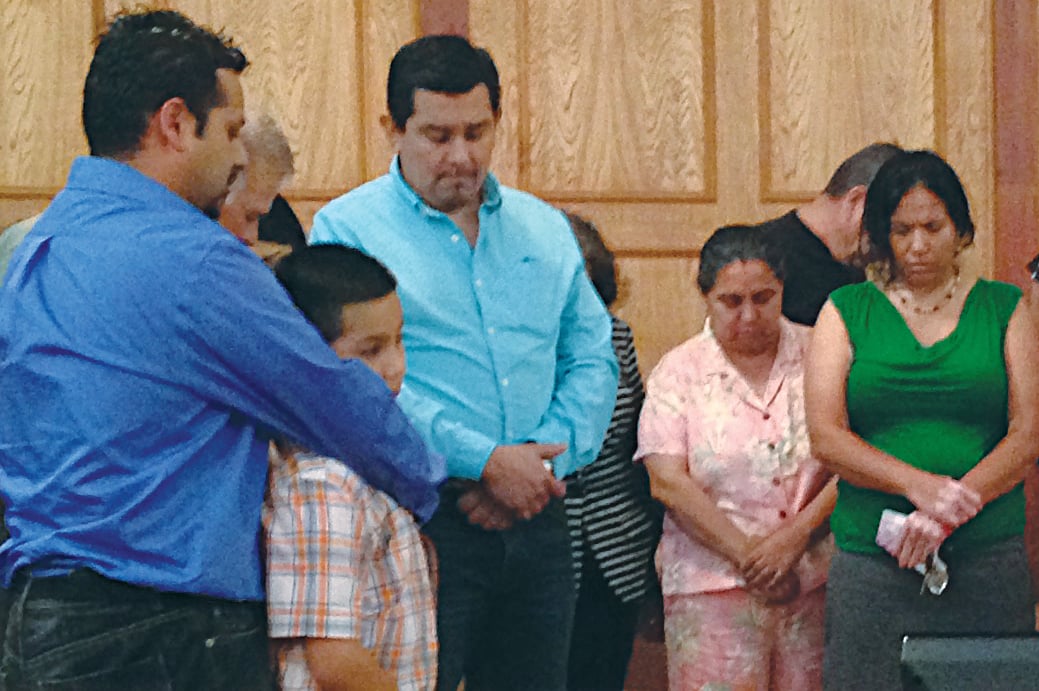 Members of the Arlington Iglesia de Cristo (Church of Christ) pray after a recent baptism. (PHOTO BY BOBBY ROSS JR.)
'WE WANT THIS FLOWER TO GROW'
As it targets future locations for church plants, Great Cities Missions is eager to help with recruiting, training, strategic planning and missionary care, Emery said.However, the parachurch organization needs partners, he said."Interest in the Hispanic community is growing among Churches of Christ," Emery said. "But too many aren't acting on that interest."
Jim Holway, a minister for the Sunset Church of Christ in Miami, coaches Hispanic church planters through the Florida-based Latin American Mission Project.
Jim Holway speaks with Myrna Ruiz after a fellowship meal at the Sunset Church of Christ in Miami. (PHOTO BY ERIK TRYGGESTAD)
Holway endorses Great Cities Missions' plan to nurture domestic teams.
At the same time, he advocates a multipronged approach, embracing alternatives such as video training of Hispanic church planters by Texas International Bible Institute in Houston.
"We have a huge opportunity, but we're losing the battle to win the Hispanic community," Holway said.
Woody WoodrowHowever, in Arlington, the Hispanic group already outnumbers its host congregation.
The church plant has boosted the spirits of Hillcrest members who recognize the changing demographics, longtime minister Woody Woodrow said.
A recent joint assembly by the Spanish and English speakers filled the auditorium with 192 souls.
"It's just been wonderful to see all these new faces here," Woodrow said. "We're not helping them in terms of salary. But in terms of physical plant facilities and supplies, we are very much involved and positive. We want this flower to grow, blossom and flourish."
"Definitely, God is working. This is a great opportunity to explain the Gospel to many, many people."  Jesús Rodriguez, church planter, Arlington, Texas