A mission trip to their Texas neighborhood
At spring break, a Dallas-area church urges members to 'Love Where You Live.'
---
Acacia Browne, center, helps paint a house, along with her sister, Priscilla Browne, left, and Anna Buraczyk, right. (PHOTO BY BONNIE NEVILLE)
ALLEN, Texas — Like many congregations, the Greenville Oaks Church of Christ regularly organizes short-term mission trips.
Members join missionaries in serving people in Rwanda. They work with a church plant in western Canada. They share Christ's love in places such as Panama and Granada.
Elaine Orr, a member of the Greenville Oaks Church of Christ in Allen, Texas, enjoys a laugh while painting. (PHOTO BY BONNIE NEVILLE)
But for spring break, leaders invited the flock to try a different approach.
"Love Where You Are" served as the theme for the 800-member church's weeklong, stay-at-home mission experience — focused on making a difference in this northern Dallas suburb of 90,000 souls.
"I had reached the point where I was kind of frustrated with the fact that our people have this (faraway mission) experience, but there was no connection to how they live their life," said Matt Mazza, Greenville Oaks' outreach connection minister.
From young children to senior citizens, over one-third of the congregation — about 300 people — accepted the challenge to participate in "Mission Collin County 2014."
Projects ranged from painting and  landscaping at local residents' homes to organizing free meals at a neighborhood elementary school to sorting donated clothes and groceries at a community outreach center.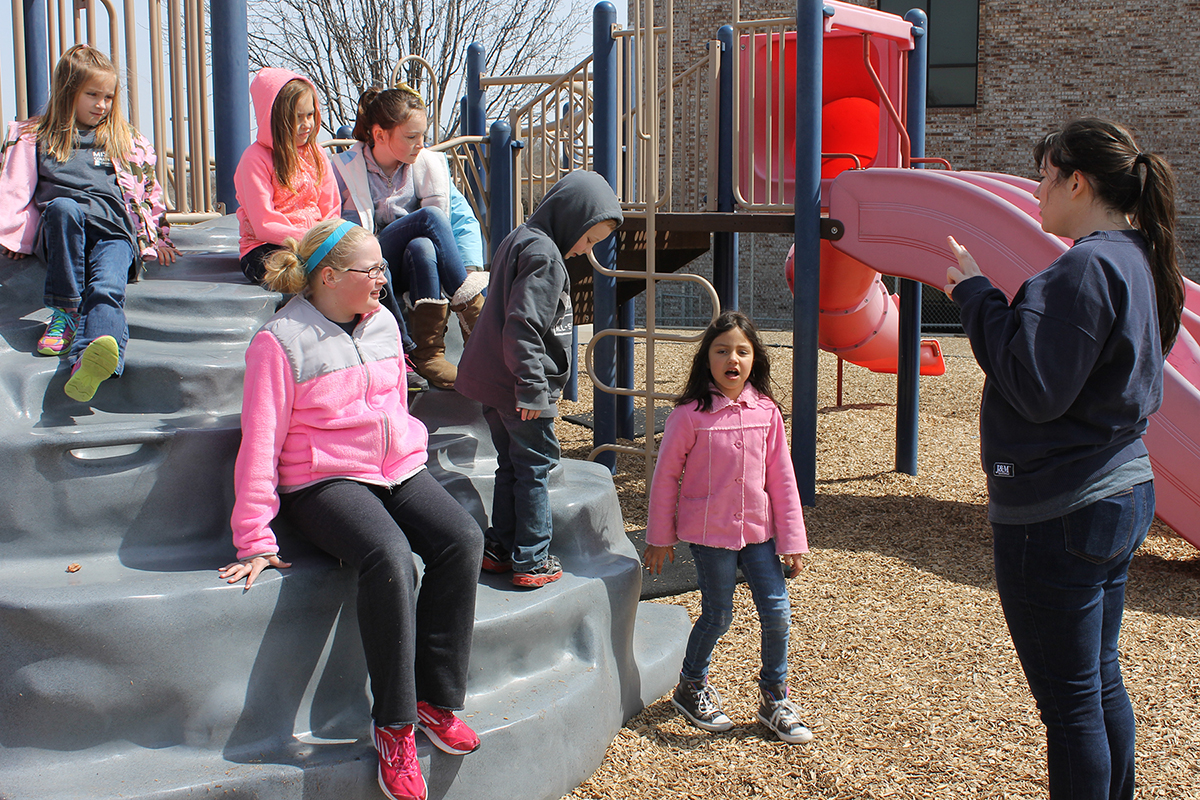 Hillary Hoover, right, is one of the youth ministers for the Greenville Oaks church. She's playing a game with children — some from the congregation and others from the neighborhood — during a community lunch. (PHOTO BY BOBBY ROSS JR.)


Member Karen Stevens, who has traveled with the church to Regina, Saskatchewan, said volunteering at home opened her eyes to specific needs.
"We are such a blessed community. We have so much of everything," said Stevens, stocking canned goods at the outreach center. "But there are so many people who don't."
On a mission trip to Panama, member Valinda Bruce fed poor residents in a fishing village.
Church member Dana Dill visits with a woman at a laundromat. Through the "Loads of Love" project, members donate quarters to help their neighbors. (PHOTO BY BONNIE NEVILLE) Here in Allen, she served corn dogs and macaroni-and-cheese to hungry children — many from Spanish-speaking immigrant homes. 

"This dedicated week of helping people is just a good reminder that we can do things all the time to show God's love," Bruce said.
One place that church members showed that love: a local laundromat. "Loads of Love," it's called.
It involves a whole lot of quarters — and conversation.
"We just pay for people's laundry and hear some real interesting stories," Bruce said.
The goal: love neighbors and show Jesus.
"This is just the first step of what we hope will be a growing and ongoing effort," Mazza said.
Mission Collin County 2014 Trailer from GreenvilleOaksCoC on Vimeo.