A lion's death and Africa's true beauty
News of Cecil's demise at the hands of a Minnesota dentist reminds me of another life ended too soon in Zimbabwe, though it didn't set the Internet ablaze with condemnations.
---
Alas, I never got the chance to see Cecil the lion.
Though I've been blessed to visit his home continent multiple times, my trips don't usually include game parks.
(I did spot some roadside zebras in Kenya once, just before getting hopelessly stuck in the black-tar mud of Laikipia, and fearing that I might run into one of Cecil's cousins — at night. But I digress.)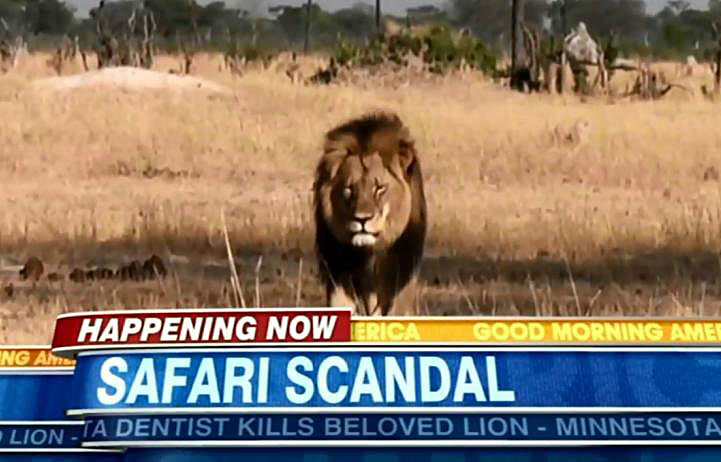 Coverage of Cecil the lion's death on Good Morning America. (VIDEO STILL VIA ABC NEWS)
News of Cecil's demise at the hands of a Minnesota dentist reminds me of another life ended too soon in Zimbabwe, though it didn't set the Internet ablaze with condemnations.
His name was Andrew. He should be 21 now, farming, working, marrying, preparing to raise a pride of his own.
But he died at 12, another victim of HIV/AIDS, which claims more than 1 million lives in Africa each year.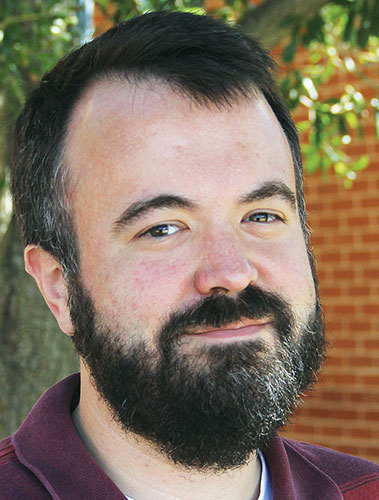 Inside Story | Erik Tryggestad
He was a patient at the Brian Lemons Memorial Hospital, a ministry of Nhowe Mission. I was visiting the hospital in 2006 with supporters from the East Point Church of Christ in Wichita, Kan.
As the hospital's board discussed heady matters of administration (including the 1.5 billion Zimbabwean dollars it would cost to fix the medical waste incinerator — inflation was out of control at the time) I sneaked away with chaplain Timothy Matangira and East Point minister John Langley. I thought we would visit some church members and — fingers crossed — see a giraffe or two.
Instead, we squatted inside a hut of mud and thatch and stared at a small casket draped with a multicolored, striped blanket. Women from the nearby village sat and cried quietly as they kept vigil over Andrew's body.
The mourners ushered us into another hut, where they had prepared a stew of chicken, greens and sadza — a doughy mash made from corn.
Ministers Nhamo Marunga and John Langley speak as they walk toward the site of a village funeral. (PHOTO BY ERIK TRYGGESTAD)
I feared for my stomach, but knew I had to "eat whatever is set before you," as Jesus told his disciples in Luke 10. Meat was reserved for special occasions and honored guests — though I felt more like an intruder.
Determined not to offend, I tore into the meal. (Too fast, actually. They gave me seconds.)
Timothy Matangira, left, talks to villagers just before Andrew's funeral. (PHOTO BY ERIK TRYGGESTAD)
The family patriarch, Oliver, took a liking to me, especially when I turned down a fork and opted to eat with my hands like everybody else.
So he asked me to preach at the funeral. Luckily, I carried a tiny New Testament in my camera bag. I flipped to Romans 8:18 — my "go to" verse.
John Langley spoke first. (He's older.) Then it was my turn.
"I consider that our present sufferings are not worth comparing with the glory that will be revealed in us," I read as one of the young preachers with us, Nhamo Marunga, translated the words to Shona, the local language. I wasn't familiar with their customs, I told the mourners, but the love and concern they showed for the grieving family needed no translation.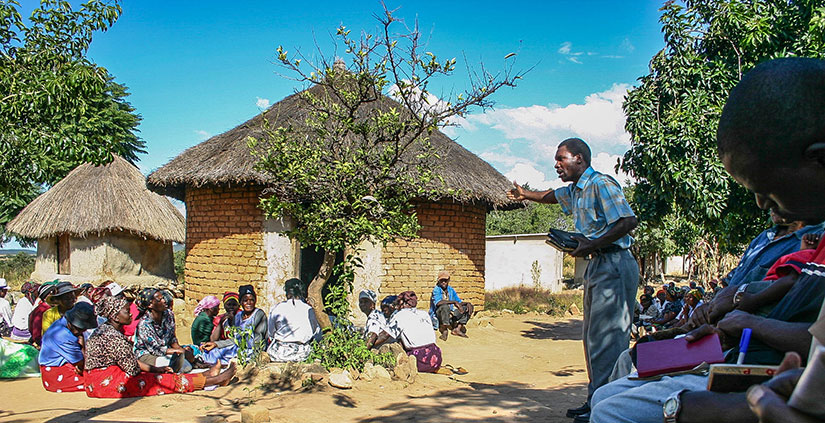 Nhamo Marunga preaches from Matthew 18 as fellow ministers take notes during Andrew's funeral. (PHOTO BY ERIK TRYGGESTAD)
Brother Nhamo spoke next, closing the service with a passionate message from Matthew 18. We must become like children — like Andrew — to enter the Kingdom of heaven, he said.
Then we walked through a field to the gravesite. I think it once had been farmland, but Zimbabwe's politics — which could have come straight from the pages of a George Orwell novel — rendered the earth fallow and the people hungry.
As we reached the humble mound of dirt where Andrew's body would rest, I looked back at the line of mourners snaking through the tall, yellow grass and snapped a photo. I'm looking at it now as it hangs above the computer screen in my office.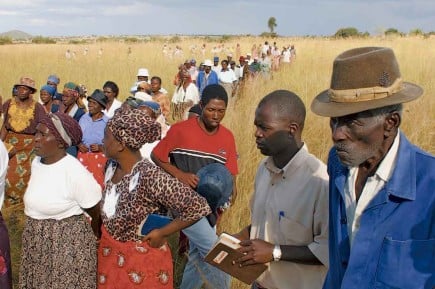 A line of mourners weaves through a grass field to reach the gravesite for Andrew. (PHOTO BY ERIK TRYGGESTAD)
Africa's true beauty and true tragedy are intertwined, and neither can be seen in its big game parks. I lament that too few of us encounter this safari of souls — who teach me about the fragility of life and the resulting urgency of the Gospel call.
I pray that dentists who hunt and those who fume at a lion's death will use that energy to be a part of God's work in Africa. There are so many ways to help and so much we can learn from the Christ-followers on this amazing continent.
Repeatedly, they show me true joy — the knowledge that death has no sting in the arms of a loving Savior. The starving smile because Jesus saves.
CONTACT [email protected]. See nhowemission.org for more information about missions in Zimbabwe.