IN THE PHILIPPINES,
a determined minister fights for self-sustainable agriculture to bring his people to prosperity — and salvation.
ANONANG SUR, Philippines
— Salvador Cariaga is furious.
The Filipino evangelist carefully places three bottles of liquor across a blacksmith's anvil, their glass bottoms clinking as rain pours from the thatched roof over his head.
Quietly, he asks their owner, Bebe, to stand on the other side, facing him.
For an eternal moment, raindrops make the only sound.
Normally, Cariaga is all smiles as he touts to anyone who will listen the virtues of goat milk, earthworms and coconut vinegar — all part of life here at
Arapal Christian Camp
, a sustainable agriculture community he oversees on the island of Cebu.
Just over the hill, a mission team of Texas high school students has finished tearing down Bebe's ramshackle house and building it back, stronger than before.
Bebe, who struggles with alcoholism, smiled as she stripped wood alongside the students the previous day, making thatch for her new roof. She helped two of the girls from the group make candy from coconuts.
Minutes ago, as Cariaga drove back to camp with supplies, he passed Bebe's 10-year-old son, carrying the three bottles of whiskey.
Standing across the anvil from Bebe, Cariaga speaks slowly, deliberately in Binisaya, the local language.
"Look at me," he tells her, lifting one of the bottles. "This cannot be here."
He smashes it on the anvil.
"You can't handle this."
He smashes the next.
"This causes war."
And the last.
Bebe watches the fetid liquid run down the anvil and pool on the ground.
"Go," he tells her.
She walks away in silence.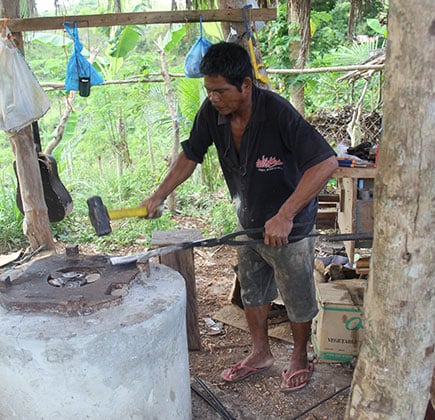 WEAPONS TO FIGHT POVERTY
"I don't usually do that," Cariaga says, wiping his hands with a rag, lamenting the fact that, for the rest of the day, he's going to smell like booze.
Next to him, the blacksmith methodically works the wooden bellows — as he's done throughout the confrontation with Bebe. Nearby, in the flames, old, worn plow sweeps turn from black to bright red.
The blacksmith pulls them from the fire and hammers them into "Stegall bolos," — machetes named after the Christian farmer in Hollis, Okla., who donated the blades. The Filipinos use them to hack through their island's dense foliage, clearing land for gardens, goat pens and new houses.
"Here, we beat plowshares into swords," Cariaga jokes. "The fight against poverty is a battle. No, it's a war."
'THE LORD WANTS US TO BE PRODUCTIVE'
Too many of his countrymen have given up that fight, says Cariaga, who grew up in the Philippines, a nation of nearly 95 million souls, spread across 7,107 islands, southeast of China.
His father, Roman Cariaga, is president of
Sunrise Christian College
, one of at least 20 ministry training schools that prepare preachers and leaders for the nearly 1,000 Churches of Christ on the islands ­— more than any other nation in the region.
Salvador Cariaga earned a degree from
Oklahoma Christian University
in Oklahoma City. He married a Texan and raised a family in Fort Worth.  
"Very few Filipinos like me ever go back," he says, noting the pristine, gated homes built near Arapal Christian Camp, all with foreign money. "Most are content to send home the money they have earned but do not return and share the knowledge they have learned. … Brain drain has exhausted the pool of talent."
Cariaga splits his time between Texas and the Philippines, where he helps orphans, distributes relief after earthquakes and hurricanes and assists a Christian elementary school.
He's frustrated by the cyclical, generational poverty he sees here. Families pull their children from school to work in the fields. They use expensive, chemical fertilizers that yield humble harvests and, ultimately, damage the soil.
With little money, little education and little to do, groups of young men sit alongside the island's roadways, gambling and drinking.
"The Lord wants us to be productive," Cariaga says, citing a Bible verse from 2 Thessalonians: "The one who is unwilling to work shall not eat."
Jesus' teachings "are practical and real," he says. "They picture a sustainable Christian community — where generous giving is made possible by God's grace through abundant harvest."
He talked to non-governmental organizations and attended sustainable agriculture classes — looking for a low-cost way to help his people earn their own money.
He found goats.
'WE DON'T HAVE TO BE POOR'
It's a short walk — albeit a torturous one, over jagged, porous limestone — from the blacksmith's shop to the pens where Linda Sumbi keeps her goats.
Her arms are loaded with the branches of a moringa tree, and she's covered with tiny, green leaves. The husky goats chomp away as she forces the stalks through the slats of the pen, made from tree branches. The vitamin-rich plant increases milk production, Cariaga says.
Sumbi takes pride in her goats and realizes their value.
After all, goats saved her life, she says.
She lived here before the Christians came. Life was hard. They had to walk miles for water. Many worked as day laborers in other people's fields.
In 2006, Cariaga and a group of fellow Church of Christ members purchased nearly 100 acres here, including the land on which Sumbi and her neighbors live.
They didn't do what most wealthy Filipinos do when they buy land — force Sumbi and the other "squatters" to vacate.
Instead, they launched the
Give A Goat
program. Christians and concerned people overseas provided funds to loan Sumbi two goats, male and female.
She fed them and bred them and was allowed to keep the female and the offspring. The goats could easily navigate the rugged terrain of Arapal Christian Camp — and ate just about anything. They produced milk, manure and more goats — all of which have value.
About a year ago, Sumbi fell ill. Doctors discovered a baseball-sized tumor in her abdomen. She sold all of her goats to pay for the operation to have it removed.
As she recovered, Give A Goat loaned her new goats. The goats reproduced quickly, thanks in part to the skills and experience Sumbi had acquired.
"Four of the kids now belong to her, if they all survive," Cariaga says.
Stories like Sumbi's abound at the camp, which, though tropically humid, gets less rainfall than much of the Philippines. (Downpours, such as the one at the blacksmith hut, seldom last, Cariaga says.)
Despite the weather, the campsite now is carpeted with vegetable gardens.
Speaking through an interpreter, Sumbi says she's thankful to God for the gifts she has received. A baptized Christian, she spends her Sundays worshiping with the Arapal Church of Christ — under a pavilion at the camp that bears a tiny, wooden cross,
"People here, they now grasp what we have," says Elmer Palacio, another Filipino preacher who works at the camp. "They see the love of God."
Trained as a minister at Sunrise Christian College, Palacio grew up on a farm.
"That's why my heart is here," he says. "We teach them the composting of waste from goats for vegetables, (but) our mission, of course, is to bring them to Christ. We share God."
Word of the region's newfound prosperity has spread. Government workers come here to learn about farming, Palacio says.
Recently, a Filipino businessman visited the camp. He wanted to raise goats and learned on the Internet that Arapal was the place to get them. He bought a breeding pair for $260 and loaded them into the back of his sport-utility vehicle.
Cariaga wants more people to know about what God is doing at Arapal, where "the poorest community in the country, with the worst weather and agricultural conditions" is becoming "a bread basket." He wants to increase the camp's size to 500 acres and "build a sprawling Christian community," complete with a hospital, university, and agribusiness center. Through radio, Internet and word of mouth, he plans to "preach a message of hope."
"We don't have to be poor," he says. "Our children do not have to be hungry. We live in a rich country."
'AM I MAKING A DIFFERENCE?'
A day after the downpour, the students from Southwest Christian School in Fort Worth, Texas, gather around Bebe's newly completed home.
The students spent three days milking goats, clearing brush with the Stegall bolos and building Bebe's house. They attended a "goat show," sampling vinegar made from coconuts and judging goats raised by children in the Give A Goat program. Categories included "bulkiness," "showmanship" and "audience impact."
Soon, the students will leave the camp to see other works on the island supported by
Bread for a Hungry World
. The Texas-based nonprofit provides funds for Give A Goat, sponsors the education of orphans and funds self-sustainable works here.
Before they leave, the students and Cariaga gather in a circle around Bebe. Chris Swinney, a teacher at the school, places his hand on her shoulder as they pray for her to overcome her addictions, to be a good mother for her children and for God to give her strength.
Weeks later, Bobby Moore, director of Bread for a Hungry World and a member of
The Hills Church of Christ
in North Richland Hills, Texas, shares a text message he has received from Cariaga.
"Bebe has been attending worship since you rebuilt her hut," Cariaga reports. "She was very remorseful about what happened … and vowed not to drink again."
One of the goat raisers at the camp is mentoring her, Cariaga says, and she is showing considerable skill as a gardener.
And, just before midnight on a recent Saturday, she was baptized.
"There are many days you wonder, 'Am I making a difference?'" Moore says. "Then you get stories like these."
Cariaga invites Moore and the students to return next year.
"I hope you will see that Bebe's garden is just as good as the others around her," he says.
"Already, her garden is very promising."
FOR MORE INFORMATION,
see
giveagoatnow.com
.  and
givebread.org
.