A gangsta's hip-hop redemption
Rapper Anthony Nelson tells of his journey from crime and drugs to lyrical faith.
---
OAKLAND, Calif. — Life as a noted Oakland rapper and street hustler left Anthony Nelson with a wealth of harrowing tales. He rehashes them with an excitement that seems unbecoming.
Anthony Nelson (a.k.a. A. Doulos)He bursts into laughter recalling how slow his friend drove off though someone was shooting at the car. One bullet crashed through the back window between Nelson and another passenger.
His voice rises as he shares his intentions that time he grabbed his gun out of the trunk to finish off a guy he and his friends just stomped.
"I was about to …" Nelson says, filling the unspeakable with widened eyes and a slow shake of his head. "But he was already out cold, so I was like, 'Whatever.'"
Nelson's retelling of his experiences isn't about reveling in ignorance. It isn't glory of the good ol' days that livens these 'hood stories.
It's relief. Thankfulness. Zeal.
Marcus Thompson | VoicesThe hip-hop artist, once known as Ant Diddley Dog, now calls himself A. Doulos, which comes from the Greek word for servant. In his lyrics, he's honest about his sin — and about the healing power of Jesus.
He brings me out distress, looks at my affliction and pain, forgives all of my mess, considers my insignificant name. I was addicted to a terrible arrogance. Then I was gifted with an imperishable inheritance, and been digging into his parables ever since.
"There is a place for that type of sharing," Nelson says. "You already know what I used to do. So you know it ain't me. It has to be some dramatic intervention for this to happen.
"And I'm telling you who intervened. It was the Lord."
'I THOUGHT BIBLE STORIES WERE BORING' He has a new album, "The Proclamation." The 14 rhythmic poems detail his redemption — its cause, its purpose and what it's produced. The album already is in rotation in the Bay Area.
"What A. Doulos is doing is important because he is fulfilling the Great Commission, and he's becoming all things to all men to do so," says Jonathan Williams, pulpit evangelism minister for the North Oaks Church of Christ in Canyon Country, Calif. "He's speaking in a language and in a way that reaches a certain demographic."
That demographic — including urban youths who listen to hip-hop — is missing from the church, Williams says, "yet the church has been reluctant to learn the language of that segment of society.
"A. Doulos is a messenger for people who aren't reached with more traditional methods. Plus, if you just like good hip-hop, isn't it even better with a life-affirming message?"
Devin Bradshaw thinks so. The 20-year-old member of the San Pablo Avenue Church of Christ in Oakland loves "Rich Man," an A. Doulos song retelling Jesus' parable of the rich man and the beggar Lazarus.
"It was dope because of how he was able to convey a Bible story and make it relevant in today's world," Bradshaw says. "At that time, I thought Bible stories were boring. But he made it so much easier to visualize the story. And A. Doulos is a lyricist. I love rappers with bars."
A FRIEND'S DEATH 'WAS MY SALVATION' Nelson's Damascus Road moment happened in December 1997 on 98th Avenue in East Oakland. That's when his best friend, Rappin Ron, fell asleep at the wheel and crashed. Nelson made it to the hospital in time to watch one of the passengers — his best friend, Ronnie Royster — die from his injuries.
Nelson shuttered himself in a room at his baby mama's house and let grief have its way. In the dark, his knees driving into the paper-thin carpet, he wailed loud enough for the guests in the house to feel his pain.
He cried like gangstas aren't supposed to cry. That's when he started to feel the scales on his eyes.
In the dark, his knees driving into the paper-thin carpet, he wailed loud enough for the guests in the house to feel his pain.
He continued rapping, but it wasn't the same. He wasn't the same.
"I used to think Ron sacrificed his life for me before I understood Jesus' sacrifice," Nelson said. "His death was my salvation before I understood salvation because it kind of stopped me in my tracks and allowed me to be open to think differently. It changed my perspective."
With his partner gone, Nelson continued to stay up late at night. But instead of smoking and running the streets, he watched "Shepherd's Chapel," an Arkansas-based gospel TV program. He grabbed his girlfriend's pink Bible and followed along with host Arnold Murray. Nelson liked Murray's straight-shooting ways — and how he'd put callers to the program in their place.
SEARCHING FOR A CHURCH Eventually, Nelson responded to an offer of a free Bible from the Latter-day Saints. He started looking for a church. He talked to a preacher he'd known for years, finally willing to listen. That didn't last. He stopped at a liquor store one night and saw the preacher lounging. And he wasn't evangelizing. Scratch that church off the list.
Nelson and a fellow rapper, Carl Martin, known as Mr. Ill, went to a hole-in-the wall church with about 10 people. The church invited the visitors to rap during the service — something Nelson didn't even think was appropriate. He never went back.
Once he visited a church and joined a parade of parishioners for an altar call. A preacher laid hands on them one by one and they fell, supposedly overwhelmed by the spirit of God. But when the preacher pressed Nelson's forehead, nothing happened. He nudged harder. Still nothing. The preacher moved on. So did Nelson.

He determined to follow Christ and clean up his life on his own. That meant no weed (smoking it or selling it) and no cursing. That also meant no music, despite people in the industry telling him that his group, Bad-N-Fluenz, were stars in the making. He didn't think he could be a servant of Jesus and make that kind of music.
Stephanie NelsonNelson got married in 1999. He and his wife, Stephanie, a college-educated media professional, had two children together, giving him five by three women. But he was unemployed with no high school diploma and no ambitions.
He started working for an industrial temp agency. That landed him at Chevron in Richmond, Calif., next to a fellow temp worker named Joel King. One of their conversations touched on the Lord. Next thing Nelson knew, he was in Bible class at the Civic Center Church of Christ.
He was intrigued by the expository study — how everybody opened the Bible and the class discussed verse by verse. It was just like "Shepherd's Chapel." Seven months later, he was baptized.
He studied with his wife, and she was baptized. He delved into intense Bible study. He spent Saturdays in a basement he turned into a den. His wife brought him lunch and dinner while he dived relentlessly into the Word.
His temp job turned into a career in the steel industry. He won custody of his two youngest, pre-marriage children. Five years after his friend's death, he was the head of a suburban African-American family that dressed up for church. He taught Bible classes, led songs, did pinch-hitting in the pulpit.
He was bent on baptizing his friends, family and neighbors. He was baffled by the lukewarmness of some of the Christians he met, and he was eager to check faulty behaviors and correct errant doctrine.
HE 'SATURATES HIS MIND' IN SCRIPTUREDespite his zeal for Christ, Nelson still had a love for hip-hop — and an urge to produce it.
He reconnected with friends in the industry who could tolerate working with a Jesus freak. Soon, he was rapping again. But instead of objectifying women, he rhymed about their value. Instead of robbing fast-food chains, he talked about filling the void in his life:
My soul is famished, but with a hunger not of this planet. I wish it would vanish, but without God I guess I'm at a big disadvantage. So how could I manage the damage sin has done to my mind and my spirit? I know you can't see my tears but can you hear the crying in my lyrics?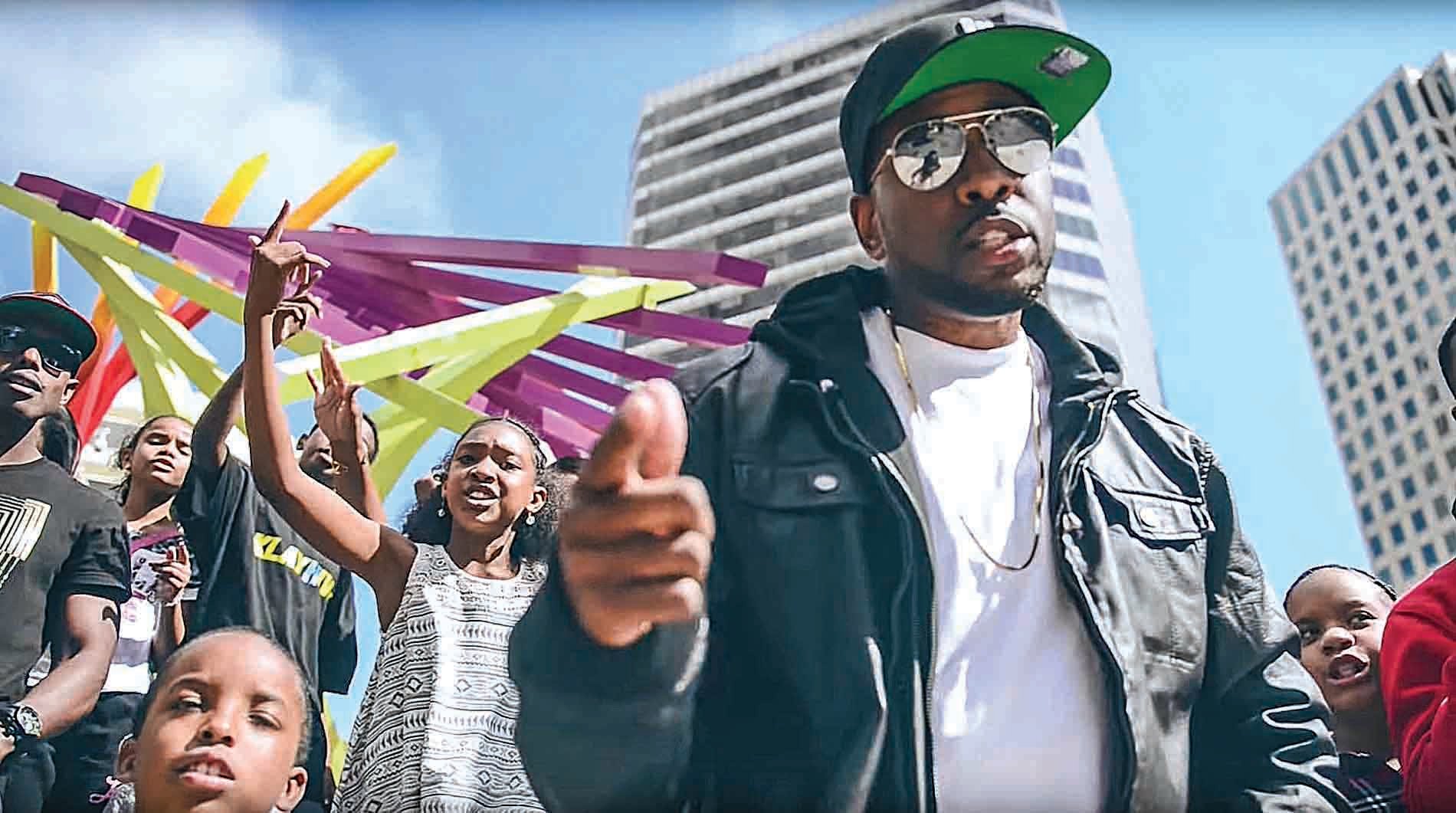 In the video for "What He Said," one of the tracts on A. Doulos' album "Proclamation," the rapper compares teachings of man with Jesus: "'Fornication is OK if you in love' — that ain't what he said. 'Man is drawn away by his own lust' — yeah, that's what he said."
He and two fellow Christians founded their own label, Kerusso Music, driven by a desire to infiltrate young minds with spiritual wisdom through a medium they adore.
"To hear his music now, it is evident that he is a man who saturates his mind in the Scripture," says John Bradshaw, youth minister for the Greenville Avenue Church of Christ in Dallas. "The music that he makes in six minutes or less has the Scripture profundity of a 30-minute sermon. His performances are inspiring to see live, and his music is motivating enough to push the loop button."
In recent years, Christian hip-hop artists including Lecrae have pushed faith-centered rapping into the mainstream.
"It's just so refreshing," says Nicole Hart, a graduate of Harding University in Searcy, Ark., who works with youths in the capital, Little Rock.
"We know they listen to hip-hop. We know it is central to their life," Hart said of the children she serves. "It's so helpful and sensible to be able to reach them where they are by infiltrating what we know they like."

Nelson's favorite song as A. Doulos is "Send Me." It has emotional value — in addition to a pulsing beat and the piercing singing by former American Idol star LaToya London, who worships at the Cusseta Road Church of Christ in Columbus, Ga.
In the Bay Area, people still celebrate Ant Diddley Dog as an underground legend. Nelson doesn't. He thought his past sins disqualified him from being a public proclaimer. Now he realizes that God can use his gifts. That's what he declares as the song blares "Lord, I'm ready. Send me."
"Watching Anthony get back into his passion is beautiful," his wife said. "Creativity is in his DNA. He has a glow that is rubbing off on everyone he comes into contact with. Kerusso has allowed him to live his purpose — rapping, writing, making music, teaching people."
MARCUS THOMPSON is a columnist who covers the Golden State Warriors and other teams for the Bay Area News Group, which includes the San Jose Mercury News. He is a member of the West Oakland Church of Christ and manager of Kerusso Music artists Anthony Nelson and Jason Darden. Learn more at www.kerussomusic.com.
Related:• Preach it, Teech: Minister mixes God, hip-hop