A fishing trip to racial harmony
A story of two men, a few fish and relationship that goes beyond race.
---
"One who has unreliable friends soon comes to ruin, but there is a friend who sticks closer than a brother."


— Proverbs 18:24, New International Version
NINETY SIX, S.C. —
 "You've got to go where the fish are," Clarence Sanders said as we headed across Lake Greenwood in his boat. "And the fish are likely under that bridge."
My father-in-law, Raymond Climer, and I sat in the back of the boat. As we passed under the first beam, I looked like Neo dodging bullets in "The Matrix" movie. As we approached the second beam, I squeezed into the gap between the two seats and placed my head on the tackle box, reminding myself that fishing is fun.
Clarence and Raymond love fishing. They fish together almost weekly.

Steve Johnson | In The Word
Raymond, an 81-year-old white man, was born in Roellen, Tenn., and attended Freed-Hardeman University. He served in the Army for two years but spent most of his life preaching for Churches of Christ in Tennessee, Georgia, Alabama and the Carolinas. He also served as a missionary, primarily in India.
Clarence, a 61-year-old black man, was born in Whitmire, S.C. He taught physical education and coached baseball and football. A talented pitcher, he was drafted by the Chicago Cubs but chose not to accept their offer because they wanted to use him as a relief pitcher, he said. While pitching for South Carolina State, his roommate on the road was Donnie Shell — later a member of the Pittsburgh Steelers' famed "Steel Curtain" defense of the 1970s.
Now Clarence and Raymond both live in South Carolina, a state where racially charged violence claimed innocent lives last year, followed by a controversy over a Confederate flag displayed in front of the state Capitol.
But Raymond and Clarence are not just good friends, they are best friends. For the past 15 years, they have formed a bond that is as deep and strong as any you will ever run across. Like an old married couple, they anticipate each other's actions and finish each other's sentences.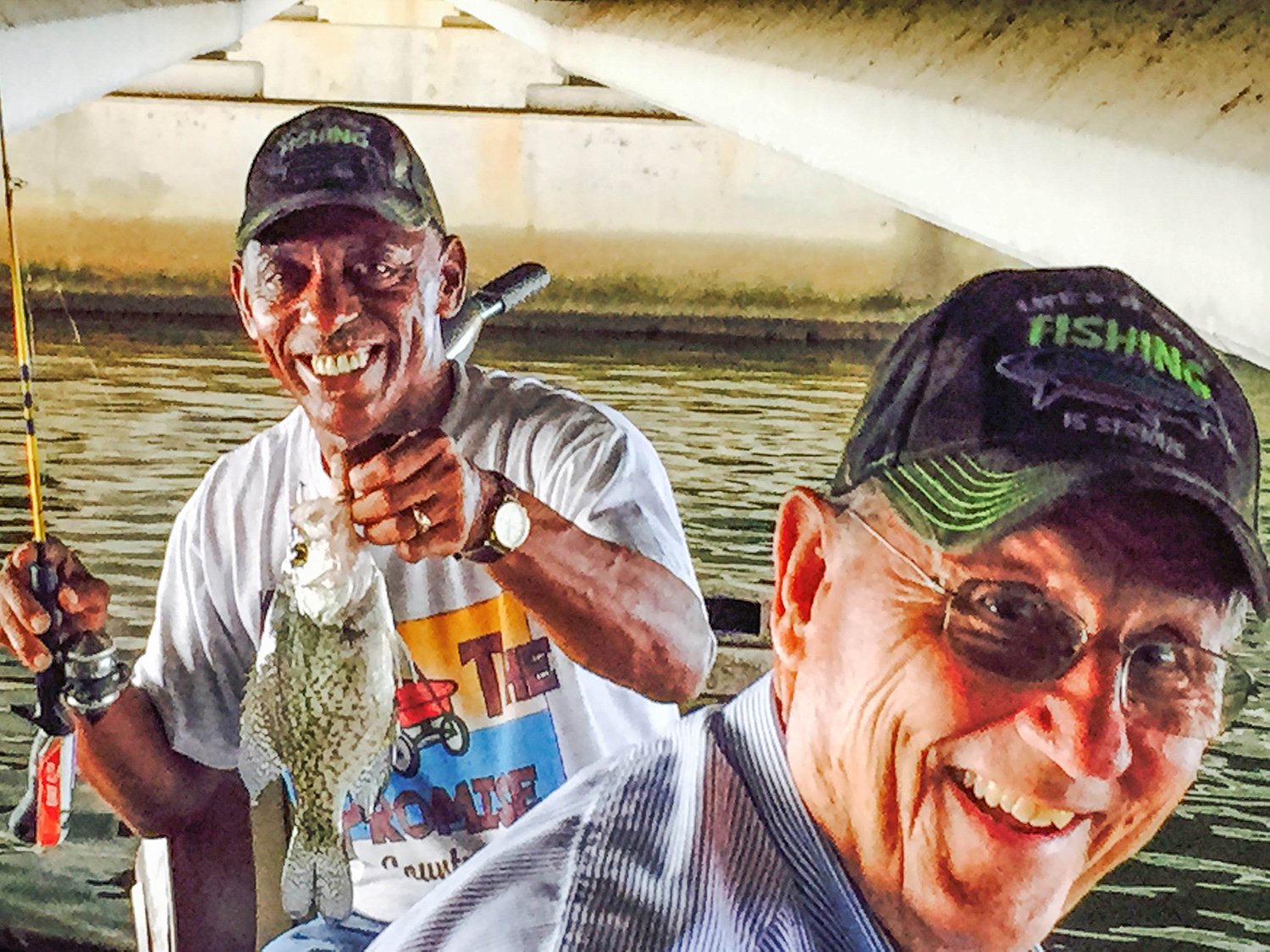 Clarence Sanders and Raymond Climer show off one of their catches during a fishing trip on Lake Greenwood. (PHOTO BY STEVE JOHNSON)
How did this happen? For one thing, they are brothers in Christ. They worship with the Union Church of Christ, where Raymond serves as an elder. They share a love for God and their fellow man. Acts 10:34 tells us that God does not show partiality, and Galatians 3:28 reminds us that we are all one in Christ Jesus. While many of us read and understand these verses, Raymond and Clarence take them to heart.
They also share a passion for fishing. When they are together under the bridge reeling in fish, all is right in the universe.

Speaking of fish, we hauled in 27 of them under the bridge that morning — and engaged in friendly banter about the relative sizes of our catches. Clarence goes for volume, I learned, while Raymond prefers hooking "the big one."
I learned about the time Clarence made a prank phone call to Raymond, disguising his voice and asking Raymond to marry him and his girlfriend "because that girl loves me a lot!" Raymond politely refused. I also learned about the time there was a water moccasin on the shore near the boat and Clarence asked Raymond to kill it. Raymond swung his paddle wildly — and Clarence was sure his friend would either fall out of the boat or smack him in the face. The snake wasn't phased a bit, Clarence said.
The realist in me says we will always have racial problems in this country, just like we'll always have crime and poverty. But I do believe race relations can improve. It begins with individual relationships like the one between Raymond and Clarence. They overlook whatever might divide them and share a friendship for the ages — the kind each of us should get to experience at least once in our lives.
A lot of good things can happen under a bridge on Lake Greenwood in the middle of South Carolina. Not all of them involve fishing.
Steve Johnson and his wife, Janet, worked with youth groups for two decades, and he served as a part-time youth minister for the Bell Shoals Church of Christ in Brandon, Fla.

In 2015, the couple sold their home, bought a recreational vehicle and set out on a cross-country journey. They blog at www.bigsteveandliljan.com .
You may also enjoy:
•  'We realized we're all just people'
•   What a uniformed officer in the Bible teaches us about today's interactions