A faithful flair for the dramatic
A homeschool thespian troupe gives students the chance 'to participate in wholesome, God-honoring productions,' says the church member who founded the group.
---
'When I was a little girl, I was shy and quiet and liked to hide behind my mom," said Mary Evelyn McCurdy. 
Until she got on stage, that is.
"I loved to act," said McCurdy, known as Mev, a member of the Gainesboro Church of Christ in Tennessee. "My sister and I, along with our friends, enjoyed putting on shows for our family in our basement."
Her parents, Ray and Charlene Notgrass, homeschooled the children — Mev, Bethany and John — but didn't confine their talents to the basement, or their faith-based teachings to the house. 
Mev participated in community theater and performed with church drama groups. Then she decided to write and direct a play of her own.
The cast of Mev McCurdy's first production,"Hosanna!," on stage in 1999. (PHOTO BY CHARLENE NOTGRASS)

She was 15 years old at the time.
"I organized a group of 21 other homeschooled children and directed the production that autumn," she recalls. The play, "Hosanna!" followed children in Capernaum during the life of Jesus. 
The students performed it in a church gym in 1999. Mev called her group the Homeschool Dramatic Society. Now she scours libraries to create original, historical dramas, including "Free At Last," a musical about the Underground Railroad of the 1850s. 
The 2014 production featured a cast of more than 100 actors and a two-story, rotating antebellum mansion created by Mev's husband, Nate McCurdy.
More impressive, Mev McCurdy said, is the chance the society gives children in Middle Tennessee's Upper Cumberland area "to participate in wholesome, God-honoring productions."
a family mission to instill values
While Mev penned "Hosanna!" in 1999, her parents launched a homeschooling curriculum business, Notgrass History, to share their faith-based lessons with other families. 
The company attempts to combine "a straightforward approach to the Bible" with a "reliable presentation of history," Ray Notgrass said. 
It's a business and a ministry for the family. Ray Notgrass, a former minister, has a master's in history from the University of Kentucky and a master of arts in religion from Harding School of Theology in Memphis, Tenn. He writes materials on U.S. history, government and economics. Charlene Notgrass also writes about history and keeps a daily blog to encourage homeschooling moms.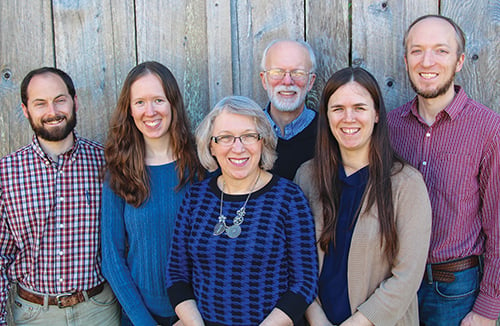 Notgrass History, owned and operated by Nate and Mev McCurdy, Charlene and Ray Notgrass, Bethany Poore and John Notgrass, produces faith-based homeschool material. (PHOTO BY GREGORY POORE)
Their children are co-owners. Son John Notgrass manages the company and leads marketing. Daughter Bethany Poore does research and development and creates activities to go along with specific lessons. 
Mev McCurdy is a graphic designer and oversees the twice-monthly email newsletter. Nate McCurdy manages the company's warehouse and assists in graphic design. The couple plans to use the materials when their two children reach school age.
"I believe that, in general, the best setting for a child to learn is at the feet of the people who love him most — his parents," Mev McCurdy said. 
Homeschooling allows parents to teach from a biblical worldview, she said, and gives families the chance to spend time building relationships with each other and their church. 
Wayne Wells, preaching minister for the Gainesboro Church of Christ, said the Notgrass family is an active part of the congregation, "more than willing to rise to the opportunities of serving both publicly and privately."
"It is very important for parents to be directly involved in the complete training of their children," Wells said, "to ensure the values as well as the academics are up to par."
In addition to instilling those values, Mev McCurdy said, homeschooling allows children to learn at their own pace and pursue their own interests — including acting.
historical drama for god's glory
When they're not working on new homeschool curricula or serving with their church, the Notgrass crew can be found backstage at the Cookeville Performing Arts Center, preparing for an upcoming musical. Mev McCurdy writes the historical dramas and her mother serves as assistant director.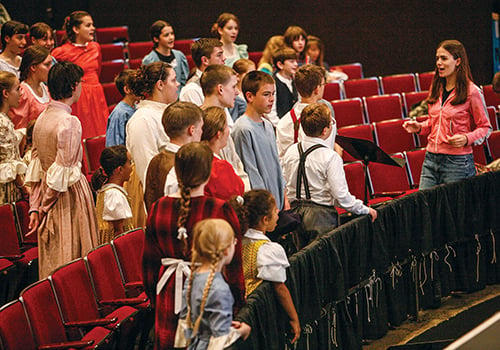 Bethany Notgrass (now Poore) directs the Homeschool Dramatic Society during a 2006 rehearsal. She served as musical director before she married and moved from Tennessee. (PHOTO BY NATHANIEL BLUEDORN)
Among the Homeschool Dramatic Society's productions are "Miracles in the Hills," a story about a medical mission in Appalachian North Carolina in the early 1900s; "Journey of Faith," highlighting Gladys Aylward and her work among orphans in China in the 1930s; and "Yellow Star," a story of life in a Nazi-occupied French village in 1943.
For Tammie Brown and her family, the school year "wouldn't be complete without being in 'the play,'" the homeschooling mom said. Her children have graced the stage since Mev McCurdy's first production.
"Through the years it has been a joy to watch as the play comes together through practice and set-building," Brown said. "Our children and many others have learned spiritually, emotionally and academically — but mostly from working hard as a cast to tell the story, which brings glory to God."
Mev McCurdy performs a duet on the stage of "Fiona's Gift," her 2013 production set at Christmas on the Lower East Side of New York in 1913. (PHOTO BY TASHA STARLING) 
The society's latest production, slated for Sept. 24-26, returns to Capernaum in the first century A.D. 
"Touched by the King" highlights people impacted by the life of Jesus, featuring traditional Israeli dances and songs, original musical numbers and choreography.
"Sometimes I have had all the cast members kneel in a circle on the stage when we pray," Mev McCurdy said. "It's a good way to dedicate the theater, the production and the cast and crew members to the Father and remind everyone that it is all for his glory.
"I know that I have been drawn closer to the Father and that my faith has been strengthened through these productions, and year after year it has been my prayer that the same would be true for the other cast members and our audiences."