A church for the broken and hurting
In urban Fort Worth, a 123-year-old congregation enjoys a spiritual revival as it ministers to wounded souls.
---
FORT WORTH, Texas — Some in the group have been sober for years. Others measure recovery in days, not weeks.

A few still smell like alcohol.

To measure the heartbeat of the Southside Church of Christ, visit the HOPE class.
Dan Leaf
HOPE — which stands for Heavenly Options for Pain and Emptiness — meets right after the Sunday morning worship assembly.
Part adult Bible study, part 12-step Christian recovery group, the class draws a ragtag collection of addicts, ex-convicts and street people — all focused on the healing power of Jesus Christ.
"When you go to the hospital, you don't have to confess you have a disease, do you?" group leader Dan Leaf asks the more than 60 struggling souls. "The church is a hospital for sinners."
His words inspire an enthusiastic round of clapping and amens.
"Falling down is not as bad as not getting up," Leaf assures the group. "It doesn't matter how many times we fall down — God is walking us home."
Daniel and Falacia Torres sign to the song during the Sunday worship service of the Southside Church of Christ in Fort Worth, Texas, as Samantha Branch interprets for the deaf. (PHOTO BY BOBBY ROSS JR.)
STORIES OF HOPE
"Hear Kent," says the marquee sign outside the Southside church building, inviting friends and neighbors to the congregation's recent third annual "Day of Hope."
Kent — that would be
Kent Brantly,
the missionary doctor who survived Ebola — needs no introduction after making international headlines.
Brantly and his wife, Amber, were Southside members for five years while he completed his residency at nearby John Peter Smith Hospital, which serves Tarrant County's poorest residents.
"This church prayed for us and sent us off to Liberia as missionaries," Brantly recounts, offering his "story of hope" as 350 people devour plates of freshly cooked Texas barbecue in an open-air tent on a blue-sky Saturday.
Ebola survivor Dr. Kent Brantly reads from 2 Corinthians 1:3-11 at the "Day of Hope" at the Southside church. (PHOTO BY BOBBY ROSS JR.)
As children play in bounce houses, get their faces painted and laugh at a clown who makes balloon animals, other Southside members share their stories, too.
Although their faces are not famous, their stories of overcoming are equally compelling.
"I've left church before to turn tricks up on Hemphill (Street)," Andrea Herrington says, describing her 15-year journey from prostitute and drug addict to church food pantry volunteer and mother of a Christian university student. "God is a God of restoration, and I'm forever grateful for this church and my relationship with Jesus Christ."
The first time Michael Craft visited the church, he came from a "dope motel" and failed to shower.
"And y'all hugged me and showed me unmerited favor," he reminds his fellow Christians. "I saw love in action. I saw grace."
Craft didn't change overnight, he says, but Southside members "loved me 'in' my addiction and 'through' my addiction."
Sunday morning worship at the Southside Church of Christ in Fort Worth, Texas. (Video by Bobby Ross Jr.)

Posted by The Christian Chronicle on Sunday, March 15, 2015
A PLACE OF MISSION AND MERCY
Don't let the grand white pillars and tall steeple fool you.
The magnificent, red-brick building of the Southside church suited the neighborhood when it opened in 1959.
But more than a half-century later, the chandeliers that hang from the auditorium ceiling belie the wounded souls afforded prominent places in the shiny wooden pews each Sunday.
HOPE group member Charles Edward Williams, left, visits with elder Kent Hatcher at the Day of Hope. (PHOTO BY BOBBY ROSS JR.)"One nice thing about this congregation, they don't judge anyone when they walk in the door," said elder Kent Hatcher, who works with the HOPE group. "They greet everyone like anybody else and make them feel welcome."
Located next door to a bail-bonds business, the church sits along a major city bus route amid homeless shelters, drug treatment centers and social service agencies.
A decade ago, Southside's attendance averaged about 300.
In recent years, that number has jumped by more than 50 percent — hitting 450 to 500 most Sundays, church leaders said.
The 123-year-old congregation, which once contemplated relocating to the suburbs, has experienced a spiritual and numerical revival since adopting a vision to become "a place of mission, mercy and transformation."
The worship assembly remains traditional.
The outreach focus does not.
"First, we want to be a church of missionaries to our neighborhood," preaching minister Steve Cloer said, describing the church's vision. "Second, we want to be a church of mercy where anybody who needs food, clothes and love can come and find it. Third, we want to be a church of transformation, where people's lives are being changed."
Social service organizations set up booths for the Day of Hope. (PHOTO BY BOBBY ROSS JR.)
HOPE AFTER A SPLIT
The roots of Southside's own transformation can be traced to the late 1990s.
That's when a young mother named Jane Pearson — an addict staying at a Salvation Army treatment facility for women and their children — crossed the street to attend worship.
Elder Alan Hegi, with his wife, Jan. (PHOTO BY BOBBY ROSS JR.)At the time, the church was still healing from a major split several years earlier, elder Alan Hegi said. The split had cut attendance in half and left the remaining members reeling.
"We had gotten very inwardly focused and become very proud of ourselves," Hegi said. "Those of us who stayed — there was a lot of prayer, a lot of tears, a lot of soul searching."
But when Pearson sat down in Bible class, placed her cigarettes on the table and asked how God might help turn around her life, the church discovered a new direction.
"We had all been like, 'Woe is us, all our friends have left, and our church is limping along,'" Hegi recalled.
"And that was God's answer to a prayer," he said of Pearson's visit.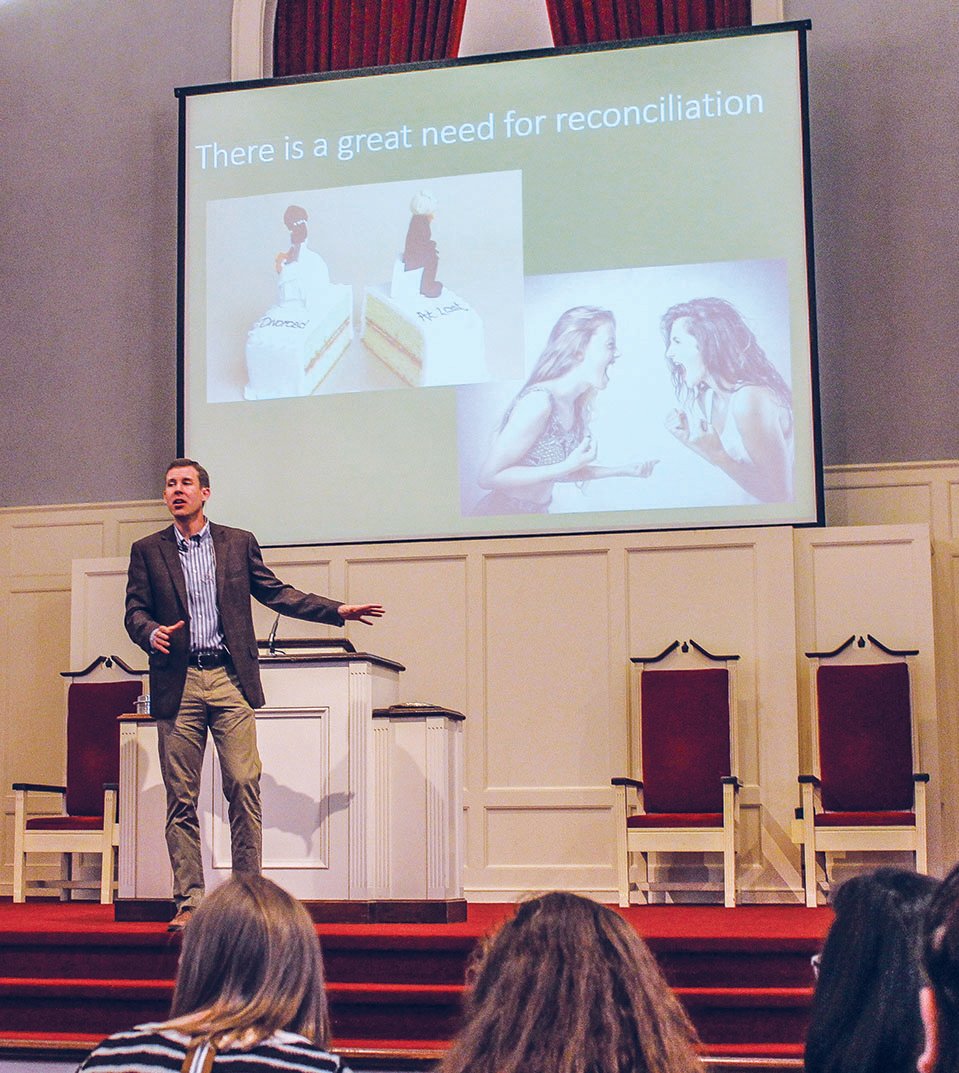 Minister Steve Cloer preaches on reconciliation at the Southside church. (PHOTO BY BOBBY ROSS JR.)
GOD'S CALLING
Along with its recovery ministry, the Southside church feeds hundreds of families per month through its food pantry and community garden.
The congregation supplies a building on its property for a neighborhood children's health clinic that last year recorded 2,500 patient visits.
Members tutor neighborhood children at the church building on Tuesday nights and volunteer in the public schools.
The church provides financial support for member Melissa Zenteno to serve as a full-time chaplain with One Safe Place, a Fort Worth nonprofit that helps victims of domestic violence.
Brian Scott stands holding his child as the congregation sings songs of praise. The Southside church worships first, followed by Bible classes, each Sunday morning. (PHOTO BY BOBBY ROSS JR.)
Angela Hurtado, mother of Desmond, 10, and William, 8, said she first came in contact with the church through the food pantry. She became involved in the HOPE class and the deaf ministry.
"I got baptized here," she said. "I was a recovering addict at the time. They supported me no matter what I did."
Her boys love to pray each night, she said. She thanks God for the church's role in their spiritual development.
But not every story has a happy ending.
"It is very hard to work with broken people," said Leaf, who joined the ministry staff in 1998. "There are a lot of disappointments. You can't hang on to those disappointments. You've got to move on and see the bigger picture that God is working on."
Youth minister Matthew Morgan greets a family at the Southside church. (PHOTO BY BOBBY ROSS JR.)
The recovery ministry shapes the church's culture.
"When you add 60 to 70 people who are in recovery into your worship assembly, that just changes the dynamic," Cloer said. "We're a church for the broken. We're a church for the hurting. We're welcoming in anybody. It keeps the missional edge there."
For his own part, Cloer moved into the neighborhood with his wife, Lindsay, and their three children: Joshua, 8; Bethany, 5; and Lydia, 3.
The couple chose to send their children to the low-income elementary school down the street and become actively involved.
The Cloers enjoy the eclectic nature of the inner city and befriended the homeless man who lives in their alley.
"We definitely feel this is where God has called us to be," Steve Cloer said.
Southside member Cari Barker, left, paints a girl's face during the Day of Hope. (PHOTO BY BOBBY ROSS JR.)
SOUTHSIDE CHURCH OF CHRIST
LOCATION: Fort Worth, Texas.
ELDERS:  Joe Bullock, Brent Davis, Jim Gardner,  Kent Hatcher, Alan Hegi, Monty McNair, Barry Riley and Kent Smith.
STAFF:  Preaching minister Steve Cloer, local missions ministers Dan and Kathy Leaf, youth minister Matthew Morgan, discipleship minister John Scott, children's minister Bekah Weatherford and college minister Chris Jeter.

MISSIONS SUPPORT: Sunset International Bible Institute, Eastern European Mission, Croatia for Christ, Operation Ecuador, Mission Upreach in Honduras, Truth for Today, World Bible School and World Christian Broadcasting.

HISTORY:  Established in southern Fort Worth in 1892. Merged with the Central Church of Christ in 1916. Relocated to its present site in 1959.
The Southside church is the 29th congregation featured in The Christian Chronicle's Churches That Work series, launched in 2005. Find links to the past articles.
RELATED COVERAGE