A child molester's son shines a light
Minister Jimmy Hinton strives to create awareness of the threat posed by pedophiles.
---
SOMERSET, Pa. — Jimmy Hinton grew up at the feet of the wolf.
For 27 years, his father, John Wayne Hinton, proclaimed the Gospel to the sheep of the Somerset Church of Christ — a century-old congregation in this southwestern Pennsylvania coal-mining community.
"I went into ministry because of him," said Jimmy Hinton, 35, the middle child of 11 brothers and sisters.
Jeff Miller, holding one of his children, hugs Alex McKay at the Somerset church. Jody Jurgevich, Miller's sister, is in the background. (PHOTO BY BOBBY ROSS JR.) But three years ago, the son — who became Somerset's preacher in 2009 — learned a horrible secret: John Hinton was a longtime child molester who had sexually abused young girls and escaped discovery for decades.
Jimmy Hinton uncovered the truth after an adult molested as a child confided in him. The Holy Spirit, he believes, drove his response.
"I believe you," he told the victim.
He reported his father to police and prompted an investigation that resulted in the pedophile preacher, now 65, pleading guilty to sexually assaulting and taking nude photographs of four young girls, ages 4 to 7.
While his father — inmate No. KP7163 — serves a 30- to 60-year sentence in Rockview State Prison, Jimmy Hinton works to help heal his home congregation and create awareness far beyond Somerset, a town of 6,300 about 75 miles east of Pittsburgh.
Harold Shank"Jimmy's voice has to be heard," said Harold Shank, president of Ohio Valley University in Vienna, W.Va., who attended Oklahoma Christian University with John Hinton and considered him a good friend. "Jimmy has certainly undertaken the mission of informing congregations of the dangers and also letting people know how to respond when things like this do occur."
Jimmy Hinton has spoken on sexual abuse of children at Ohio Valley University's lectureship and the Tulsa Workshop in Oklahoma. He and an associate, Jon Uhler, have launched a website at churchprotect.org.
"When I go and do seminars on abuse, I say, 'If you're looking for the weird guy who's hiding in the bushes or even the guy that's awkward to be around, you're looking in the wrong place,'" said Hinton, who earned a bachelor's degree in Bible from Harding University in Searcy, Ark., in 2001 and a master of divinity degree from Harding School of Theology in Memphis, Tenn., in 2007. "By definition, a successful pedophile is somebody that you would least expect."
A MASTER MANIPULATOR
His father's secret forced Jimmy Hinton to rethink his entire life — and even his view of God.
"I wish I could stand here and tell you that Dad was a deadbeat, that he was an alcoholic, that he was physically and verbally abusive," he said. "Because if he was all of those things, it would be a little easier to wrap your mind around how he was able to do the things that he did. But he wasn't any of those things."
John Hinton was a master manipulator.
A father of four young girls told The Christian Chronicle he was looking for spiritual support when he met John Hinton. The man had divorced his wife and received custody of the girls after she physically abused them. Little did he know that John Hinton would victimize them again.
"I just thought he wanted to be my friend," said the father, whose name is being withheld to protect the identity of his daughters, who were sexually assaulted. "I even asked him one time to be my mentor because I was going through so much stuff that I was getting angry with God and wasn't doing very well with my faith walk."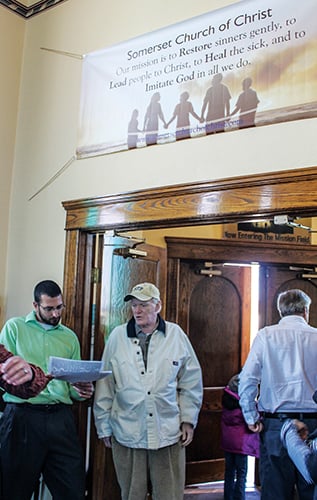 Preacher Jimmy Hinton, left, visits with church member David Swain after a Sunday morning assembly. (PHOTO BY BOBBY ROSS JR.)

John Hinton exploited the family's vulnerability, showering the girls with gifts and — under the guise of giving the single father a break — volunteering to keep the girls overnight.
"If I could get ahold of him today, I'd kill him," the girls' father said.
But the father described Jimmy Hinton as "an amazing man of God."
"Romans says that all things work together for good," the victims' dad said. "I told Jimmy, 'If there's any good that comes out of this, it's because of what you've done.'"
The elder Hinton was not prosecuted in numerous other cases, including some in which the statute of limitations had expired, said Somerset Borough police officer Ruth Beckner, who investigated the allegations. 
Beckner praised Jimmy Hinton's effort to shine a light on the problem.
"He is making a big difference," the detective said. "People that work in law enforcement see it a lot and are aware of things. … People in the public don't see what we see, so they're not aware of things that happen."
Elders Elton "Tex" Blenden, left, and Bob Martin, right, join the Somerset Church of Christ in prayer. The southwestern Pennsylvania congregation enacted a new child protection policy after John Hinton's arrest. (PHOTO BY BOBBY ROSS JR.)
DEVILS DRESSED AS 'ANGELS'
The trusting nature of Christians and the frequent need for volunteers such as Sunday school teachers can make churches easy prey, said Shank, longtime national spokesman for the Christian Child and Family Services Association.
TIPS FOR PROTECTING CHILDREN FROM SEXUAL PREDATORS

By Jimmy Hinton


1. EDUCATE KIDS: Teaching a child to say, "No, I'm telling!" is the most effective way to deter an abuser. We teach fire safety, tornado safety, pedestrian safety, etc., but not sex abuse safety.


2. CREATE BOUNDARIES/ POLICIES: Parents should create appropriate boundaries for their kids and demand that schools, churches and daycares respect them. Policies must have clear guidelines for reporting suspected abuse.


3. EDUCATE ADULTS: Our Christian colleges and graduate schools are not training church leaders how to detect, prevent or deal with the aftermath of abuse. There is good reason why churches remain an easy target for abusers.


4. ACCEPT REALITY: Denial that abuse occurs in our churches has greatly multiplied the number of victims being abused.


EXPANDED LIST: www.jimmyhinton.org

"The New Testament warns us that the devil is wise and cunning, and clearly, this would be a prime example of that," Shank said. "We do know that there are people who are not what they seem to be, and they many times come dressed as angels of light.
"I certainly don't think we need to start a witch hunt or become suspicious of every person. I just think we need to be prudent," he added, noting that many churches require criminal background checks before someone can interact with children.
A background check would not have turned up a negative report on John Hinton. Still, a new policy at the Somerset church requires background checks, at least two adults in each children's class and locked doors on every unoccupied room. Doors must remain open during classes.
"It may be overkill, but I don't mind overkill when it comes to protecting our children," said elder Bob Martin, a retired police officer.
Like many of the 80 souls who make up the Somerset church, Jennifer Riggs said she came to Christ because of John Hinton.
"Because he was very knowledgeable and very well versed, I hung on every word John preached," said Riggs, 35.
"It definitely made me question a lot of things," she said of his arrest. "But then, I had to realize that all those things are still true that he taught me, and the things I know are still true even though it came from a convicted felon."
Jennifer RiggsWhile the congregation's recovery remains ongoing, she said, "I think we've healed a whole lot faster than we ever would have because of Jimmy."
As a teenager, Jimmy Hinton worked on a 300-acre dairy farm owned by Jeff Miller's grandfather.
Miller later followed Jimmy Hinton to Harding and became a Christian.
"I've seen a man kind of question it all," Miller said of his friend's response to his dad's sins. "I can remember the night he told me. We sat here and cried together. I've seen a brother kind of go through the lament and be tested and come out with a faith that isn't the health-and-wealth Gospel, but it's been refined by the fire."
Natalie Hinton, Jimmy's wife and the mother of their two children, Eden, 4, and Cameron, 1, said she'd be happy never to see John Hinton again. However, her husband has not abandoned his dad.
Jimmy Hinton still writes his father and occasionally makes the 120-mile drive to visit him in prison.
"I have a lot of anger, and it's hard," Jimmy Hinton said. "But I can't erase the fact that he's my father."
Elder Bob Martin, left, teaches a youth class at the Somerset church. Terry Strope, right, serves as Martin's helper. The church requires at least two adults in each class. (PHOTO BY BOBBY ROSS JR.)
Behind bars, John Hinton is active with a Christian hymn choir and Bible studies, said Shank, who also has visited him.
"Are there signs of remorse? Yes," Shank said. "Are there indications that he doesn't understand what he's done? Yes."
Even from prison, the pedophile preacher has sent letters seeking pictures of children and expressing "love" for the girls he molested, said Jimmy Hinton and the victims' father.
Despite his father's betrayal, Jimmy Hinton said his faith remains strong.
"But emotionally, I was destroyed," he said. "I still struggle with the identity issue because I'm still trying to separate what was real and what was fake and what was manipulation throughout my whole childhood. I still don't know."
"I still struggle with the identity issue because I'm still trying to separate what was real and what was fake and what was manipulation throughout my whole childhood."Jimmy Hinton, son of a pedophile preacher