A 'bus ministry kid' gives back
In a Latino trailer park, Terry Davis pays his blessings forward.
---
NORCROSS, Ga. — Terry Davis found Jesus on a "JOY bus."

Growing up in a housing project on Atlanta's south side, Davis slept on the ground to avoid flying bullets.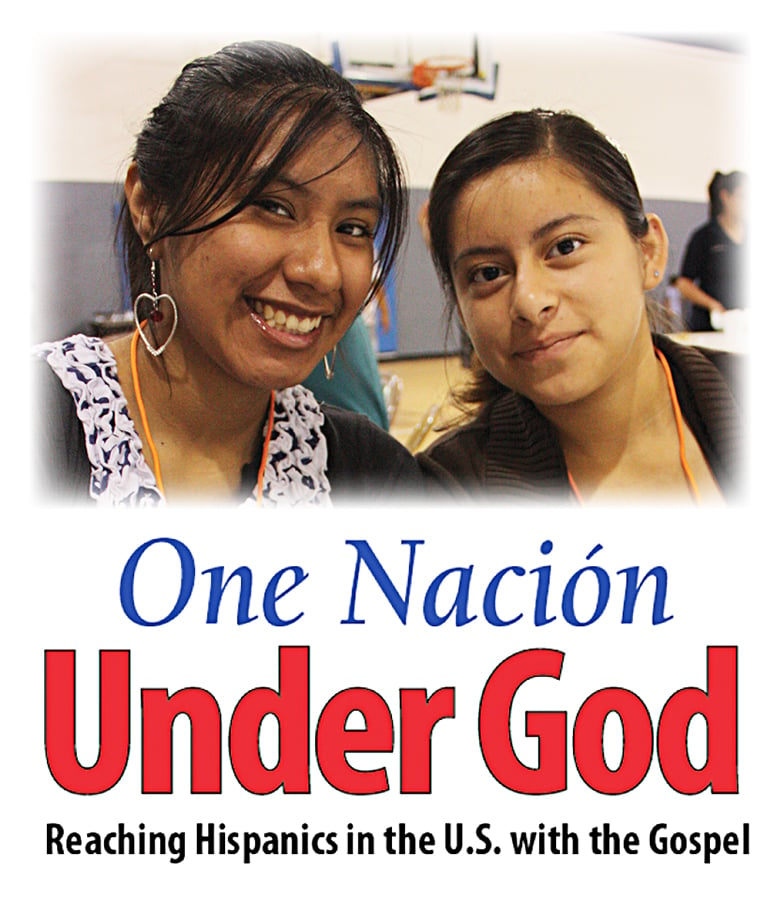 •
In Atlanta, technology helps bring together Spanish, English speakers
• Genesis Alliance hosts college fair for Latino students
• See more stories in our ongoing series
"I still shake when it comes to bullets and sounds of the guns," said Davis, now 43.
But the
East Point Church of Christ's
bus ministry showed him hope and a better way of life, he said, recalling that "JOY" stood for putting Jesus first, others second and yourself last.
Now director of a faith-based nonprofit called
Corners Outreach,
 Davis treasures memories of the faithful Christians who invested time and energy in him.
These days, he pays his blessings forward in this northern suburb of Atlanta — with a predominantly Hispanic trailer park serving as his mission field.
"What makes Corners Outreach incredible is the comprehensive way Terry Davis and his co-workers have immersed themselves in the community," said Don McLaughlin, pulpit minister for the
North Atlanta Church of Christ.
A group of Corners Outreach's homework club participants are all smiles as they pose for a photo with Terry Davis, the faith-based nonprofit's director. (PHOTO BY BOBBY ROSS JR.)
From a Vacation Bible School-style summer day camp to an after-school homework club, Corners Outreach seeks to serve as "salt and light in a dark world" — as referenced in
Matthew 5,
 ministry leaders said.
"Terry just wants the kids to succeed in life," said Ana Laura Solis, a mother of two and resident of the 207-unit
Norcross Mobile Home Village.
"There's a lot of gang activity, drugs and stuff, and he doesn't want our kids to go that way like most kids could."

'THIS IS REALLY FUN!'
On a weekday afternoon, children stepping off a yellow school bus spot Davis and immediately light up.
"Mr. Terry! Mr. Terry!" exclaim the boys and girls as they exchange high-fives and giant smiles with their friend.
Minutes later, the children join Davis and a group of volunteers in the ministry's storefront office, just a few doors down from El Sol Carniceria Y Supermercado — the Sun Butcher Shop and Supermarket.
Terry Davis goofs around with a girl named Jazmine, stepping off her school bus at the Norcross Mobile Home Village, a trailer park served by Corners Outreach. (PHOTO BY BOBBY ROSS JR.)
As he reviews 7-year-old Augustine's math paper, Davis teases the grinning boy over his Mohawk.
"He's a soccer player, too," Davis tells a visitor. "But I want him to be a linebacker for the Falcons."
Along with the educational benefits, Solis said the children — including her 12-year-old son, Fausto, and 7-year-old daughter, Mariana — enjoy the air-conditioned facility and snacks.
"It's a nice time for them to be here instead of being outside and fighting with their other friends," the mother said.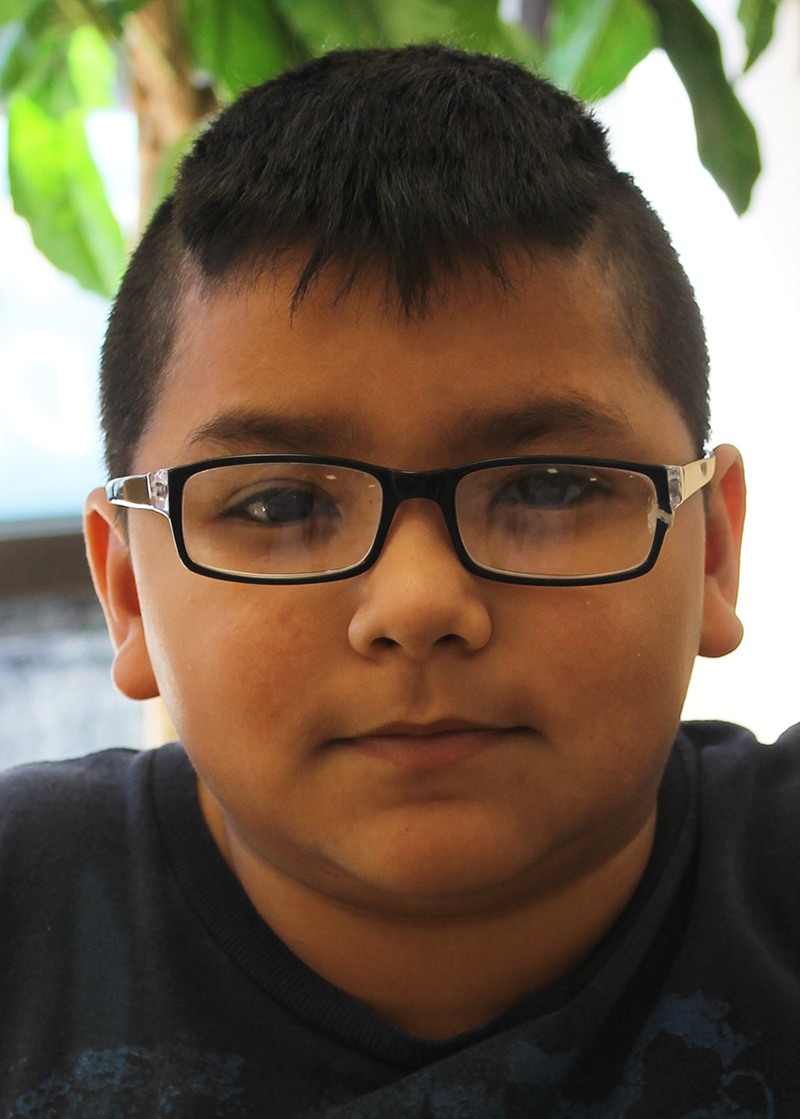 Fausto Solis
Fausto, a seventh-grader, put it more succinctly: "This is really fun!"
He served as a counselor for Corners Outreach's 10-week summer day camp, mentoring younger children.
"You have reading, physical games and crafts, and at the end, we have lunch," Fausto said. "You can have fun, too, but you're supposed to, like, mainly encourage the kids so they do good and stuff."
His mother said she's extremely grateful for Corners Outreach and its positive impact on her children and neighborhood.
"We had never had anything like this before," said Solis, who is Roman Catholic.
The children's parents are factory workers, restaurant cooks and landscapers. Most own their mobile homes, creating a relatively stable neighborhood.
Volunteer Andy Adam helps Augustine, 7, with his homework. (PHOTO BY BOBBY ROSS JR.)
But unlike Solis, many of the parents don't speak English, so they can't help with schoolwork.
At the request of parents, Corners Outreach started an English as a Second Language (ESL) program for adults.
"We birthed ESL because the parents said, 'We want to learn English,'" Davis said. "I didn't come in … and say, 'You are going to learn English.' This is part of empowering the community.
"The Latinos see that they are not second-class citizens. This is theirs," he added. "They clean this facility on Friday. It's a little party. They said, 'Don't hire anybody; we're going to clean here,' which is great."
'THE REASON FOR THE HOPE'
According to its vision statement, Corners Outreach exists to be "a catalyst in our community to change lives by building meaningful relationships between individuals and families across all races, nationalities and socioeconomic classes" in Norcross and nearby Peachtree Corners, Berkeley Lake and Duluth.
Here in Norcross, a suburb of 16,000, nearly half the residents were born outside the U.S. and almost two-thirds speak a language other than English at home, according to U.S. census data.
Corners Outreach grew out of a partnership between the
Corners Church of Christ
and
Berkeley Lake Elementary School,
a public school with a fast-growing Hispanic population. Sixty-two percent of Berkeley Lake's students receive free or reduced-price lunches — an indicator of its high poverty level.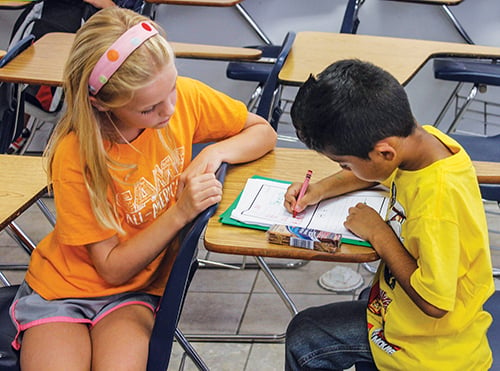 Eight-year-old Perry, left, makes a new friend named Carlos and helps him with his homework as her family volunteers with Corners Outreach in Norcross, Ga. (PHOTO BY BOBBY ROSS JR.)
"Our partnership with the Corners Outreach homework club contributes to noticeable gains for students in both their reading level and math skills from the beginning to the end of the school year," assistant principal Jim Carter said in an email.
"From coming here and getting to know these people who are primarily Latinos, what we recognized was the need was very great," said Campbell, Corners Outreach's board chairman. "Many of them felt unloved.
"Amazingly enough, if you serve people and truly show them Jesus, they always ask you why, and then we would say,
'1 Peter 3:15,'"
he added, referring to a Scripture that describes being prepared "to give the reason for the hope that you have."
'EVERYTHING IN COMMON'
At the Corners church three miles from the ministry's storefront, English and Spanish speakers gather together for worship each Sunday.
Campbell
In just a few years, the congregation has grown to about 165 members — up fivefold from 30, Campbell said. More than one-third of the members are Hispanic.
"We have everyone together all the way through communion," Campbell said. "Then, if you are predominantly Spanish-speaking and you feel it's better, you can go hear the text preached to you in Spanish.
"If you're bilingual, you might stay," he added. "Sometimes, we'll do live full translation. We want to be one church with everything in common."
Corners Outreach doesn't believe in letting anyone go hungry, said Campbell, a technology company president.
But neither does the ministry focus on giving away items such as groceries or clothing, the church elder said.
Retired pediatrician Andy Adam, left, volunteers with Corners Outreach, helping children with their homework. (PHOTO BY BOBBY ROSS JR.)
"We talk all the time about the fact that we really are relationship evangelists," Campbell said. "We don't shortcut that. … The most tempting thing we could do … is to give somebody something, but it's temporary.
"What we want is to give them water so that they'll never thirst again," he added. "To do that, you have to build a relationship."
Davis, the middle of five children raised by a single mother, still remembers the Kool-Aid, cookies and candy offered by the East Point bus ministry's volunteers.
However, none of those treats changed his life.
Love did.
The self-described "bus ministry kid" never forgot that.
RELATED COVERAGE