11 girls from Churches of Christ among the abducted in Nigeria
---
Among the nearly 300 students taken from a boarding school in Chibok, Nigeria, were a dozen girls from Churches of Christ.
"Only 53 of the girls came back home, one of them being a member of the Lord's church," minister Yusuf  Buba told The Christian Chronicle, "but 11 of our members are still in the forest."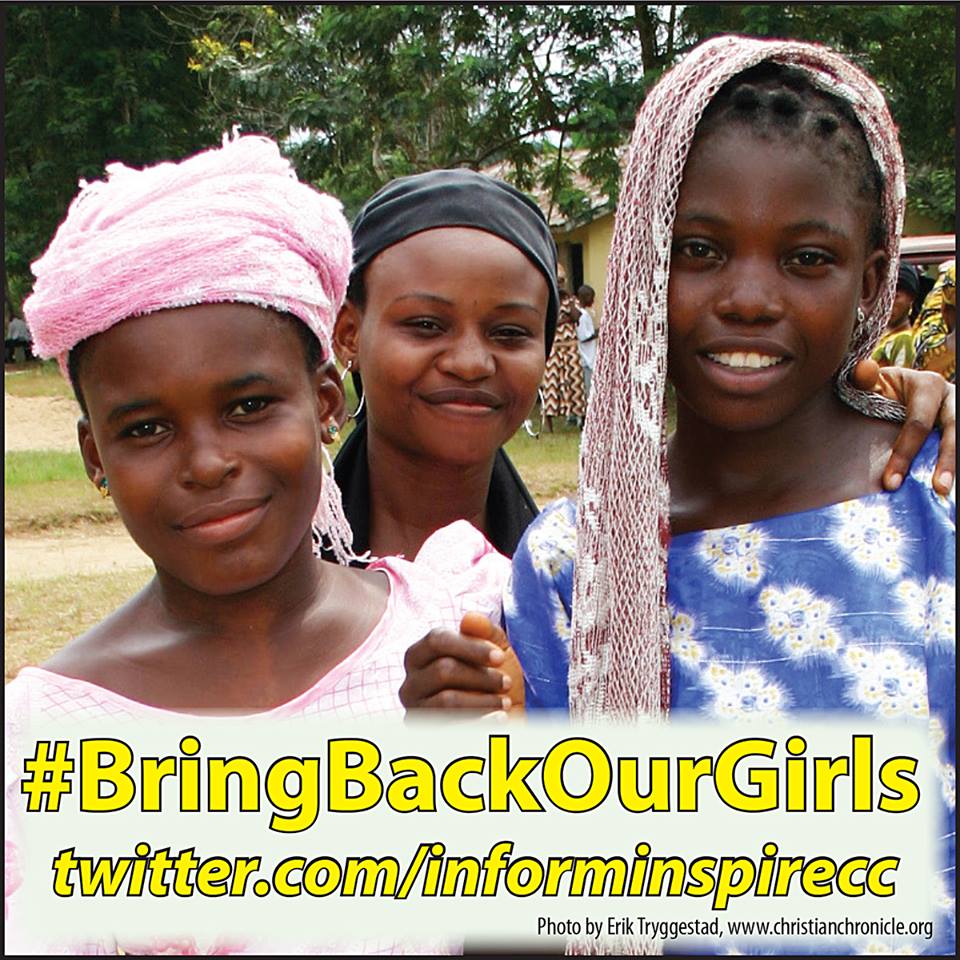 SPECIAL REPORT: Faith fighting human trafficking
• In Africa, in America, 'bring back our girls'
• From modern-day slave to slave for Christ
• Christians fight human trafficking in the U.S.
• Editorial: Doing 'something' isn't enough
The girls come from four of the 18 Churches of Christ in the Chibok area, said Buba, who has struggled to maintain a preacher training school in the predominantly Muslim Borno state of northern Nigeria. Boko Haram, the terrorist group that abducted the girls, has attacked both Muslims and Christians throughout the region. Boko Haram seeks to establish an Islamic state in northern Nigeria and condemns what it calls "Western education."
"We are still worshiping, but some churches have disappeared as the community they are planted in is wiped out by Boko Haram," he said. Other churches have died "because of lack of preachers."
Church members in Nigeria's predominantly Christian south are praying for their brethren in the north — and for their troops. In the western city of Ilorin, three members of the Amilegbe Church of Christ serve in the military and are deployed in the north, battling Boko Haram, said church member Ifalola Oluwatosin. The congregation hosted a prayer vigil for their country.
Biodun Owolabi also asked for prayers.
Weeks after the abductions, the director of Western Nigeria Christian College traveled to the northern city of Jos for the 25th anniversary lectureship at the School of Biblical Studies. During the lectures, he heard explosions. No one at the school was injured, but they soon learned that bomb attacks by Boko Haram in Jos had killed 118 people.
Such attacks have become a part of life in Nigeria, said Brad Blake, a church member in Vicksburg, Miss., who lived in northern Nigeria from 2001 to 2008.
"Yet, evangelists, church leaders and faith-filled sisters continue to live faithfully without fanfare," said Blake, who worked with a non-governmental organization, now known as Hope Springs International. "Christians in Nigeria are actually serving as a model for Western believers in deepening our trust in God despite circumstances of abducted girls, burnt villages and martyred disciples."
In Chibok, Buba and fellow church member fast and pray for a day when peace will reign and newly trained preachers will abound. Until then, "we are pressed but we are not afraid," he said. "If am killed for Christ, I know my crown waits for me.