10th anniversary of 9/11: The Christian Chronicle features special coverage
---
At the 10th anniversary of the Sept. 11, 2001, terrorist attacks, The Christian Chronicle features a special package of stories:
• The war at home: To a North Carolina congregation, the troops fighting terror abroad are heroes — but so are the families left behind.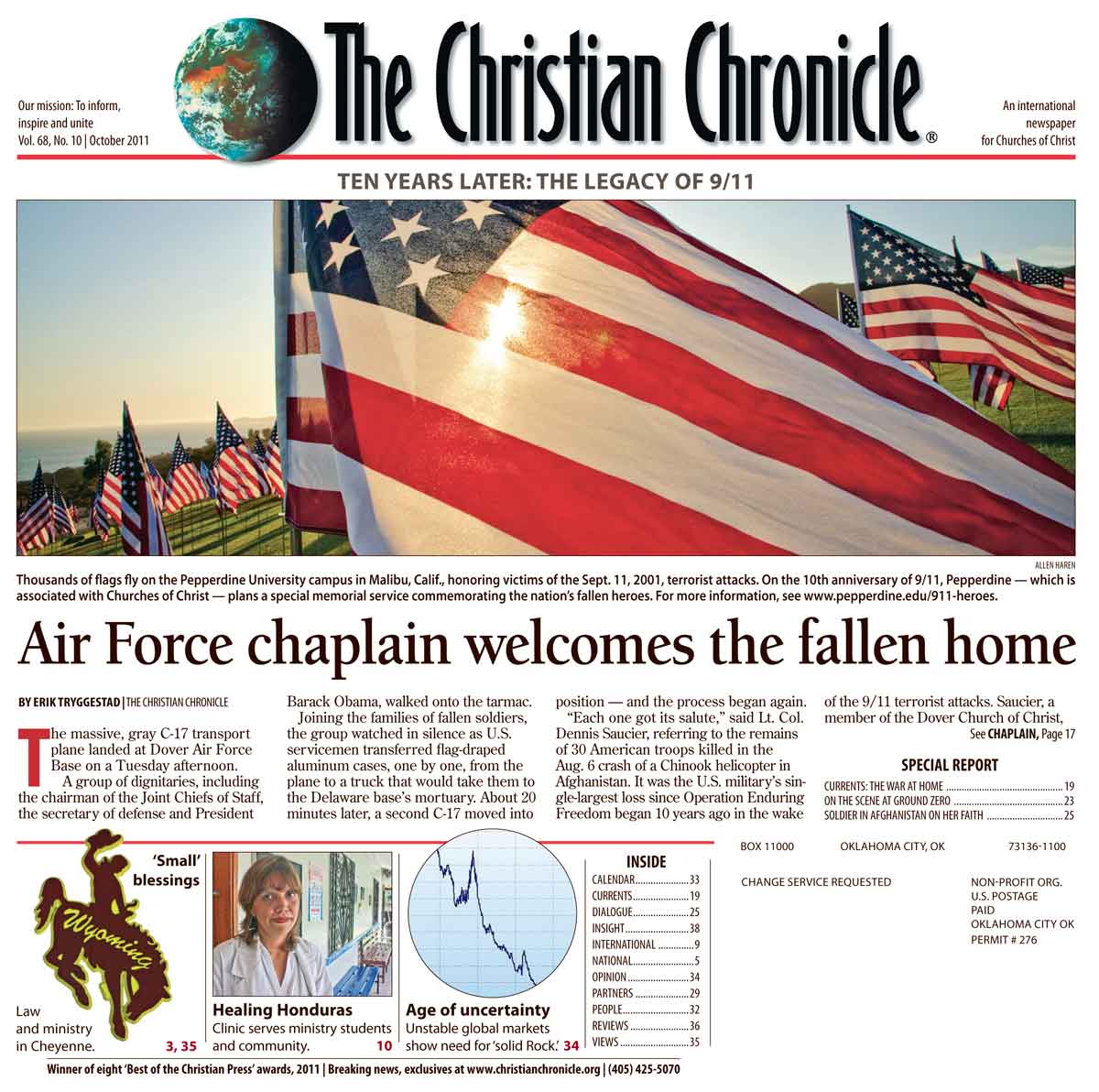 • Welcoming the fallen home: Lt. Col. Dennis Saucier, a member of the Dover Church of Christ in Delaware, serves as senior staff chaplain of the Air Force Mortuary Affairs Operation.
• Soldier lets light shine — in Afghanistan: Army Staff Sgt. Jeanene Pollard discusses insurgents and answered prayers in a war zone.
• 'Each push pin told a story': The Chronicle's editor remembers caring for people who lost loved ones in the World Trade Center.
• Faith sustains battalion commander:  Marine Lt. Col. Mike Manning, a three-time Bronze Star Medal recipient, reflects on the strength that God provides.
• Video: Church member, eyewitness remembers World Trade Center attacks.
• Special remembrance: Pepperdine University will display 2,977 flags on campus Sunday — honoring the victims and emergency responders who died on 9/11.
• Photo essay: Images at home and abroad, 10 years after 9/11.
• PDF version: Download the full October issue of the Chronicle. (Go to our website and select "Download a copy" in the upper-right corner.)
Reader feedback: Does your congregation plan anything special to commemorate 9/11 since it falls on a Sunday? What do you remember about that day? Be sure to include your full name and home congregation in case we decide to quote you.
Feedback

The Somerset Church of Christ in Somerset, PA will be having a special service to commemorate the lives lost on 9/11. The Somerset Church of Christ, just 10 miles from where United flight 93 crashed 10 years ago, is the closest Church of Christ to ground 0 in Shanksville. I grew up in Shanksville, PA, a town of 250, so 9/11 is not only close to our hearts, it is close to our homes. When I was younger, some friends and I had a campsite about 100 yards from ground 0 in Shanksville and we camped there quite frequently.
I took a year off after graduating Harding in 2001 and drove truck coast-to-coast before entering Harding Graduate School of Religion in 2002. I was pulling my very first load, going from Connecticut to Dallas, when 9/11 occured. I remember hearing on the radio that the 4th plane to go down could be seen from the Somerset airport. I couldn't contact any family for hours and later found out that Flight 93 crashed just 2 miles from my home.
There is a lot of controversy about the 9/11 memorial services right now. Mayor Bloomberg of NYC has "uninvited" any clergy and there will be no public prayer at New York's memorial service. There is further speculation that "authorities" putting the venue together for Shanksville's memorial service are following suit. However, I am proud to say that the Somerset Church of Christ will not shy away from praying for the families of the victims who died in our back yard. This is a time to reflect on who God is and how we, as a church, can make a difference in the community and throughout the world. May God bless all those churches who will stand up and honor the families of those whose lives were taken that tragic day.
Jimmy Hinton, minister
Somerset Church of Christ

Jimmy Hinton

September, 7 2011

Thanks, Jimmy!

Bobby Ross Jr.

September, 7 2011

No problem, Bobby! Glad we can come together as Christians and pray.

Jimmy Hinton

September, 7 2011

Why are we so concerned about "public" prayer at all sorts of events when Jesus himself was skeptical about them motives of those who practiced it? (read the Sermon on the Mount) It seems that we don't think prayers are effective unless they're made in public by elected or appointed officials! We ought to be glad that our opportunities to pray aren't hijacked by politicians who will then use videos of themselves acting piously in order to be "seen of men."
Use your prayer closets, people — they have been and will remain to be the most effective places to pray, even though the prayers won't be seen on the nighttime news.

Steve Wicker

September, 8 2011

My perspective is different from most I guess. I have 32 & 1/2 years with the Denton, TX Fire Dept. I was standing in the TV room as we call it, I believe I could stand on those same 2 footprints if they could be seen. I saw the 1st hit & only thought that error or something else had occured then the 2nd I saw live. The 1st thing I said to myself was "Where are the kids" well they were in school.

Our day consists of many activities when not making runs & the 1st order we got was that all classes, activities etc. were immediately canceled. As time progressed we were given more orders we were to stay in our stations in lock down & only leave it to make runs, secure food & fuel.

The next Wed. night worship was dedicated to that horrible thing. I was given the opportunity to speak on behalf of the fallen firefighters.

In Him
Jimmy Waggoner
Elder
Sanger, TX church of Christ

Jimmy Waggoner

September, 9 2011